with Elise Coop­er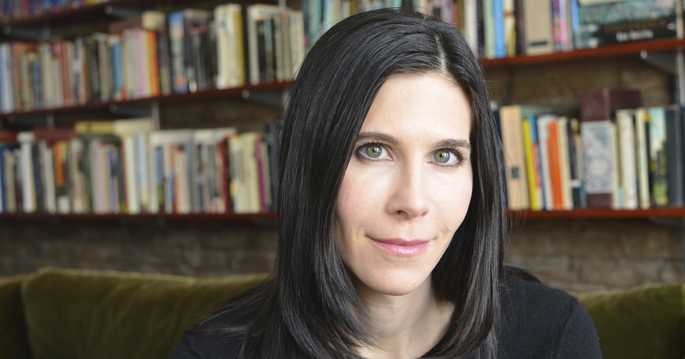 Safe­keep­ing is a nov­el about per­son­al tragedy, hope, and suf­fer­ing with­in the back­drop of Jew­ish his­to­ry. Between flash­backs to Jew­ish his­to­ry from the Ger­man pogroms, the Holo­caust, and the found­ing of Israel, the sto­ry takes place in 1994 on an Israeli kib­butz, where six peo­ple con­nect through a search for their iden­ti­ty, each one look­ing to escape their own per­son­al crisis.
Elise Coop­er: How did you come to write this book that includes so much Jew­ish history?
Jes­samyn Hope: I was raised Jew­ish and con­sid­er myself a Zion­ist, although I am not very reli­gious. I am very much inter­est­ed in Jew­ish his­to­ry and the fate of the Jew­ish people.
EC: Your char­ac­ters are a melt­ing pot from around the world. What inter­est­ed you in the mul­ti­cul­tur­al characters?
JH: My moth­er was born in Italy and con­vert­ed to Judaism; my father grew up in South Africa, where is grand­par­ents immi­grat­ed to from Lithua­nia. Grow­ing up, my father loved to trav­el and would save all year to take the fam­i­ly to places in the Unit­ed States or over­seas, and that love of trav­el­ing was passed on to me. I have vis­it­ed over forty coun­tries — by pub­lic bus in Rajasthan, in a third-class car on the Trans-Siber­ian rail­way, by bicy­cle from Istan­bul to Gibral­tar, and recent­ly I was in Thai­land and Laos. All of these expe­ri­ences helped my writ­ing of Safe­keep­ing, which fea­tures an inter­na­tion­al cast of characters.
EC: Since the kib­butz is such an impor­tant back­drop for the sto­ry did you ever spend time in one?
JH: Dur­ing my junior year in col­lege I vis­it­ed my uncle's kib­butz. The fol­low­ing year I went back and stayed on Ramat Yohanan, my cousin's kib­butz fif­teen min­utes out­side of Haifa, which inspired the kib­butz in the nov­el. I met some­one there who, like one the char­ac­ter Ofir, had recent­ly lost his eardrums and some of his eye­sight in a bus bombing.
EC: There seems to be a par­tic­u­lar dichoto­my between kib­butz life and New York in the book. How do these con­trast­ing set­tings serve the story?
JH: New York is the oppo­site of the kib­butz: you can live autonomous­ly and pur­sue your own pas­sions with­out pres­sure to belong to a com­mu­ni­ty. As an artist I am a very big indi­vid­u­al­ist, a free thinker. But part of me is drawn roman­ti­cal­ly to a larg­er cause big­ger than myself.
It's not just about New York is all about being an indi­vid­ual while the kib­butz is all about com­mu­ni­ty; New York City is a place where peo­ple come to rein­vent them­selves, to leave behind their past and go after their indi­vid­ual dreams, but the Zion­ist sto­ry of start­ing a coun­try and being will­ing to sac­ri­fice fas­ci­nat­ed me. This was reflect­ed in two of my char­ac­ters: Franz, a Holo­caust sur­vivor, an indi­vid­u­al­ist who lives day to day, while Ziva, a Kib­butz­im pio­neer, has a high­er ide­al, with a strength and ener­gy to start up a new coun­try. And because the nov­el takes place in 1994, the Israeli sur­vival mode of the time, com­plete­ly for­eign to the Amer­i­can expe­ri­ence, con­trasts direct­ly with the cul­tur­al exchange post‑9/​11: now Israelis want to expe­ri­ence the West­ern cul­ture of self-expres­sion while New York­ers live with the inse­cu­ri­ty of ter­ror­ism — much more than they did twen­ty years ago.
EC: Is that why you put the scene in the book when Ziva tries to give Franz a Hebrew name after he escapes to Israel from the Nazis?
JH: ​"All I'm say­ing is that the Nazis tried their damnedest to do away with Franz, and if it's quite all right with you, I'd pre­fer to not lend them a help­ing hand." For me, this quote is cru­cial to the book. In build­ing Israel, Jews were asked on some lev­el to rein­vent them­selves. Franz had no Hebrew iden­ti­ty and want­ed to hold on to his old iden­ti­ty, while Ziva, by exten­sion, Israel, is ask­ing him to give it up. She rep­re­sent­ed those who found­ed Israel by turn­ing away from their past, rein­vent­ing themselves.
EC: What do you think the theme of the book is?
JH: Self-per­se­ver­ance despite tragedy. I wrote the Russ­ian immi­grant char­ac­ter and Ziva as Scar­lett O'Hara types. I was inspired by Scar­lett and fas­ci­nat­ed by Gone With The Wind. I want­ed to write that type of char­ac­ter. The entire cast is moral­ly ambigu­ous, extreme­ly ambi­tious, yet you can't help but be inspired by their grit and deter­mi­na­tion. They use any tool to survive.
EC: Does the brooch also sig­ni­fy human perseverance?
JH: It rep­re­sents in some ways Jew­ish his­to­ry, with the fears and desires passed down through the gen­er­a­tions. Among my inten­tions with these brooch sto­ries was to show how events from the past — moments we don't know about — affect who we are today. The brooch was a way to show read­ers that they are influ­enced by what hap­pened to their fam­i­ly through past gen­er­a­tions. Every sin­gle char­ac­ter in the book has a per­son­al chal­lenge, often an inher­it­ed one. My char­ac­ter Adam rep­re­sents those who go through a tragedy and can­not adjust. How much choice does he have with his alco­hol addic­tion and suffering?
EC: Are any of the char­ac­ters based on yourself?
JH: No char­ac­ter is based on myself. In an ear­li­er draft there was a char­ac­ter sim­i­lar to me, but she got cut out and replaced with Claudette, the Cana­di­an one. She is a young woman who lost her moth­er and suf­fered from OCD. I went through that as well, but for­tu­nate­ly I got bet­ter. Unfor­tu­nate­ly, I found the healthy ver­sion of myself bor­ing, so I wrote in the cri­sis with the orphan­age where the province of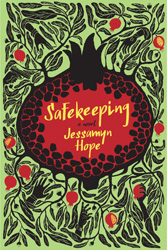 Que­bec false­ly iden­ti­fied orphans as being men­tal­ly ill in col­lab­o­ra­tion with the Catholic Church.
EC: What do you want read­ers to get out of the book?
JH: We are liv­ing in a time where indi­vid­u­als need to speak up. On some lev­el there is a com­pe­ti­tion between look­ing out for your­self and tak­ing a respon­si­bil­i­ty for the larg­er com­mu­ni­ty. I called the book Safe­keep­ing for a rea­son. Israel is sup­posed to be a place where every­one can be kept safe. Sad­ly project for­ward to today where there is still a search for safe­keep­ing, espe­cial­ly as the world turns its back on Israel. Safe­keep­ing is less and less guaranteed.
Elise Coop­er lives in Los Ange­les and has writ­ten numer­ous nation­al secu­ri­ty arti­cles sup­port­ing Israel. She writes book reviews and inter­views for var­i­ous out­lets includ­ing the Mil­i­tary Press.
Relat­ed Content:
Elise Coop­er lives in Los Ange­les and has writ­ten numer­ous nation­al secu­ri­ty arti­cles sup­port­ing Israel. She writes book reviews and Q and A's for many dif­fer­ent out­lets includ­ing the Mil­i­tary Press. She has had the plea­sure to inter­view best­selling authors from many dif­fer­ent genres.