Ear­li­er this week, Dr. Elana Maryles Sztok­man wrote about sev­en places where reli­gious rad­i­cal­ism threat­ens wom­en's well-being in Israel. She is the author of the forth­com­ing
The War on Women in Israel: How Reli­gious Rad­i­cal­ism is Sti­fling the Voice of a Nation
(Source­books,

2014

). She will be blog­ging here all week for Jew­ish Book Coun­cil and MyJew­ish­Learn­ing.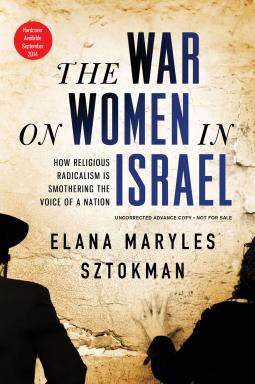 In my pre­vi­ous post, I described sev­en fright­en­ing trends of reli­gious rad­i­cal­ism in Israel threat­en­ing women's well-being and in some cas­es women's lives. Despite this dire report, there have also been some inspir­ing actions by women's groups and oth­er social activists fight­ing for human rights and change in Israel. The most inter­est­ing devel­op­ments are those that come from reli­gious fem­i­nist groups, fight­ing for change from with­in the reli­gious world. But the work of reli­gious fem­i­nism is tremen­dous­ly bol­stered by social activist NGOs work­ing on a vari­ety of fields. Below are 10 exam­ples of inspir­ing cam­paigns by Israeli NGOs to reclaim women's rights in the face of reli­gious threats:
1. Seg­re­gat­ed bus­es. IRAC (Israel Reli­gious Action Cen­ter) and Kolech (The Reli­gious Women's Forum) led a law­suit against the Min­istry of Trans­port, which even­tu­al­ly made gen­der seg­re­ga­tion on bus­es ille­gal. Today, every bus has a sign say­ing that women can choose to sit where they want. Bus dri­vers com­ply because they know they can be fined a month's salary if their bus­es are found to have seg­re­ga­tion. Today there are less than 50 seg­re­gat­ed lines left, down from over 150 in 2011.
2. Women's faces on Jerusalem streets. The cam­paign of an NGO called ​"Jerusalemites" to hang faces of women around the city forced busi­ness­es to change their pol­i­cy of show­ing women's faces on bill­boards in Jerusalem. Even the Jerusalem munic­i­pal­i­ty has restored women's faces to many of their print­ed mate­ri­als, such as this year's brochure for the Jerusalem marathon which showed women's faces for the first time in sev­er­al years.
3. Gen­der seg­re­ga­tion on the streets. Anoth­er IRAC law­suit is pend­ing against the Netanya Hevra Kadisha on behalf of a woman who was exclud­ed from deliv­er­ing a eulo­gy at a funeral.
4. Rock throw­ing in Beit Shemesh. Beit Shemesh res­i­dent Nili Phillip is lead­ing a class-action suit against the munic­i­pal­i­ty of Beit Shemesh to hold them account­able for the fact that women are being hurt by rock throw­ing Hare­di men. It is up to the munic­i­pal­i­ty, they argue, to take down signs say­ing women can­not be on cer­tain streets and to pro­tect women. The law­suit is pending.
5. Women's voic­es on the radio. Kolech and IRAC are in the midst of a 100 mil­lion NIS ($30 mil­lion U.S.) law­suit against the broad­cast­ing author­i­ties to protest the prac­tice of the Kol Bera­ma radio sta­tion to exclude women's speak­ing and singing voic­es. Kol Bera­ma is at risk of los­ing its license. The law­suit may also pave the way for sim­i­lar actions in oth­er areas.
6. Civ­il mar­riage and divorce in Israel. Sev­er­al orga­ni­za­tions are push­ing for civ­il mar­riage and divorce in Israel — includ­ing The Cen­ter for Women's Jus­tice, New Fam­i­ly, Hid­dush, and Be Free Israel, among oth­ers. The Masor­ti Move­ment is also push­ing to have non-Ortho­dox mar­riages rec­og­nized as valid. Pub­lic sen­ti­ment is undoubt­ed­ly increas­ing in sup­port of this move­ment and the pos­si­bil­i­ties are encouraging.
7. Women as direc­tors of rab­bini­cal courts. ICAR is also pro­mot­ing a bill to change the cur­rent law that says that the exec­u­tive direc­tor of the Rab­bini­cal Courts — an admin­is­tra­tive posi­tion, not a rab­binic one — has to be an ordained rab­bi, mean­ing an Ortho­dox rab­bi. This excludes women as well as non-Ortho­dox Jews. Chang­ing this law would open up at least one posi­tion of author­i­ty to women.
8. Chal­leng­ing the abor­tion pan­els. MK Zaha­va Gal-On (Meretz) is spear­head­ing leg­is­la­tion to make the abor­tion pan­els obsolete.
9. Chal­leng­ing the rab­bini­cal courts' juris­dic­tion over con­ver­sion. The Cen­ter for Women's Jus­tice is await­ing a deci­sion on their appeal to the High Court of Jus­tice chal­leng­ing the right of the rab­bini­cal court to over­turn conversions.
10. Reform in the ​"ser­vices" of the Reli­gious Min­istry. The Reli­gious Min­istry has respond­ed to pub­lic pres­sure by begin­ning to insti­tute reforms in the way the clerks of the Reli­gious Min­istry relate to the pub­lic, includ­ing allow­ing for some free mar­ket com­pe­ti­tion by allow­ing peo­ple to choose which city to reg­is­ter for mar­riage in. Although these pro­posed reforms con­tain some prob­lem­at­ic ele­ments as well (such as a pro­pos­al to make it an arrestable offense for non-Ortho­dox rab­bis to per­form wed­dings!), the fact that there is any pro­posed reform on the table points to the impact of social pres­sure and the fact that this entire issue is arguably in the midst of major transition.
There is still much work to be done in Israel to pro­tect women's basic rights and to cur­tail the onslaught of rad­i­cal reli­gious ideas, but the work of these won­der­ful NGOs, espe­cial­ly the work of reli­gious fem­i­nist groups, leaves me inspired.
Dr. Elana Maryles Sztok­man is for­mer exec­u­tive direc­tor of the Jew­ish Ortho­dox Fem­i­nist Alliance (JOFA). She is the co-author, with Chaya Gorset­man, of Edu­cat­ing in the Divine Image: Gen­der Issues in Ortho­dox Jew­ish Day Schools (The Hadas­sah-Bran­deis Insti­tute, 2013), win­ner of the 2013 Nation­al Jew­ish Book Award in Edu­ca­tion and Jew­ish Iden­ti­ty, author of The Men's Sec­tion: Ortho­dox Jew­ish Men in an Egal­i­tar­i­an World (Hadas­sah-Bran­deis Insti­tute, 2011), win­ner of the 2012 Nation­al Jew­ish Book Coun­cil Award in Wom­en's Stud­ies, and author of the forth­com­ing The War on Women in Israel: How Reli­gious Rad­i­cal­ism is Sti­fling the Voice of a Nation (Source­books, 2014).
Relat­ed Content:
Dr. Elana Sztok­man is a Jew­ish fem­i­nist anthro­pol­o­gist, edu­ca­tor, activist, and author, and two-time win­ner of the Nation­al Jew­ish Book Coun­cil Award. Her most recent book is When Rab­bis Abuse: Pow­er, Gen­der, and Sta­tus in the Dynam­ics of Sex­u­al Abuse in Jew­ish Cul­ture (Lioness Books, 2022).