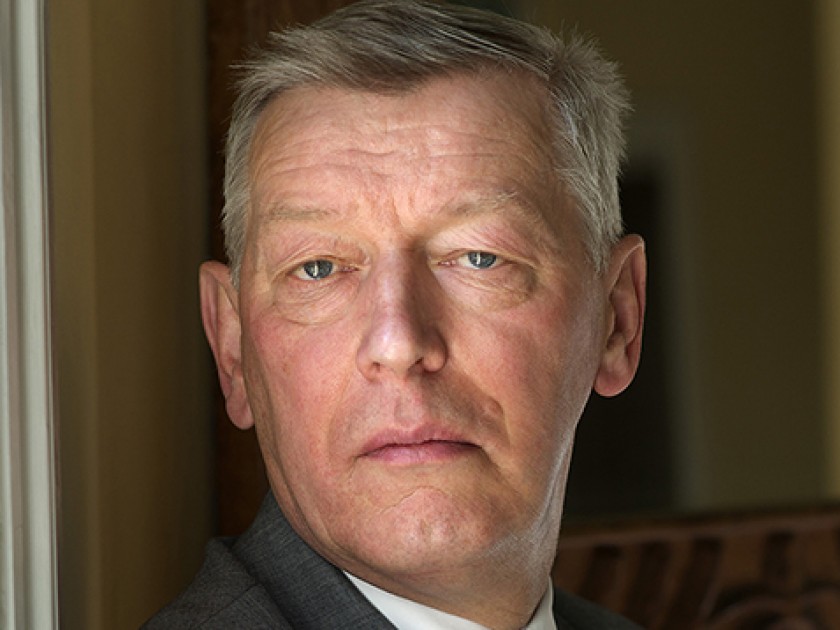 Alan Judd is the author of The Kaiser's Last Kiss, a nov­el explor­ing the intri­cate rela­tion­ships with­in the exiled home of Kaiser Wil­helm dur­ing World War II. Alan is guest blog­ging for the Jew­ish Book Coun­cil all week as part of the Vis­it­ing Scribe series here on The ProsenPeo­ple.
I grew up in a vil­lage out­side Lon­don dur­ing the years fol­low­ing World War II. What we now call the Holo­caust was less wide­ly known then, and I was large­ly unaware of Jews or Jew­ish­ness. The only inci­dent I recall from child­hood is a con­ver­sa­tion over tea at my grand­par­ents' house. It must have been a Sat­ur­day, because we always had tea with them on Sat­ur­days, and there must have been remarks about Jews which I've for­got­ten. What I do recall is my grandfather's response, sug­gest­ing that the con­ver­sa­tion might have been casu­al­ly anti­se­mit­ic in the Jews-are-mean-with-mon­ey vein that was unre­mark­able in those days. My grandfather's job involved walk­ing the streets of East Lon­don, check­ing people's elec­tric­i­ty meters and col­lect­ing pay­ments. I remem­ber him inter­ven­ing with, ​"No, but I'll tell you one thing about the Jews: you can trust them. If I call and they haven't got the mon­ey and they promise to pay if I call back lat­er, they always keep their word."
My school was a state sec­ondary. I remem­ber noth­ing about Jew­ish­ness there except for one boy in our class who was often bul­lied, mocked, and picked on. His name was Joel; it was only years lat­er that I real­ized the name had Jew­ish con­no­ta­tions (unlike­ly as it seems now, I was so unaware that it nev­er even occurred to me at the time that such names as Abra­hams, Moses, Cohen, etc. were Jew­ish). But I don't think poor Joel's pre­sumed Jew­ish ori­gins were the rea­son he was picked on, unless we assume some uncon­scious group impulse. He was small, weak and pas­sive and my class­mates were unfor­tu­nate­ly like the ban­tams my grand­par­ents kept at the bot­tom of their gar­den: they pecked the weak­er ones to death.
The next stage in my uncon­scionably slow awak­en­ing occurred in the army, when a friend rehearsed the (to me, nov­el) the­sis that the cre­ation of a Jew­ish home­land might para­dox­i­cal­ly have weak­ened the achieve­ments and con­tri­bu­tions to human progress of the word-wide Jew­ish Dias­po­ra by focussing iden­ti­ty on ter­ri­to­ry rather than on mat­ters of the mind and spir­it. This made me more aware of Jew­ish con­tri­bu­tions to learn­ing and the arts, though I remained lam­en­ta­bly uninformed.
Then, when I was at Oxford, I shared a house with a friend of East­ern Euro­pean Jew­ish ori­gins. His con­scious­ness of his roots and our late-night dis­cus­sions awak­ened me. It helped that I was read­ing phi­los­o­phy and the­ol­o­gy and was thus aware of the for­ma­tive influ­ence of Judaism on Chris­tian­i­ty and our con­tem­po­rary sec­u­lar moral­i­ty. My friend had a vol­ume of George Steiner's essays, includ­ing one on Kaf­ka which he anno­tat­ed so aggres­sive­ly that it got me read­ing Kaf­ka myself. (My friend lat­er con­fessed he hadn't read him at all, but he didn't see that as a bar to strong opinions).
Grad­u­al­ly, I became aware that a sig­nif­i­cant num­ber of my friends were of Jew­ish extrac­tion, a process that accel­er­at­ed when I joined the For­eign Office. Despite its per­ceived pro-Arab bias, an inter­nal his­to­ri­an there used to say that the Office was sus­tained through­out the twen­ti­eth cen­tu­ry by Jews and Catholics. One col­league, a friend and men­tor whose trad­ing ances­tors had over cen­turies been dri­ven west­wards from south­ern Rus­sia by suc­ces­sive pogroms, intro­duced me more wide­ly to the writ­ings of Jew­ish authors, begin­ning with Leon Feuchtwanger.
This process con­tin­ued after I left the For­eign Office, per­haps unsur­pris­ing­ly giv­en that I mixed part­ly in jour­nal­is­tic and lit­er­ary cir­cles. It has nev­er been a delib­er­ate quest on my part; I have nev­er sought out peo­ple because they were Jew­ish but increas­ing­ly I found that many of those I was drawn to, whose humor I shared, whose abil­i­ties I respect­ed and whose friend­ship I val­ued were whol­ly or part­ly Jew­ish. I have always found it easy to iden­ti­fy with them, espe­cial­ly with those pre­pared to artic­u­late their Jewishness.
I've asked myself why this should be, with­out any clear con­clu­sion. To ascribe it to an uncon­scious incli­na­tion or yearn­ing mere­ly begs the ques­tion. So far as I know, there is no Jew­ish blood in my ances­try, though for a while I rather hoped there was on the assump­tion that Judd — my mother's maid­en name — derives from the Ger­man Jude. (It's most like­ly Scottish.)
So there you have it: a free rid­er so far as Jew­ish­ness is con­cerned, a trav­el­er with­out a tick­et. But I'm enjoy­ing the journey.
Relat­ed Content:
Alan Judd is the author of eleven nov­els and two biogra­phies. He pre­vi­ous­ly served as a sol­dier in the British army and as a diplo­mat in the For­eign Office. Judd is a Fel­low of the Roy­al Soci­ety of Lit­er­a­ture and has won numer­ous awards includ­ing the Guardian Fic­tion Prize and the Heine­mann Award. He cur­rent­ly writes for The Spec­ta­tor and The Dai­ly Tele­graph. He lives in Sus­sex with his family.