Yes­ter­day, Boaz Yakin wrote about empa­thy and con­flict. He will be blog­ging here for Jew­ish Book Coun­cil and MyJew­ish­Learn­ing all week. Edi­tor's Note: The views expressed by Vis­it­ing Scribes are their own.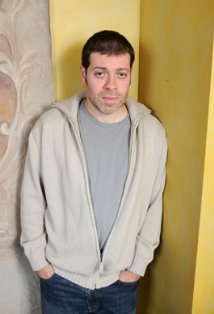 I grew up lis­ten­ing to sto­ries about those days, and that place— Jerusalem.
In New York City, in our Upper West Side apart­ment, my lit­tle broth­er and I watched my father act out the events and char­ac­ters of his youth in British Man­date Pales­tine. He was a pan­tomime by trade and a teacher of phys­i­cal act­ing, and when he told a sto­ry he didn't just relate it with words— he per­formed it with every mus­cle in his face, with every phys­i­cal ges­ture in his vast reper­toire. And even then, though I thrilled and laughed at his exploits, I sus­pect­ed that per­haps there was some­thing exag­ger­at­ed, slight­ly of the grotesque, in his por­tray­als of the mul­ti­far­i­ous denizens of that remote, ancient city; a city on the one hand so tiny and provin­cial, on the oth­er so vast and time­less and redo­lent of eter­ni­ty. A city against whose harsh, stony face the human dra­mas enact­ed by my father stood out in sharp, col­or­ful relief, like a com­me­dia dell'arte per­for­mance. Trag­ic, hilar­i­ous, and sure­ly daubed with a huge dol­lop of fancy.
Then my par­ents would pack up for the sum­mer and we would fly to spend sev­er­al months with my father's fam­i­ly in Israel… Get in the taxi from Tel Aviv and make the hour and half dri­ve up to Jerusalem… Arrive at the cor­ner of Jaf­fa Street across from the shouk, where my uncle lives with his huge fam­i­ly in the house that my great grand­fa­ther built over half a cen­tu­ry before, in the precincts of what was then British Jerusalem… Get out of the cab, and breathe the sud­den­ly dry, ele­vat­ed air… Take in the sun­light glow­ing pink on the stone build­ings, the strange, grotesque faces and pos­tures of the city's col­or­ful, mul­ti­far­i­ous denizens… and then… real­ize, once again… that it was all true.
The truth of my father's every ges­ture, every exag­ger­a­tion, every out­right lie, was borne out by the details of the real city I found myself in. And when I wrote this sto­ry I tried to put myself in my father's shoes, as he told sto­ries to my broth­er and me in our lit­tle apart­ment in New York City— mim­ic­k­ing voic­es, adopt­ing pos­tures, pranc­ing, slouch­ing and pos­ing. Recre­at­ing what was into what is.
Boaz Yakin is a screen­writer and film direc­tor based in New York City. Yakin stud­ied film­mak­ing at New York City Col­lege and New York University.
Boaz Yakin is a screen­writer and film direc­tor based in New York City. Yakin stud­ied film­mak­ing at New York City Col­lege and New York Uni­ver­si­ty. As a pro­duc­er he has been involved in bring­ing projects as diverse as
Hos­tel
and the award-win­ning
Bom­bay Beach
to the screen. His most recent graph­ic nov­el,
Jerusalem: A Fam­i­ly Por­trait
, illus­trat­ed by Nick Bertozzi,will be pub­lished lat­er this month.