Togeth­er with Liz Alpern, Jef­frey Yoskowitz is both co-founder of The Gefilte­ria and co-author of The Gefilte Man­i­festo: New Recipes for Old World Jew­ish Foods. With the cookbook's long-await­ed release this week, Jef­frey and Liz are guest blog­ging for the Jew­ish Book Coun­cil as part of the Vis­it­ing Scribe series here on The ProsenPeo­ple.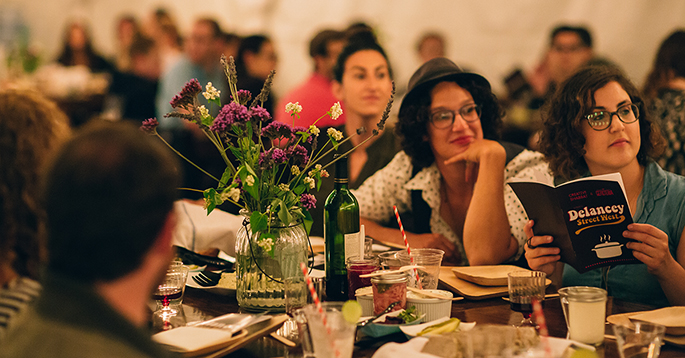 Images by Sta­cy Keck, pro­vid­ed cour­tesy of Leich­tag Commons
Writ­ing an Ashke­nazi cook­book while liv­ing in New York makes a lot of sense. New York City is the epi­cen­ter of Jew­ish deli cul­ture and Amer­i­can Jew­ish life, after all. It's the home of the largest smoked fish pur­vey­or in the coun­try, Knish Alley (an old moniker for Sec­ond Avenue), bagel and bialy bak­eries, and a seri­ous lega­cy of Jew­ish pickling.
And yet, as I dug deep into the his­to­ry of Ashke­nazi Jew­ish food from the old coun­try, it became clear that the con­nec­tion to the land, once such an impor­tant part of Jew­ish culi­nary life, had proven dif­fi­cult to trans­late to the bustling urban world I live in today. My own grand­moth­er, who grew up in the vil­lage of Szum­sk in Poland (now Ukraine), used to pluck plums from the trees in her yard, milk the fam­i­ly cow dai­ly, and turn local cab­bage into sauer­kraut every fall. When she came to the Unit­ed States, she bought mat­zo meal instead of crush­ing her own from fresh­ly baked mat­zos, used store-bought farmer cheese instead of cur­dling her own, and replaced home­made plum pre­serves with store-bought vari­eties. She always lament­ed the lack of good but­ter in the Unit­ed States.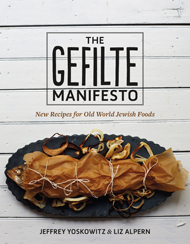 When I set out to write the nar­ra­tive cook­book The Gefilte Man­i­festo with Liz Alpern—my busi­ness part­ner at The Gefilte­ria, our Brook­lyn-based culi­nary ven­ture that reimag­ines east­ern Euro­pean Jew­ish foods — I want­ed to bet­ter under­stand a bit of what it meant to cook and eat foods from Poland and Rus­sia and Lithua­nia before the dish­es were adapt­ed to North Amer­i­can tastes. Sure, I was also inter­est­ed in more deeply explor­ing the Jew­ish-Amer­i­can tra­di­tions I'm so fond of, such as clas­sic dish­es from the delis and appe­tiz­ing shops, but I felt from my grandmother's sto­ries and my own fam­i­ly expe­ri­ences that there was a deep­er wis­dom behind the cui­sine — as well as a lighter side — to the foods that defined my cul­tur­al iden­ti­ty. Part of what was miss­ing in New York, I real­ized, was prox­im­i­ty to the land and to the rhythm of the seasons.
The urge to recre­ate the idyl­lic pic­ture of shtetl cook­ery cer­tain­ly inspired my three-week stay this sum­mer at Leich­tag Com­mons, just out­side of San Diego, Cal­i­for­nia. The prop­er­ty is home to a vibrant hub of Jew­ish com­mu­nal orga­ni­za­tions, as well as the incred­i­ble Coastal Roots Farm.
The Gefilte­ria was brought in for a three-week culi­nary res­i­den­cy — the first of its kind for the com­mu­ni­ty (and for us!). The goal was to bring our phi­los­o­phy and approach to Ashke­nazi cui­sine to as unlike­ly a place as Encini­tas, Cal­i­for­nia. It almost felt pre­pos­ter­ous to be mak­ing east­ern Euro­pean foods like fresh ​"curd-to-crepe" blintzes and buck­wheat breads while sur­round­ed by cit­rus trees and cacti.
Yet it also kind of made sense. From the moment we arrived and set up shop in the kitchen, which over­looked the fields, farm­ers began arriv­ing with crates of veg­eta­bles. ​"Any­thing you can do with these?" they asked, hold­ing out a bushel of extra­or­di­nar­i­ly per­fect pick­ling cucum­bers. As a pick­ler who got start­ed on a Jew­ish pick­le farm, I hadn't seen such great cukes in a long time. I was in heav­en. We imme­di­ate­ly threw down three or four batch­es of clas­sic sour dills.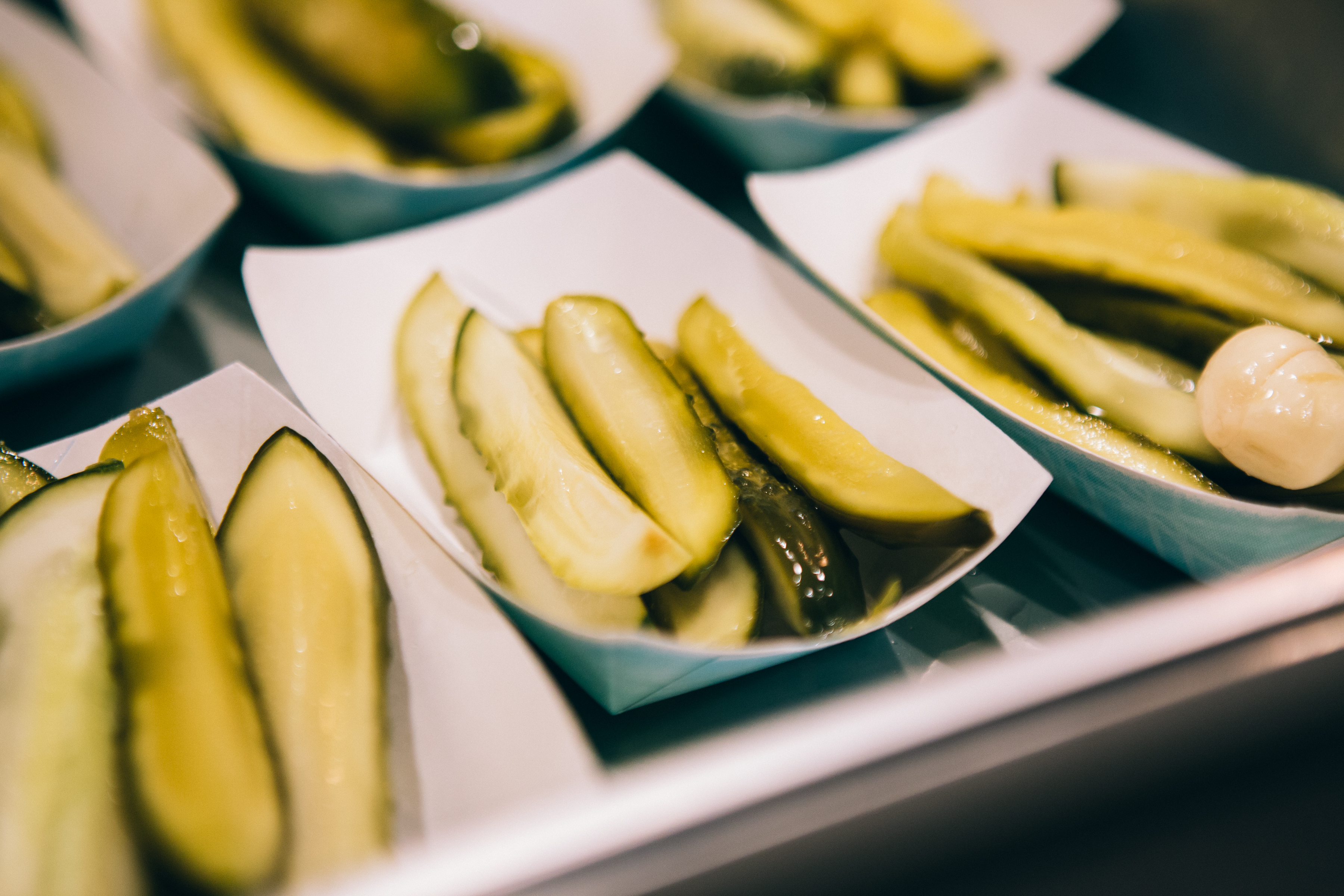 As the weeks wore on, we taught cook­ing class­es and cooked and planned for huge meals, all the while turn­ing fresh­ly picked straw­ber­ries into syrups and jams, local raw cream and milk into farmer cheese, sour cream and but­ter. We har­vest­ed sor­rel leaves to make schav, a sor­rel soup also some­times called green borscht. In oth­er words, I would have made my grand­moth­er proud.
The three weeks cul­mi­nat­ed in an ambi­tious Fri­day night din­ner inside a beau­ti­ful tent: a 140-per­son feast inspired by the lega­cy of Ratner's, one of the most famous Jew­ish dairy restau­rants from the Low­er East Side that has since shut down. It was one of many such restau­rants that once dot­ted the neigh­bor­hood. Today, there are hard­ly any dairy restau­rants left. I used to eat at Ratner's as a child. While we couldn't repli­cate every aspect of the restau­rant for our din­ner, like its noto­ri­ous­ly surly wait­ers, we did our best to cap­ture the feel for the culi­nary insti­tu­tion for our guests, many of whom were New York expa­tri­ates who had fled the gruff city years ago for the more peace­ful south­ern Cal­i­forn­ian life.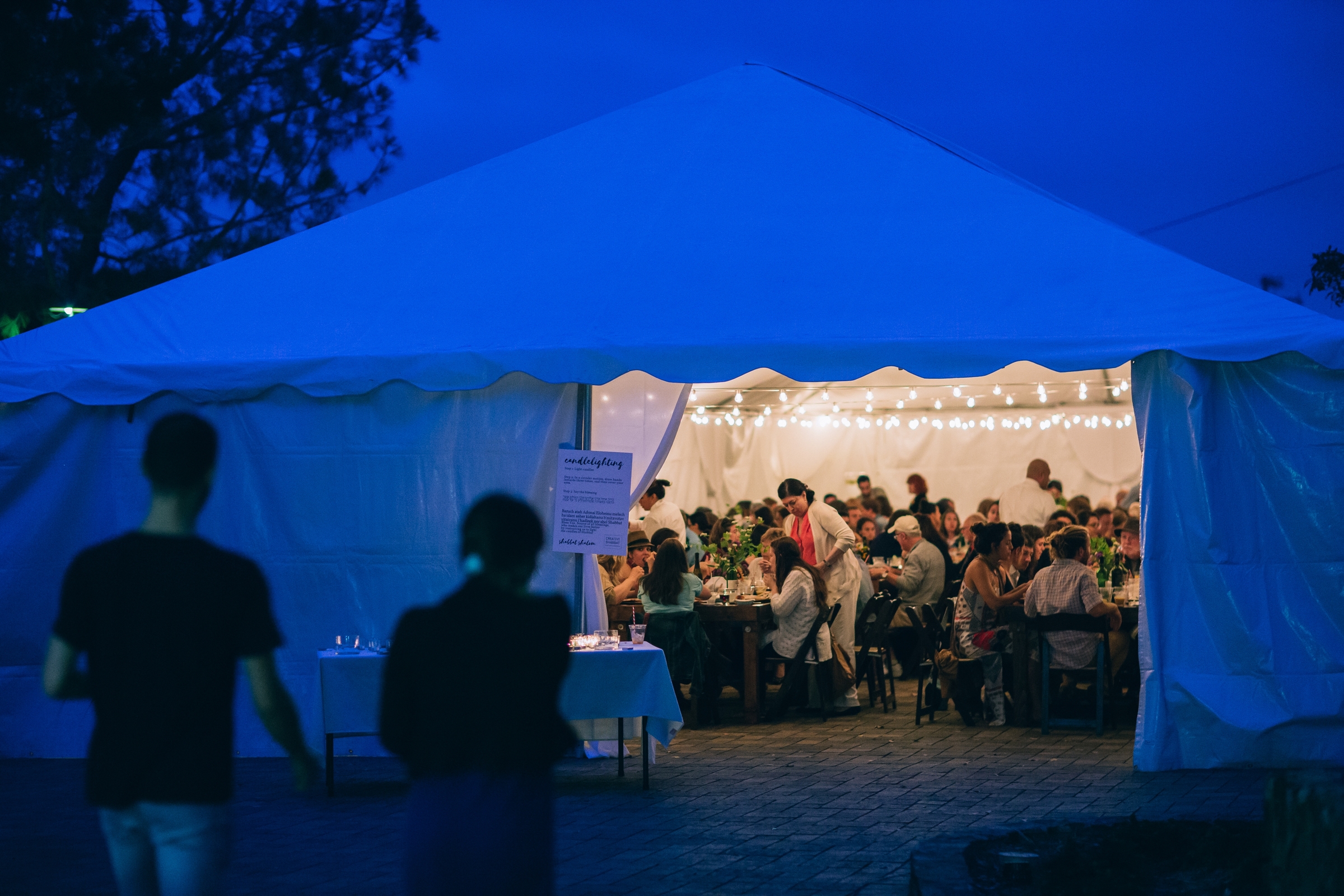 We made gefilte fish and bialys and sweet dairy lok­shen kugel for the occa­sion. We set up a DIY blintz bar where guests could fold their own blintzes. We mixed cock­tails with fresh syrups we made from herbs we'd har­vest­ed. And we served pick­les and borscht, of course. (Find our Sum­mer Beet Borscht recipe here!) In essence, we took many of the recipes and con­cepts from our cook­book and applied them to this one epic meal. As we were cook­ing, har­vest­ing and even­tu­al­ly eat­ing these foods, we felt like we were mak­ing Jew­ish dish­es as they were meant to be cooked: with tra­di­tion­al do-it-your­self tech­niques and local, sea­son­al ingre­di­ents that had once been de rigueur.
I found it curi­ous that many of our Cal­i­forn­ian din­ers told us that the taste of the bialys brought them back to the ​"old coun­try," mean­ing New York City! A few guests even put some extra bialys in their hand­bags to take home, which was a true sign of suc­cess for me.
Jew­ish cui­sine is ever-evolv­ing. The clas­sic taste of the New York deli and dairy restau­rant is as quin­tes­sen­tial and icon­ic a ref­er­ence for nos­tal­gic intra­con­ti­nen­tal expats as the home­made farmer cheese from my grandmother's kitchen is for me. Work­ing on this book in the heart of New York City,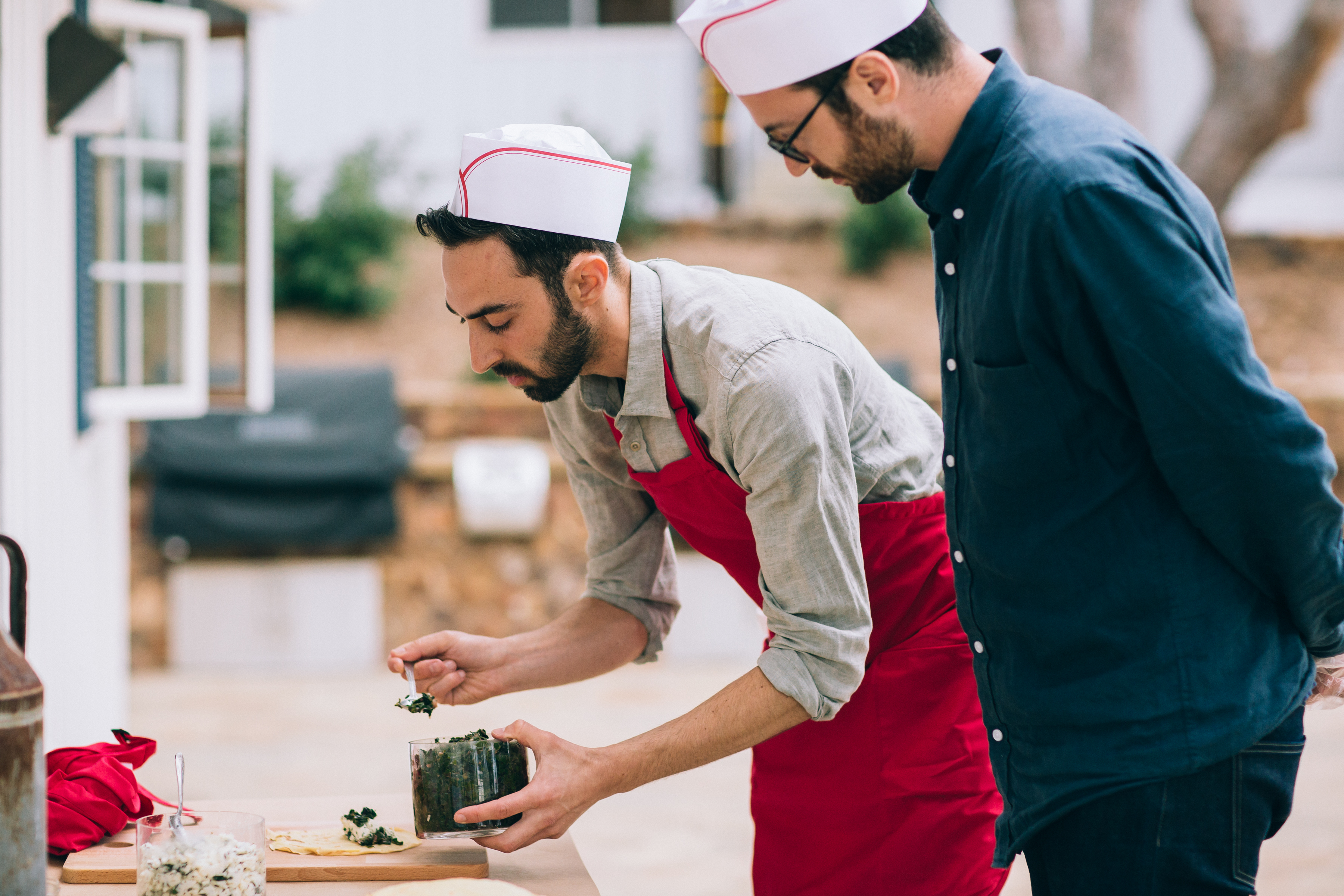 harken­ing back into the kitchen wis­dom of the old world, and bring­ing both of these moments of Jew­ish culi­nary his­to­ry to life on the coast of Cal­i­for­nia rein­forced for me that there's room to cel­e­brate all of these points on the time­line of folk food tra­di­tions. I returned to New York inspired by the farm­ers who made these meals pos­si­ble, as well as the reac­tions of the com­mu­ni­ty to the dish­es we'd cooked from The Gefilte Man­i­festo. I could nev­er have imag­ined how seam­less­ly they'd be inte­grat­ed into the land­scape and cul­ture of San Diego.
Jef­frey Yoskowitz is the co-own­er of The Gefilte­ria, a culi­nary ven­ture that reimag­ines Ashke­nazi cui­sine, and co-author of The Gefilte Man­i­festo: New Recipes for Old World Jew­ish Foods. He fell in love with the art of lac­to-fer­men­ta­tion while train­ing as a pick­ler on an organ­ic farm. He has since worked in the food world as an entre­pre­neur, con­sul­tant, cook, pub­lic speak­er, and a writer for The New York Times, The Atlantic, Slate, and Gas­tro­nom­i­ca. He was also fea­tured in Forbes 30 Under 30.
Relat­ed Content:
Jef­frey Yoskowitz is a leader of the Jew­ish Food Renais­sance as the co-founder of The Gefilte­ria, the cel­e­brat­ed Jew­ish food ven­ture that reimag­ines Jew­ish foods. He curates and cooks pop-up din­ing events in kitchens around the world, teach­es about Jew­ish cook­ing and Jew­ish food her­itage, and writes about food and cul­ture for pub­li­ca­tions like The Atlantic, The New York Times, Slate, and Gas­tro­nom­i­ca, among oth­ers. He was named to the Forbes 30 under 30 list and The For­ward 50 and has been fea­tured in The New York­er, The New York Times, Saveur, and The Wall Street Jour­nal, among many oth­er publications.