Post­ed by Libi Adler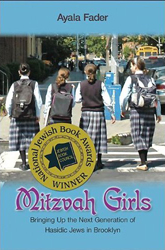 Just picked up this book from our stacks called Mitz­vah Girls: Bring­ing Up the Next Gen­er­a­tion of Hasidic Jews in Brook­lyn
by Ayala Fad­er. After skim­ming through it, I learned that Fad­er is an anthro­pol­o­gist who searched for sub­jects to write for her dis­ser­ta­tion which lat­er became the sub­ject of this book. Her top­ic was fem­i­nin­i­ty in Hasidic soci­ety. Accord­ing to Fad­er, this book ​"is about the every­day projects of Hasidic women and girls as they strive to rede­fine what con­sti­tutes a moral society."
This book focus­es specif­i­cal­ly on the women and girls of the Hasidic soci­ety in Brook­lyn and their impact on dai­ly life. Fad­er explains how con­tem­po­rary Hasidic fem­i­nin­i­ty requires women and girls to engage with th1e sec­u­lar world around them, pro­tect­ing Hasidic men and boys who study the Torah. Fad­er inter­views and meets with many women and their chil­dren and learns slow­ly about their every­day lives, their prac­tices, and the restric­tions that they uphold in order to cre­ate a moral community.
As an anthro­pol­o­gist, there is always a con­cern when you study a soci­ety that your mere pres­ence is going to cause a change in behav­ior in a pos­i­tive or neg­a­tive way. This has been an issue for many research stud­ies done in the past. In the case of the Hasidic com­mu­ni­ty, one that is close knit and very pri­vate, being an out­sider is not an easy task. Reac­tiv­i­ty is always a con­cern. This is also known as the observ­er effect where­by the knowl­edge of an out­side pres­ence caus­es a change in the behav­ior of the sub­jects. The com­mu­ni­ty then wants to make a good impres­sion; some­thing that Jews have always strived to do in reac­tion to anti-Semi­tism. Fad­er does the oppo­site. She makes an effort to ​"accom­mo­date to com­mu­nal prac­tices and not to be provocative…always con­scious, espe­cial­ly in [her] work with young chil­dren, of [her] posi­tion as an out­sider whose con­tact with the Gen­tile world was con­sid­ered poten­tial­ly polluting."
Fad­er works to insert pos­i­tive and neg­a­tive expe­ri­ences she had while vis­it­ing Boro Park in her research. She describes what it feels like to be a stranger in a com­mu­ni­ty that has rules and reg­u­la­tions on each aspect of life, and how this phe­nom­e­na affects the chil­dren. Do the women run the com­mu­ni­ty or are the women run by the com­mu­ni­ty? How much does the out­side world affect the peo­ple of this com­mu­ni­ty? All these and more are writ­ten in a very method­olog­i­cal way by Fad­er in this infor­ma­tive book.
Read the first chap­ter here.