Ear­li­er this week, M. M. Sil­ver wrote about the rich­es in Louis Mar­shal­l's archive. He will be blog­ging here this week for Jew­ish Book Coun­cil and MyJew­ish­Learn­ing
.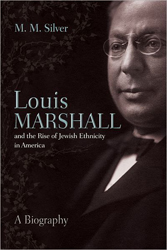 Now that my pre­vi­ous blog estab­lished to every­one's com­plete sat­is­fac­tion that Louis Mar­shall ought to be con­sid­ered a para­mount fig­ure in the his­to­ry of Amer­i­ca's Jew­ish com­mu­ni­ty, and, in fact, that his per­son­al archive con­tains papers of import com­pa­ra­ble to New­ton's apple-stained orig­i­nal draft of the law of uni­ver­sal grav­i­ta­tion, it behooves me to wres­tle with a ques­tion that arose a few times dur­ing the draft­ing of my biog­ra­phy of Mar­shall. Here it is: giv­en that Louis Mar­shall was the man who suc­cess­ful­ly dic­tat­ed the terms of Hen­ry Ford​'s apol­o­gy for the Dear­born Inde­pen­dent​'s scur­rilous anti-Semit­ic cam­paign, who draft­ed the terms for Jew­ish minor­i­ty rights in East­ern Europe after World War I, who argued before the Supreme Court more times than any attor­ney in his era, who was a founder of many of Amer­i­can Jew­ry's pre­mier orga­ni­za­tions and insti­tu­tions, and who became (in his final cru­sade) a prog­en­i­tor of Amer­i­can Jew­ry's spe­cial rela­tion­ship with Israel, why did it take over eighty years for some schle­moz­zle to pub­lish a full-length biog­ra­phy of him?
For­mu­lat­ed in that way, this ques­tion is a bit mis­lead­ing and self-serv­ing. Two or three books about Mar­shall were pub­lished in years after his death. Mor­ton Rosen­stock­'s Louis Mar­shall: Defend­er of Jew­ish Rights is the best known. Bio­graph­i­cal in struc­ture though not com­pre­hen­sive in intent, they are very infor­ma­tive and use­ful volumes.
Also, Mar­shal­l's pre­em­i­nent posi­tion in ear­ly 20th cen­tu­ry Amer­i­can Jew­ish orga­nized affairs is at least implic­it­ly rec­og­nized by the qual­i­ty of schol­ars who wrote notice­ably exten­sive arti­cles about impor­tant facets of his life, such as his cam­paign with the Amer­i­can Jew­ish Com­mit­tee to ​"abro­gate" Amer­i­ca's com­mer­cial treaty with Rus­sia, due to Tsarist dis­crim­i­na­tion, or his part in the dis­pute about the for­ma­tion of the Amer­i­can Jew­ish Con­gress, or his rela­tions with the For­ward news­pa­per and its social­ist edi­tor, Abra­ham Cahan. All read­ers of sem­i­nal works in Mod­ern Jew­ish His­to­ry will rec­og­nize the names of these schol­ars (Nao­mi Cohen, Jonathan Frankel, Lucy Daw­id­ow­icz) whose inten­sive prob­ing of key episodes in Mar­shal­l's life is sug­ges­tive of its mag­net­ic significance.
Just as sure­ly, the lack of a sys­tem­at­ic biog­ra­phy about Louis Mar­shall has long been regard­ed a curi­ous anom­aly; and from time to time, most recent­ly in a spe­cial spring 2008 edi­tion of the Amer­i­can Jew­ish His­to­ry jour­nal, schol­ars and stu­dents have pub­licly scratched their heads in puz­zle­ment about this lacuna.
One pos­si­ble expla­na­tion of this anom­aly hinges on polit­i­cal cor­rect­ness. No doubt, some his­to­ri­ans chose not to grap­ple seri­ous­ly with Mar­shall because of spe­cif­ic polit­i­cal and ide­o­log­i­cal choic­es he made. Schol­ars and stu­dents who con­front­ed Mar­shal­l's lega­cy tend­ed to be influ­enced by Zion­ist per­spec­tives when­ev­er they thought about ear­ly 20th cen­tu­ry Jew­ish issues, and by lib­er­al Demo­c­ra­t­ic par­ty per­spec­tives when­ev­er they addressed Amer­i­can social and polit­i­cal issues in years lead­ing up to the Great Depres­sion, and there­after. At points in the 1920s, Mar­shall quar­reled bit­ter­ly with the Zion­ists, and he was a life­long Repub­li­can whose papers are stud­ded with arch­ly con­ser­v­a­tive pro­nounce­ments on var­i­ous socio-polit­i­cal issues.
How­ev­er, this ​"polit­i­cal incor­rect­ness" account of the neglect of Mar­shal­l's lega­cy only goes so far. Dur­ing Mar­shal­l's life­time, per­spi­ca­cious observers under­stood that infused with­in the unseem­ly con­tentious­ness of his own ​"non-Zion­ist" group's dis­putes with the Zion­ists from the Yishuv in Manda­to­ry Pales­tine, there was a pow­er­ful coop­er­a­tive spir­it of Jew­ish sol­i­dar­i­ty; and Mar­shal­l's major con­tri­bu­tion to the for­ma­tion of the Jew­ish Agency, the key polit­i­cal instru­ment of the Jew­ish state in the mak­ing, was deeply appre­ci­at­ed after his death, as illus­trat­ed by the telling remark in Chaim Weiz­man­n's auto­bi­og­ra­phy attest­ing that Louis Mar­shall was ​"much near­er to Jews and Judaism…than Louis Bran­deis, an ardent Zion­ist, ever was."
Sim­i­lar­ly, even a cur­so­ry exam­i­na­tion of the record of Mar­shal­l's activ­i­ties dur­ing the last, cru­cial phase of his life estab­lish­es that while he remained nom­i­nal­ly affil­i­at­ed with Repub­li­can con­ser­vatism in the 1920s, his mon­u­men­tal labors for African Amer­i­cans, open immi­gra­tion, envi­ron­men­tal pro­tec­tion, Hait­ian inde­pen­dence and many oth­er caus­es left an unde­ni­ably lib­er­al, some­times even rad­i­cal, stamp on his life record. Just as the Zion­ist cham­pi­on Chaim Weiz­mann lav­ish­ly eulo­gized the non-Zion­ist Mar­shall, paragon fig­ures of Amer­i­can lib­er­al­ism (such as NAACP direc­tors) paid trib­ute to his con­tri­bu­tions. In short, Louis Mar­shall was not real­ly neglect­ed by schol­ars because he was polit­i­cal­ly incorrect.
For sev­er­al decades, I believe, Louis Mar­shall was effec­tive­ly writ­ten out of his­to­ry not because of any­thing he ever said or did, but because a ​"con­sen­sus" method­ol­o­gy, impor­tant in many sub-dis­ci­plines of his­tor­i­cal study though the 1950s, took an espe­cial­ly firm grip on Jew­ish His­to­ry in the peri­od after the Holo­caust, and Israel's for­ma­tion. The abid­ing top­ic of con­cern in Mar­shal­l's life was anath­e­ma to this con­sen­sus methodology.
Louis Mar­shal­l's career can be thought of as a search for cre­ative accom­mo­da­tion between the oppos­ing sta­tus con­cerns and sociopo­lit­i­cal out­looks of his own ​"Uptown" group of afflu­ent Jews of cen­tral Euro­pean ori­gin, and the ​"Down­town" mass­es of immi­grants from East­ern Europe.
A gen­er­a­tion after Mar­shal­l's death, in the peri­od when his­to­ri­ans first had the ret­ro­spec­tive mar­gin of dis­tance need­ed to assess his accom­plish­ments, this top­ic of Uptown-Down­town cre­ative ten­sions was taboo. In 1950s Amer­i­ca, sec­ond and third gen­er­a­tion Jews were hap­py to leave all that Rus­sians ver­sus Ger­mans stuff behind them. And schol­ars after the Holo­caust were under­stand­ably drawn to images of Jew­ish revival and uni­ty – the bois­ter­ous­ly con­tentious Uptown-Down­town vor­tex into which Mar­shall was drawn as a cre­ative medi­a­tor was not, for them, a com­pelling choice of subjects.
Israel's sit­u­a­tion in its first years sure­ly con­tributed to this method­olog­i­cal recoil from dis­cus­sion of rela­tions between ​"east" and ​"west" Jew­ish sub-groups. Through the 1950s, at least up to the Wadi Sal­ib riots in a low income, immi­grant Haifa neigh­bor­hood, dis­cus­sion of the bewil­der­ing­ly com­plex ​"east-west" eth­nic­i­ties gath­ered in the new state of Israel's ma'abarot tent towns was aggres­sive­ly stig­ma­tized. In Israel, ​"con­sen­sus" method­ol­o­gy pro­mot­ing uni­ty and down­play­ing sub-group eth­nic­i­ty was con­sid­ered a strate­gic neces­si­ty in an ongo­ing pri­mor­dial con­flict with Arab forces.
This con­sen­sus method­ol­o­gy was pred­i­cat­ed on melt­ing pot, homog­e­nized visions of real­i­ty that will have increas­ing­ly lit­tle appeal as Jew­ish Stud­ies pro­ceed in a mul­ti-cul­tur­al era. I wrote a big book about Louis Mar­shall under the influ­ence and inspi­ra­tion of a mul­ti-cul­tur­al era that looks out to pat­terns of ever-renew­ing con­flict and rec­on­cil­i­a­tion between demo­graph­ic sub-groups not as a top­ic to be dis­missed or obscured, but rather as the essence of nation­al experience.
The tran­si­tion from homo­ge­neous to het­ero­ge­neous modes of per­ceiv­ing Jew­ish expe­ri­ence has been absolute­ly remark­able in Israel, dur­ing the three decades of my life in the coun­try. When I arrived in Israel, as a wide-eyed Amer­i­can col­lege grad­u­ate, Ashke­nazi-Mizrahi rela­tions were regard­ed as close to the worst thing that could be dis­cussed in pub­lic (a ​"con­spir­a­cy of silence" sti­fled the top­ic, claims the Israeli schol­ar Yehu­da Shen­hav), where­as today a crit­i­cal mass of peo­ple in the coun­try relate to the issue can­did­ly, in full recog­ni­tion of its salience, and with a sense that this sto­ry of sub-groups rela­tion­ship might not be unfold­ing toward a Hol­ly­wood-style hap­py end­ing, but is nonethe­less main­ly pos­i­tive in char­ac­ter, or at least not a top­ic to be swept under the rug.
Com­pared to the Israeli sit­u­a­tion, con­tem­po­rary Amer­i­can Jews might have a much less tan­gi­bly imme­di­ate con­nec­tion to east-west sub-group dynam­ics. That is to say, the love-hate cre­ative ten­sion in rela­tions between yahudim and Yid­din, between the Uptown Ger­mans and the Down­town Rus­sians, was part of their grand­par­ents' real­i­ty, not theirs. Nonethe­less, present and future gen­er­a­tions of Jews in Amer­i­ca are, and will be, con­di­tioned by mul­ti-cul­tur­al modes of per­cep­tion. When they look back to their com­mu­ni­ty's past, they will not peer through the mono­chro­mat­ic prism of con­sen­sus method­ol­o­gy. Instead, they are, or will be, keen­ly inter­est­ed in the diver­si­ty of past Jew­ish life. For them, as for their Israeli coun­ter­parts, the sort of east-west medi­a­tion to which Mar­shal­l's life became ded­i­cat­ed will not appear as a prob­lem to be ignored, but rather as the essence of eth­nic or nation­al experience.
In the months when I was prepar­ing a biog­ra­phy Louis Mar­shall, my col­leagues in friends in Israel some­times asked me incred­u­lous­ly why some­one who was trained to do Jew­ish His­to­ry research in Israel, and who teach­es in Israel, would devote so much time to an Amer­i­can Jew­ish fig­ure. The prob­lem with that ques­tion is not real­ly that it draws upon stereo­typ­i­cal per­cep­tions of Amer­i­can Jew­ish life (though it cer­tain­ly does that): it is also based on a stereo­typ­i­cal and self-defeat­ing premise that lessons about Jew­ish life in Israel are to be learned and shared exclu­sive­ly among Israelis.
Writ­ing this biog­ra­phy, I won­dered some­times how Louis Mar­shall, who was not a Zion­ist but who was deeply curi­ous about what the cul­ture of a Jew­ish state might be like, might have respond­ed to the final, ​"Israeli," con­clu­sion I drew about the project. More than any­where else in mod­ern times, the imper­a­tive of medi­at­ing cre­ative­ly between the com­pet­ing, though not anti­thet­i­cal, out­looks of Jew­ish sub-groups – that is, the abid­ing mis­sion of Mar­shal­l's life – is elu­ci­dat­ed by life in the Jew­ish state in the 21st cen­tu­ry. So I'll end this blog by won­der­ing aloud whether the idea of a full length biog­ra­phy of Louis Mar­shall com­ing out of Israel ought to be seen as a con­tra­dic­tion to the log­ic of his life as a pre­mier Amer­i­can Jew. How­ev­er vain­glo­ri­ous it might sound, I took pride in think­ing of this project as con­sum­ma­tion of that logic.
Join M. M. Sil­ver for the Louis Mar­shall and the Rise of Jew­ish Eth­nic­i­ty in Amer­i­ca: A Biog­ra­phy book launch on March 12th at Con­gre­ga­tion Emanu-El in NYC. More infor­ma­tion about this event can be found here