David Plotz
is guest-blog­ging for MyJew­ish­Learn­ing and the Jew­ish Book Council.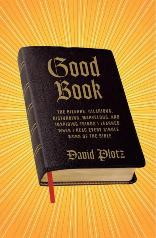 There are the writ­ers who suc­ceed by argu­ing evo­lu­tion exists and God doesn't, and there are the writ­ers who suc­ceed by argu­ing God exists and evo­lu­tion doesn't. And then there's Robert Wright, whose new book is The Evo­lu­tion of God
.
Any­one who's had the plea­sure of read­ing Wright's ear­li­er books — the mon­ster best­seller The Moral Ani­mal
and Nonze­ro
 — won't be sur­prised the ambi­tion of The Evo­lu­tion of God. The book aims to do noth­ing less than reframe the entire his­to­ry of God in terms of game the­o­ry: Wright argues that ideas about god changed and evolved based on how much a soci­ety per­ceived it need­ed to coop­er­ate with rival groups.
This is a blog post, so I don't have time to do jus­tice to his very rich, sophis­ti­cat­ed, and wit­ty elab­o­ra­tion of this the­o­ry. Instead, I just want to linger on his Jew­ish chap­ters, which I found both sat­is­fy­ing and deeply disconcerting.
I've just writ­ten a book about read­ing the Bible (Good Book: The Bizarre, Hilar­i­ous, Dis­turb­ing, Mar­velous, and Inspir­ing Things I Learned When I Read Every Sin­gle Word of the Bible
, since you asked), and while I was doing it, I had to wres­tle with a series of soul-dis­turb­ing ques­tions. Why is God so awful most of the time? Why are the Israelites so stu­pid? Per­haps the most per­plex­ing one was: Why are so many of the Bible's heroes so unpleasant?
There was one kind of hero in par­tic­u­lar who bugged me: The rabid monothe­ist. I real­ize that this is a pecu­liar thing to admit, giv­en that Judaism did, after all, invent monothe­ism. Still, the nas­ti­est Jews in the whole Bible — and I'm look­ing at you Joshua, Isa­iah, Ezra, and Josi­ah—are the most enthu­si­as­tic war­riors for Yah­weh. Make no mis­take: These guys are insane­ly devot­ed to God. They top­ple the altars of idol­a­tors, ban­ish Baal-wor­ship­ing wives from Jerusalem, put to the sword every sin­gle man, woman, and baby in a Mol­e­ch-lov­ing ene­my town, etc. The Bible clear­ly admires these zealots for their sav­agery in God's name. I found them hor­ri­fy­ing, and shame­ful. Why should I be expect­ed to cheer while Joshua com­mits geno­cide?
Until I read Wright's book, I nev­er under­stood why the Bible is so keen on the monothe­ist jerks. And I couldn't ade­quate­ly explain my own dis­com­fort with them.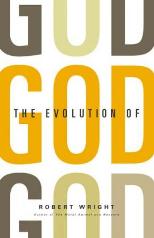 Wright's argu­ment goes some­thing like this: When soci­eties are con­fi­dent, and open to com­mer­cial and social rela­tion­ships with neigh­bor­ing tribes or king­doms, they're flex­i­ble about god. Wright describes this open­ness as a ​"nonze­ro" rela­tion­ship: If we gain more than we lose by inter­act­ing with anoth­er soci­ety, then we're like­ly to tol­er­ate their reli­gious beliefs. Even if they wor­ship the ​"wrong" gods, we'll over­look it, or maybe even find some way to fold their gods into our reli­gion. Case in point: Solomon, who mar­ries 700 for­eign wives, and erects altars to their gods through­out Israel. The Bible views this heresy as a dis­as­ter; Wright sees the reverse: Solomon is a suc­cess­ful king who expands the bor­ders of Israel and engages in prof­itable trad­ing with his neigh­bors exact­ly because he wel­comes their gods. In fact, Wright posits, our very own sin­gle God is in fact an amal­gam of sev­er­al gods — Yah­weh, El — fused togeth­er to unite dis­parate groups.
Monothe­ism, in this read­ing, doesn't rep­re­sent progress, but rather an intol­er­ant defen­sive response to an inter­con­nect­ed world. Josi­ah, Ezra, Isa­iah, and Joshua, by con­trast, are zero-sum thinkers, who choose a rabid, monothe­is­tic nation­al­ism rather than coop­er­a­tion with might­i­er for­eign empires.
You can under­stand why this would con­fuse me. As a cit­i­zen of such an inter­con­nect­ed world, I cher­ish the kind of nonze­ro sum tol­er­ance Wright endors­es: Eth­nic mix­ing, per­me­able bor­ders, less nation­al­ism, more mul­ti­cul­tur­al­ism. Gods every­where, and all good friends! Then again, as a Jew, I'm per­turbed by the notion that Yah­weh only gained pow­er because Israelites cut them­selves off from the world around them. Is it time to start wor­ship­ing idols?
David Plotz is the edi­tor of Slate mag­a­zine. His new book Good Book: The Bizarre, Hilar­i­ous, Dis­turb­ing, Mar­velous, and Inspir­ing Things I Learned When I Read Every Sin­gle Word of the Bible
, is avail­able now.