Ear­li­er this week, Dr. Han­nah S. Press­man wrote about
the idea behind Choos­ing Yid­dish: New Fron­tiers of Lan­guage and Cul­ture
and when she first began to study Yid­dish. She has been blog­ging here all week for Jew­ish Book Coun­cil and MyJew­ish­Learn­ing.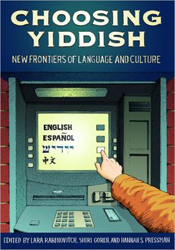 Zi kholmt – she dreams.

In Ire­na Klep­fisz​'s remark­able poem, ​"Etlekhe vert­er oyf mame-loshn / A few words in the moth­er tongue," the speak­er presents dif­fer­ent female iden­ti­ties in the form of a Yid­dish vocab­u­lary list. The poem tog­gles seam­less­ly between Yid­dish and Eng­lish, but grad­u­al­ly, the bilin­gual­ism of the mid­dle stan­zas gives way to a series of incan­ta­tions sole­ly in the mame-loshn of Yid­dish.

Here is Klepfisz's haunt­ing final refrain:
zi kholmt
zi kholmt
zi kholmt

She dreams / she dreams / she dreams. What strikes me about these vers­es? The insis­tent female pro­noun, zi; the fact that the poem has shift­ed irrev­o­ca­bly into Yid­dish; the notion that a poem all about lan­guage ends with a verb not indi­cat­ing speak­ing or singing, but rather, dream­ing.

When I have been most immersed in learn­ing a lan­guage, I have begun to dream in that tongue. It hap­pened to me in Israel when I was study­ing Hebrew inten­sive­ly, and when I was tak­ing Hebrew-only grad sem­i­nars. And it hap­pened to me dur­ing my YIVO sum­mers, too. These dreams were vivid and sur­pris­ing. I recall myself speak­ing and hear­ing oth­ers speak, and being quite con­scious with­in the dream of the lin­guis­tic sit­u­a­tion. Nev­er, to my knowl­edge, did I break the spell and begin to talk in Eng­lish instead.

Lan­guages per­me­ate our beings, our psy­ches, our world­views. Cog­ni­tive psy­chol­o­gists and soci­olin­guists tell us that lan­guages direct­ly impact how we con­struct real­i­ty. The way we per­ceive and remem­ber our lives can be linked to the gram­mar of our moth­er tongues.

And some­how, through a com­plex com­bi­na­tion of synaps­es, sig­nals, and syn­tax, lan­guages can shape the hyper-real­i­ty of dream space, too.

To sleep: per­chance to dream … in Yiddish.
Dr. Han­nah S. Press­man is the co-edi­tor, with Lara Rabi­novitch and Shiri Goren, of Choos­ing Yid­dish: New Fron­tiers of Lan­guage and Cul­ture. She is the edi­tor of stroum​jew​ish​stud​ies​.org and affil­i­ate fac­ul­ty for the Uni­ver­si­ty of Washington's Stroum Jew­ish Stud­ies Program.