We know, it seems far too ear­ly to be plan­ning for Chanukah. For all the ​"Thanks­givin­gukkah" fren­zy that's been about since the start of autumn, the cal­en­dric propin­quity between now and those eight oil-sat­u­rat­ed nights still hasn't real­ly sunk in. But guess what? It's already the first day of Kislev. That's right, Chanukah is only a few weeks away. Ready or not, it's time to rev up that fes­tive mood you usu­al­ly store for anoth­er month into the Gre­go­ri­an year. So place your jel­ly-filled order to the bak­ery, stock up on pota­toes, start scrap­ing the rem­nants of last year's can­dles off the chanukkiot from the plas­tic stor­age bin in your base­ment, and make some space on your book­shelves for eight nights of reading.
There's real­ly only one night of Chanukah I dis­tinct­ly remem­ber out of all the eight-day Fes­ti­vals of Lights from my child­hood and adult life so far. It wasn't real­ly part of the Fes­ti­val at all.
Long after the cheap can­dles had burned down to mul­ti­col­ored nubs of rehard­ened wax, my moth­er assem­bled her paja­maed brood under the flo­ral bed canopy that matched the Pep­to-Bis­mol walls of ​"the pink room" — the room my sis­ter and I prac­ti­cal­ly shared, owing to the trun­dle cot that rolled out from under the bed's thick wood­en frame and the con­ve­nience of com­bin­ing two bed­time rou­tines into one, when we had been much younger. By now my sis­ter and I had been read­ing qui­et­ly to our­selves for years, and our mother's insis­tence that we join our younger sib­lings for a bed­time sto­ry was unprece­dent­ed. Bewil­dered and, admit­ted­ly, slight­ly dis­grun­tled, we lis­tened with heav­ing patience as our read­er deliv­ered a pro­logue on the lengths she went to in order to pro­cure this book, only recent­ly released in the Unit­ed States, in time for the hol­i­day. It was expect­ed, she told us, to be some­thing quite spec­tac­u­lar. ​"Chap­ter One," she final­ly began: ​"The Boy Who Lived."
We had no idea what we were in for.
Out­side of day school class­rooms, Amer­i­can Jews don't nec­es­sar­i­ly think of Chanukah as a sto­ry-dri­ven hol­i­day. We focus on the aes­thet­ics: the can­dles in the win­dow, the over­ly (for us) melo­di­ous bless­ings and recita­tions, the golden/​chocolate win­nings and oil-drenched foods — and of course, I'll go ahead and throw in a cri­tique about Amer­i­can con­sumerism here. But there's no seder, there's no table to sit down to for hours of required retelling, and that real­ly is a shame. Every night of Chanukah is a great night for sto­ries — and not just Har­ry Pot­ter.
I have a child­hood friend whose fam­i­ly was required to sit around a table each night after light­ing the can­dles. With all oth­er illu­mi­na­tion in the house extin­guished, his father would read aloud by the light of the shamash—the rest of the can­dles left for spec­ta­cle only, as stip­u­lat­ed in hanerot hal­lal­lu, on the win­dowsill. Some of it was tra­di­tion­al learn­ing, but most of that time was ded­i­cat­ed to fan­tas­ti­cal epics and curi­ous sto­ries: tales that brought mag­ic, both real and fic­tion­al, back into those eight mirac­u­lous nights; that chal­lenge our under­stand­ing of the world and ourselves.
Chanukah is a cel­e­bra­tion com­mem­o­rat­ing a jar of oil last­ing for eight days, rather than the incred­i­ble events of human achieve­ment and resis­tance lead­ing up to that qui­et mir­a­cle — and it isn't easy to get excit­ed about the denou­ment of the sto­ry. But in way that's one of the lux­u­ries of this most pro­fane of Jew­ish hol­i­days: we aren't held to telling this one nar­ra­tive, alone. So for each of the eight nights of Chanukah, the Jew­ish Book Coun­cil is out to help you find more sto­ries — to read to your chil­dren, to share with young adults, and to read after the kids are all in bed.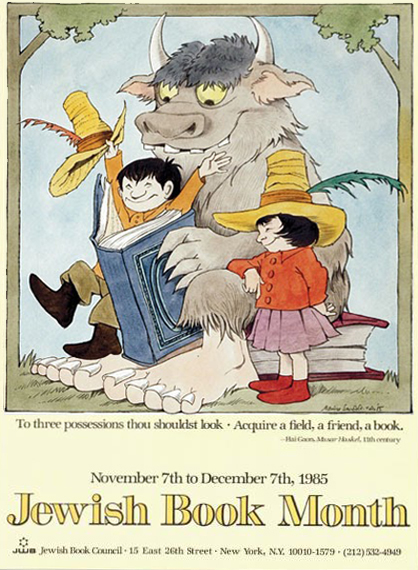 Find all of the posts in the Eight Nights of Sto­ries series here.
Nat Bern­stein is the for­mer Man­ag­er of Dig­i­tal Con­tent & Media, JBC Net­work Coor­di­na­tor, and Con­tribut­ing Edi­tor at the Jew­ish Book Coun­cil and a grad­u­ate of Hamp­shire College.