Bar­bara Kreiger is the author of The Dead Sea and the Jor­dan Riv­er, a chron­i­cle of the nat­ur­al and human his­to­ry of two of the Mid­dle East's most icon­ic bod­ies of water. Bar­bara is guest blog­ging here all week as part of the Vis­it­ing Scribe series on The ProsenPeo­ple.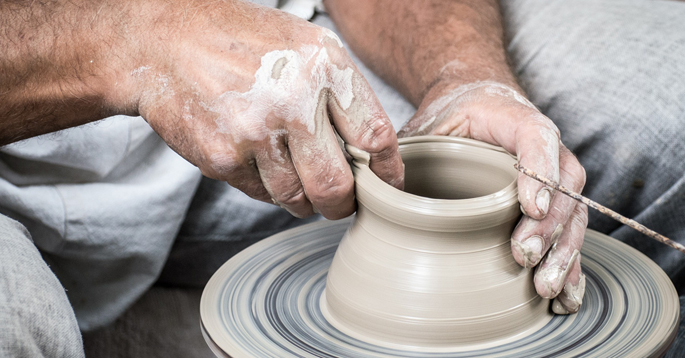 When stu­dents ask me what to write about or how to start, I tell them nev­er to under­es­ti­mate what's inter­est­ing, because the truth is that any sub­ject can poten­tial­ly engage a reader's atten­tion. If you have an instinct, no mat­ter what it is, try writ­ing a cou­ple of pages, I sug­gest, and then see if those pages become three, then four.
I rec­om­mend research as a way of learn­ing more. If you ask old­er fam­i­ly mem­bers what it was like when they were young: that's research. If you vis­it the town where your par­ents grew up: that's research. If you look online or in a library to find out what might have been on your grand­par­ents' din­ner table or what games kids played back then, that's research. Research reflects our curios­i­ty and is how we find answers to our ques­tions. It's about ​"being there," in our sub­ject, both lit­er­al­ly and imaginatively.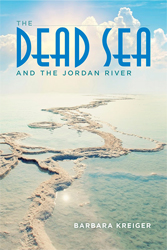 When I start­ed writ­ing my book about the Dead Sea, the first thing I did was to hike in the region and get a feel for the land­scape. I was for­tu­nate that I was able to spend sev­er­al weeks in Israel, and with a friend who knew the region inti­mate­ly, I was able to learn far more than I would have on my own. I talked to all kinds of peo­ple — out­door enthu­si­asts, nature lovers, sci­en­tists, kib­butzniks — and heard how pre­cious the envi­ron­ment was to all of them.
At one point, I came upon a par­tic­u­lar fea­ture along the shore. It was a rock that was marked with incised let­ters. It turned out that the rock had a his­to­ry of some eighty years and was con­nect­ed to ear­ly explo­ration of the Dead Sea region, and I made it my mis­sion to dig into that his­to­ry. After a few months of inves­ti­gat­ing, I had writ­ten the first ten pages of what would be my book. I didn't know it then, but what's inter­est­ing is that those ten pages end­ed up as the con­clu­sion to a lat­er chapter.
What that taught me, and which I try to pass on to begin­ning writ­ers who are won­der­ing how to start, is that it doesn't mat­ter where you start, but that you start. I explain that unlike a pot­ter, the writer has no clay to begin fash­ion­ing into a bowl or jug: our ​"clay" is not the thoughts in our heads, because they come and go, and we can't turn them over in our hands to see if we want to alter the shape, add to it, remove excess. For a writer, words on paper are what we have to work with. Then we can devel­op a kind of rela­tion­ship with what we've writ­ten and test it for its truth or beau­ty: Do I like what I said? Have I said it well? Have I said what I meant? And — most impor­tant­ly, to my mind — do I know yet what I meant to say? For to me, writ­ing is a process of explo­ration and dis­cov­ery, and while it caus­es some uncer­tain­ty when we don't ful­ly know what we want to express, it's also quite excit­ing that the very process of writ­ing brings us to greater under­stand­ing of our subject.
There is no such thing as objec­tiv­i­ty in writ­ing. Even when we try, we can't leave our­selves out entire­ly. Our writ­ing reflects who we are, and rather than try to hide that, we can use that aware­ness respon­si­bly and cre­ative­ly. That's not to say that when I wrote about the Dead Sea I wrote about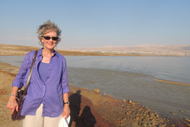 what it means to me. Rather, it's to sug­gest that implic­it­ly I con­veyed my appre­ci­a­tion for this unique body of water in the way I described it and con­sid­ered its significance.
My final advice: every­thing is fresh and new. No one has yet said the things you want to say in the way that you'd say it. It's your oppor­tu­ni­ty and your priv­i­lege to find the words to express yourself.
Bar­bara Kreiger is adjunct asso­ciate pro­fes­sor and chair of cre­ative writ­ing in the Mas­ter of Arts in Lib­er­al Stud­ies Pro­gram at Dart­mouth College.
Relat­ed Content:
Bar­bara Kreiger is adjunct asso­ciate pro­fes­sor and chair of cre­ative writ­ing in the Mas­ter of Arts in Lib­er­al Stud­ies Pro­gram at Dart­mouth Col­lege. Her oth­er pub­li­ca­tions include Divine Expec­ta­tions: An Amer­i­can Woman in Nine­teenth-Cen­tu­ry Pales­tine. Her work has appeared in The New York Times, The Boston Globe, Smith­son­ian Mag­a­zine, and oth­er publications.