Lau­ren Shock­ey is the author of Four Kitchens: My Life Behind the Burn­er in New York, Hanoi, Tel Aviv, and Paris. She offered thoughts on Yom Kip­pur and break fast to us last week, which we're shar­ing here today. While it's too late late to make some of the deli­cious dish­es she men­tions for this past year's Yom Kip­pur, save them for next year, or, even bet­ter, try them out for Sukkot this week.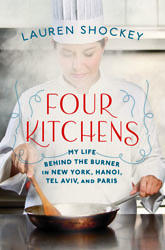 We might asso­ciate Yom Kip­pur, the Day of Atone­ment, with fast­ing, but for me, the hol­i­day is as much about eat­ing — that is, break­ing the fast — as it is about abstain­ing from food.
Grow­ing up in New York City, my break fast meals were minor affairs. Real­ly, it was just my par­ents and me hav­ing din­ner, since the vast major­i­ty of our Jew­ish rel­a­tives live out­side of New York City. Yet when I lived in Tel Aviv, work­ing at the restau­rant Carmel­la Bistro and writ­ing what would become Four Kitchens, I befriend­ed a group of Israelis who took me under their wing and we cel­e­brat­ed the Days of Awe togeth­er, first hav­ing a large din­ner for Rosh Hashanah, and then an equal­ly fes­tive break fast meal fol­low­ing Yom Kip­pur. Because I was appren­tic­ing to be a chef, I had been tasked with cook­ing for Rosh Hashanah, and I pre­pared an elab­o­rate feast com­bin­ing Amer­i­can favorites (brisket, an apple tart) with Israeli ones (hum­mus).
For Yom Kip­pur, my friend Kate took over the din­ner. My new­found pals and I gath­ered around the table, admir­ing her flaky gold­en boure­ka right out of the oven, excit­ed to sate our hunger and begin anew. Yet, as when the sea­sons change and we look towards the New Year, our long­ing wasn't just a phys­i­cal hunger, but an emo­tion­al one, too, of begin­ning a jour­ney togeth­er as the book seals our fate for the ensu­ing year.
Although I cel­e­brat­ed the hol­i­days in New York City this year with friends and fam­i­ly, I cooked the dish­es that I made dur­ing my Tel Avi­vian Days of Awe (and which sub­se­quent­ly made it into Four Kitchens): sweet pota­to soup with feta and za'atar oil, red-wine braised brisket, and pome­gran­ate-herb sal­ad (see recipes below). And yet while I've mas­tered the skills to devel­op recipes on my own, I still like to leaf through cook­books that cel­e­brate the sea­son and the cui­sine of the Lev­ant. Here are my three of my picks for when you're look­ing for deli­cious sus­te­nance for the Jew­ish holidays.
The New Book of Israeli Food – Filled with lus­cious pho­tographs, this book cel­e­brates con­tem­po­rary Israeli cook­ing, and you can even find a recipe from Carmel­la Bistro where I worked. You'll see sim­ple fare, like shak­shu­ka (spicy poached eggs), as well as more com­pli­cat­ed dish­es like lamb and quince stew. Part of the book is also divid­ed by hol­i­days, mak­ing it all the more fun this time of year.
The Book of Jew­ish Food — Clau­dia Roden is a cook­book god­dess, explor­ing the cuisines of the Lev­ant. While I am par­tial to the recipes in her New Book of Mid­dle East­ern Food, I real­ly love how in this tome she explores the world­wide Jew­ish Dias­po­ra and how recipes have changed accord­ing to geography.
Quich­es, Kugels, and Cous­cous – Hav­ing lived in both Paris and Tel Aviv, I find this book to be real­ly infor­ma­tive. We don't nor­mal­ly think of France as hav­ing a strong Jew­ish cul­ture, but Nathan traces the past 2,000 years of his­to­ry, illus­trat­ing the par­al­lels in the two cuisines. The North African Sephardic recipes are of par­tic­u­lar inter­est to me, since I love the rich, spice-filled cuisine.
Recipes from Four Kitchens:
Sweet Pota­to Soup with Feta and Zaatar Oil
This is a real­ly sim­ple soup, warm­ing and autum­nal and gen­tly fla­vored with hints of the Mid­dle East. Zaatar is a spice blend that com­bines dried hys­sop, thyme, and sesame seeds and can be found at Mid­dle East­ern gro­cery stores or oth­er spe­cial­ty stores.
Serves 6 – 8
1⁄4 cup plus 2 table­spoons olive oil
2 table­spoons zaatar
1 table­spoon unsalt­ed but­ter
1 onion, diced
1 car­rot, diced
1 small leek, diced
5 small sweet pota­toes, peeled and chopped in 1‑inch cubes
6 cups water
2 cups chick­en stock
1 bay leaf
1 table­spoon kosher salt
1⁄4 cup feta cheese
In a small pot, com­bine 1⁄4 cup olive oil and the zaatar. Cook over medi­um heat until hot, but take care not to burn the zaa‐ tar. Set aside for at least 1 hour to cool and infuse.
In a large pot, heat the but­ter and remain­ing olive oil over medium‐​high heat. When the but­ter has melt­ed, add the onion, car­rot, and leek, and cook until soft­ened, about 5 min­utes. Add the sweet pota­to cubes, and sauté for anoth­er minute. Add the water, stock, and bay leaf, and bring to a boil. once the soup begins to boil, low­er to a sim­mer and cook for 30 min­utes. Check to make sure the sweet pota­toes are com­plete­ly soft. Add the salt to the soup.
Remove the bay leaf and puree the soup using a reg­u­lar or immer­sion blender. If the soup is too thick, add a lit­tle water or stock until a desired con­sis­ten­cy has been reached. Ladle the soup into indi­vid­ual bowls. Crum­ble the feta into each bowl and driz­zle with the zaatar oil.
Red Wine-Braised Brisket
Brisket is a pop­u­lar choice for the Jew­ish hol­i­days, and although the meat can fre­quent­ly be tough, the trick is to cook it for a real­ly long time over a very low tem­per­a­ture so that the fat and col­la­gen break down and the meat becomes fork‐​tender. This is great served over a bed of creamy polen­ta or mashed pota­toes. The 5‐​to‐​6‐​pound brisket is the weight before the fat is trimmed off; after the fat is trimmed, the yield should be about 3 to 4 pounds of beef.
Serves 8
1 medi­um to large yel­low onion
4 car­rots
1 leek, white part only
2 ribs cel­ery
1 beef brisket, about 5 to 6 pounds before trim­ming
1 table­spoon kosher salt
1⁄4 tea­spoon
fresh­ly ground black pep­per
3 table­spoons olive oil
6 cloves gar­lic
2 bay leaves
6 sprigs thyme
2 cups red wine
2 cups beef stock
Pre­heat the oven to 320 degrees F. Cut the onion in half ver‐ tical­ly, then cut each half into quar­ters. Cut the car­rots, leek, and cel­ery into 2‐​inch pieces.
Trim and dis­card all the fat off the brisket, includ­ing the cen‐ ter lay­er of fat. Cut the brisket into three pieces. Gen­er­ous­ly sea­son the brisket pieces with the salt and pep­per on all sides. Heat 2 table­spoons olive oil in a large skil­let over high heat. When the oil begins to smoke, place one piece of the brisket in the pan and sear on each side for about 2 min­utes, or until a dark gold­en crust forms. Remove from the pan and keep warm. Repeat with the remain­ing two pieces of brisket. Add anoth­er table­spoon of olive oil to the pan, and sauté the gar‐ lic, onion, car­rots, leek, cel­ery, bay leaves, and thyme until the gar­lic begins to turn gold­en. Trans­fer the veg­etable mix­ture to a Dutch oven or oth­er heavy‐​bottomed bak­ing dish. Place the beef atop the bed of vegetables.
Add 1⁄2 cup red wine to the skil­let and deglaze the pan, scrap‐ ing up any bits that may be stuck to the bot­tom. once you have reduced the wine by half, pour over the meat. Add the remain­ing wine and the beef stock to the skil­let, and bring to a boil. Pour over the meat and veg­eta­bles. The liq­uid should come halfway up to the meat but should not sub­merge it completely.
Bake, cov­ered, for 4 hours, bast­ing and turn­ing the meat every half hour. The brais­ing liq­uid should be at a gen­tle boil the whole time. If the liq­uid is boil­ing rapid­ly, low­er the heat to 315 degrees F. If there is a lot of liq­uid remain­ing in the pot, cook with the lid slight­ly ajar for the last hour. The meat should be ten­der enough when done to be cut with a fork and should fall apart eas­i­ly when han­dled with tongs. Let sit for about 10 min­utes before serving.
Divide the brisket among bowls and serve with some of the veg­eta­bles and brais­ing liquid.
Pome­gran­ate-Herb Salad
This bright‐​green‐​and‐​red sal­ad is inspired by the herb sal­ad with toast­ed cashews served at Carmel­la. Plus, it uti­lizes the best trick I learned at Carmel­la: deseed­ing pome­gran­ates in a snap. Since herbs have a ten­den­cy to dark­en when cut, make sure they are com­plete­ly dry after wash­ing them (the best way to wash them is to leave them tied in bunch­es and let them soak in cold water for a few min­utes, swirling the water occa­sion­al­ly to remove any dirt) before slic­ing. And don't wor­ry if you have uneven or whole leaves; that's part of this salad's charm.
Serves 6
2 pome­gran­ates
2 bunch­es pars­ley (about 6 cups' worth of leaves)
1 bunch cilantro (about 2 cups' worth of leaves)
1⁄2 bunch mint (about 1 to 11⁄2 cups leaves)
4 cups baby arugu­la leaves
1⁄2 tea­spoon kosher salt
1⁄4 cup plus 1 table­spoon olive oil
2 table­spoons lemon juice
Slice the pome­gran­ates in half length­wise. Make five to six inci­sions at a 20‐​degree angle into the base of each half. over a bowl, place the pome­gran­ate half seed‐​side down into your palm and whack the top of the fruit with a spoon. Repeat until there are no more seeds left in the fruit. Remove any yel­low pith that might have fall­en out along with the seeds. Place the seeds into a large sal­ad bowl.
Cut the pars­ley, cilantro, and mint: Leav­ing the herbs tied in bunch­es and using a sharp knife, thin­ly slice the herbs start­ing at the top of the bunch. once you reach most­ly stems, dis­card the bunch. Add the herbs to the bowl.
Take the arugu­la and form it into a ball. Using the same sin‐ gle slic­ing motion, cut the arugu­la into small pieces. Add to the sal­ad bowl along with the salt, olive oil, and lemon juice. Com‐ bine well and serve immediately.
Be sure to check out Lau­ren Shockey's recent­ly pub­lished Four Kitchens: My Life Behind the Burn­er in New York, Hanoi, Tel Aviv, and Paris.