Ear­li­er this week, Janis Cooke New­man wrote about why she writes his­tor­i­cal fic­tion. She is the author of the nov­el Mary: Mrs. A. Lin­coln and A Mas­ter Plan for Res­cue as well as a mem­oir The Russ­ian Word for Snow. She will be blog­ging here all week for Jew­ish Book Coun­cil's Vis­it­ing Scribe series.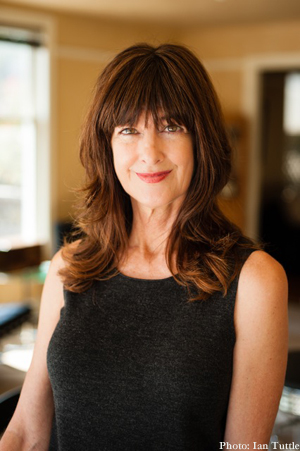 I often think I'm the ide­al writer for his­tor­i­cal fic­tion, because I'm not a fan of doing research. Oth­er writ­ers tell me how they dis­ap­pear down the rab­bit hole, spend­ing weeks in the library, or jump­ing from one obscure web­site to anoth­er. How months go by and they don't get any writ­ing done.
To me, the whole idea of set­tling in with a big stack of his­tor­i­cal texts just makes me itchy. Main­ly because it's the fic­tion part of his­tor­i­cal fic­tion I find so com­pelling — the sto­ry and the char­ac­ters, not the facts.
Not that I'm will­ing to ignore them entire­ly. I'm one of those writ­ers (and read­ers) of his­tor­i­cal fic­tion who feels cheat­ed if the nar­ra­tive takes too many lib­er­ties. I don't want the wrong side to win the war, or a real per­son to have three hus­bands she didn't have. And frankly, I'd rather a fic­tion­al char­ac­ter not ride a sub­way line that didn't exist, or eat a kind of hot dog that hadn't been invent­ed. But ulti­mate­ly, I'm more inter­est­ed in how it felt to live and love — and even hate — dur­ing a cer­tain time peri­od. And you don't get that from facts.
When I'm writ­ing, I try to be as imag­i­na­tive with what I use for my research as I am cre­at­ing my sto­ry. Because to real­ly under­stand what it was like for my char­ac­ters to live in their time — to real­ly write their worlds — I have to go beyond his­to­ry books. I some­times even have to go beyond books.
For the boy, Jack, in A Mas­ter Plan for Res­cue, I relied a lot on my own father's sto­ries about grow­ing up on the north­ern tip of Man­hat­tan dur­ing the ear­ly days of World War II. My father was the one who told me about the blue Son in Ser­vice stars peo­ple hung in their apart­ment win­dows when­ev­er some­one in the fam­i­ly went to war — and how those stars were replaced with gold ones if that son, or broth­er, or father was killed in action.
To write the chap­ter about Jakob — the young Ger­man Jew who falls in love with the ill-fat­ed Rebec­ca as Hitler is com­ing to pow­er — I read Christo­pher Isherwood's Berlin Sto­ries. These sto­ries, full of deca­dence and vio­lence, gave me a sense of what that Ger­man city must have been like at that moment in time — and did it bet­ter than any non­fic­tion book could have.
When I want­ed to write the char­ac­ter Rivka's escape from Ger­man-occu­pied Paris, I re-read Irene Nemirovsky​'s won­der­ful Suite Fran­caise. Again, bet­ter than any his­to­ry text, this nov­el allowed me to imag­ine into what it would feel like to be a young, deaf girl flee­ing the Nazis on foot across an entire country.
For fic­tion writ­ers, every­thing becomes a kind of research. But for those of us who write his­tor­i­cal fic­tion, we're depen­dent on it. The trick is not depend­ing on it too much, and not lim­it­ing our­selves to facts. Because sto­ries — like lives — are made up of more than facts. And that is what fic­tion under­stands best.
Janis Cooke New­man is a mem­ber of the San Fran­cis­co Writ­ers' Grot­to, on the board of Litquake, and a founder and orga­niz­er of the Lit Camp writ­ers con­fer­ence. Read more about her and her work here.
Relat­ed Content:
Janis Cooke New­man is the author of the nov­els A Mas­ter Plan for Res­cue, Mary: Mrs. A Lin­coln, and the mem­oir The Russ­ian Word for Snow. She is the founder of the Lit Camp writ­ers conference.