In her last posts, Abby Sher, author of Amen, Amen, Amen: Mem­oir of a Girl Who Couldn't Stop Pray­ing (Among Oth­er Things)wrote about revis­it­ing her child­hood syn­a­gogue and the anonymi­ty of pray­ing at a Hil­lel. She is blog­ging all week for MyJew­ish­Learn­ing and the Jew­ish Book Council.
Flash­back: It's Yom Kip­pur, my favorite hol­i­day. This year I let myself have some cof­fee. Maybe I shouldn't admit that, but I real­ly do just fall asleep at the first Barchu otherwise.
I think it is also the first year that I am active­ly try­ing to make my own spir­i­tu­al practice.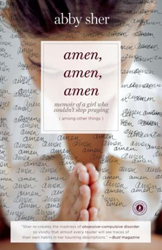 I have just writ­ten a book, Amen, Amen, Amen: Mem­oir of a Girl who Couldn't Stop Pray­ing, about my obses­sion with prayer. I've spent years repeat­ing the same phras­es with­out know­ing more than the rhythm and solace they offered as they buzzed on my tongue. I feel respon­si­ble now that I've pub­lished the book to accept this as my past and move into the present.
There's also a kid to think about. My deli­cious lit­tle girl who is smush­ing cheese in her hands and danc­ing to NPR, but one day will hope­ful­ly come with me to tem­ple and lis­ten to these songs for the first time. My hus­band is not reli­gious and he's said she can do what­ev­er she wants as long as she gets to expe­ri­ence a lot of choic­es. What do I have to offer her if all I know of Judaism are the pre­scribed songs and recipes that I've repeat­ed over and over, often locked in a clos­et for hours at a time?
Union Tem­ple is the old­est con­gre­ga­tion in Brook­lyn, found­ed in 1848. It is in an old build­ing by Prospect Park and the seats creak. The bath­rooms smell like cool dis­in­fec­tant. There is a hunched man, whose name I think is Hen­ry, always mak­ing sure peo­ple have their sid­dur and that they know when to go up on the bima for aliyahs. At Kol Nidre, Rab­bi Good­man speaks pas­sion­ate­ly about the uni­ver­sal right to health care. Her voice is so urgent I feel ashamed for my inaction.
This is where I want to make my new reli­gious home. I haven't told any­one yet. Haven't paid any dues or even intro­duced myself after ser­vices. There is still part of me that doesn't know how to let go of my root­ed tra­di­tions and to hear these prayers for the first time. There is a part of me that can't believe or accept that I am the mom­my now, start­ing an entire­ly new sto­ry. And there is a part of me that is embark­ing, grow­ing, some­what timid­ly, but yes evolv­ing, join­ing my voice with whomev­er is near me in song, and then dip­ping out to wan­der home, feel­ing these new melodies swell inside me.
Abby Sher is the author of Amen, Amen, Amen: Mem­oir of a Girl Who Couldn't Stop Pray­ing (Among Oth­er Things). Check out her offi­cial web­site here.
Relat­ed Content: