Ear­li­er this week, Chris Mori­ar­ty wrote about writ­ing her new book and songs of hope and fail­ure. She will be blog­ging all week for MyJew­ish­Learn­ing and the Jew­ish Book Council.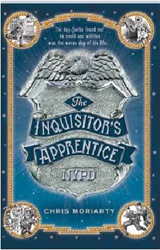 One of my main goals in writ­ing The Inquisitor's Appren­tice was to bring the Low­er East Side to life for my own kids and make it a place they'd want to vis­it and learn more about. And what brings the past to life bet­ter than food, music, and theater?
Of course there's a pletho­ra of great books about every aspect of life on the Low­er East Side. But here — as cul­tur­al com­fort food for the soul — are my favorite books about food, klezmer, and Yid­dish theater.
The best book bar none about food on the Low­er East Side is Jane Ziegelman's 97 Orchard: An Edi­ble His­to­ry of Five Immi­grant Fam­i­lies in One New York Ten­e­ment. Ziegle­man turns bare bones menus into a com­pre­hen­sive account of how immi­grant fam­i­lies worked, shopped, ate, and lived on the Low­er East Side. Her por­traits of the five
fam­i­lies are sen­si­tive, beau­ti­ful­ly writ­ten, and at times deeply mov­ing. And the book is packed to the gills with gems of for­got­ten culi­nary his­to­ry. Such as the fact that shmaltz was most­ly made with goose fat until the 1930s, when Jew­ish gang­sters began to run ille­gal chick­en farm­ing oper­a­tions near the East Riv­er. Who knew?
There are a num­ber of excel­lent books about Klezmer, but my favorite is David Saposnik's Klezmer! Jew­ish Music from Old World to Our World. As some­one who grew up in folksing­ing cir­cles where peo­ple bragged about hav­ing known Bob­by Zim­mer­man ​'back when' or made out in the back seat of a car with Pete Seeger (true sto­ry, seri­ous­ly), I real­ly enjoyed the way Sapos­nik blends the his­to­ry of klezmer with a first­hand account of the Klezmer revival and its ties to the larg­er folk music scene.
Ste­fan Kanfer's Star­dust Lost: the Tri­umph, Tragedy and Meshugas of the Yid­dish The­ater in Amer­i­ca might just be my favorite non­fic­tion book of the last decade. There is a charm to this book which is dif­fi­cult to describe. Sure, Kan­fer has great mate­r­i­al to work with: the glam­our of Thoma­shevsky, the star pow­er of David Kessler, the ter­ri­ble irony of Yid­dish the­ater reach­ing its apex as an art form just as the gates to Ellis Island were slam­ming shut.
But Kan­fer brings a light touch to his mate­r­i­al, and a prose style that com­bines humor and tragedy almost as deft­ly as the great artists he writes about. Star­dust Lost is one of the very few non­fic­tion books that I've actu­al­ly reread just for the sheer fun of it.
Nah­ma Sandrow's much hefti­er Vagabond Stars: A World His­to­ry of Yid­dish The­ater is less of an intro­duc­tion to Yid­dish the­ater than a sump­tu­ous ban­quet for those who already know and love it. She chron­i­cles major and minor fig­ures, cov­er­ing mate­r­i­al that might only get a cur­so­ry men­tion in more gen­er­al his­to­ries. Her writ­ing is schol­ar­ly yet high­ly read­able. And the book is a trea­sury of deli­cious sto­ries about the flam­boy­ant lives and scan­dalous loves of Yid­dish theater's famous and not-so-famous. If there are any Yid­dish the­ater fans on your Hanukkah list, this is a book they'll want to curl up with on a cold win­ter evening.
Chris Mori­ar­ty's most recent book, The Inquisi­tor's Appren­tice, is now available.