Mar­tin Fletch­er​'s newest book, Walk­ing Israel: A Per­son­al Search for the Soul of a Nation
, will be avail­able tomor­row. He will be blog­ging all week for the JBC/MJL Author Blog.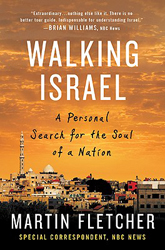 I left NBC News to write books. Which explains why I quick­ly found myself back on their doorstep, beg­ging for work – paid work.
But I didn't expect this. Here are a few of the sto­ries I've report­ed on as a free­lancer in NBC's Lon­don bureau in the last few weeks: a shark attack in Aus­tralia, an inter­net blog­ger accused of rape in Swe­den, a British woman who dumped a cat in the garbage bin, anoth­er British woman who uri­nat­ed on a war memo­r­i­al, a spy's sexy pho­to shoot in Rus­sia. The high point, lit­er­al­ly, was going up in a hot air bal­loon with a glass floor which crashed on land­ing and came with­in three yards of being dragged into a riv­er. All net­work stories.
It wasn't the kind of writ­ing I imag­ined when I resigned in Decem­ber, but guess what? I love it: all the silli­ness, the bad puns, the tabloid humor. I found myself chuck­ling as I wrote about Bad British Babes and the cold war femme fatale who's hot! And sigh­ing at the manda­to­ry lurid spec­u­la­tion when a British spy was found stuffed inside a sports bag in the bath.
The thing is, they're good sto­ries that peo­ple care about, and I began to think that maybe report­ing on them wasn't so dif­fer­ent from writ­ing books, or even from report­ing seri­ous news. After all, it's all about telling sto­ries about peo­ple in a way that oth­er peo­ple will care about.
That's real­ly all I want­ed to do with my new book Walk­ing Israel. I want­ed to get away from see­ing Israel only through a sin­gle prism, that of the con­flict with the Arabs, and see the coun­try for what it real­ly is: a fas­ci­nat­ing place with fas­ci­nat­ing peo­ple whose lives are so much more than just a peo­ple at war.
Peo­ple were always phon­ing me and ask­ing if it was safe to vis­it Israel. I would say yes, and then they'd call me after a week in Israel and say, wow, what a great place, I had no idea. And so I want­ed to write a book about that great place about which so many peo­ple have no idea.
I walked along the coast, from Lebanon to Gaza, meet­ing Israelis of all kinds, Jews and Arabs, and fol­lowed up on their sto­ries for a year. And although I've report­ed from Israel for close to thir­ty years, I've nev­er enjoyed any research or writ­ing as much as work­ing on this book. And I hope that I have pre­sent­ed Israel in an entire­ly new light.
Mar­tin Fletch­er spent the last thir­ty years as NBC News Bureau Chief in Tel Aviv. His sec­ond book, Walk­ing Israel: A Per­son­al Search for the Soul of a Nation
, will be avail­able tomorrow.
Con­sid­ered for decades the ​"gold stan­dard of TV war cor­re­spon­dents" by Ander­son Coop­er, Mar­tin Fletch­er was an NBC News Cor­re­spon­dent and bureau chief in Tel Aviv for near­ly thir­ty years. Fletch­er has won five Emmys and a Colum­bia Uni­ver­si­ty DuPont Award — a Pulitzer for work in tele­vi­sion — as well as awards from the Over­seas Press Club and Roy­al Soci­ety of Tele­vi­sion. Today, Fletcher's work as an author is rapid­ly gain­ing an equal­ly impres­sive rep­u­ta­tion. He cur­rent­ly lives in Mex­i­co and New York.