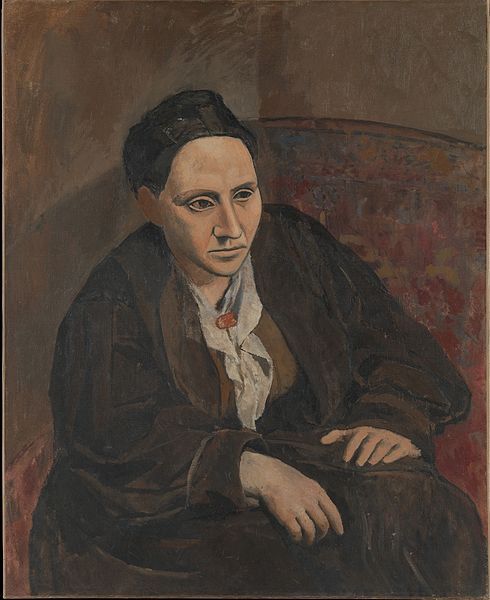 Gertrude Stein (1874 – 1946) was a rule-break­ing poet and writer, sup­port­er of the arts, and salon hostess.
The Poet­ry Foun­da­tion describes Stein as a bold exper­i­menter and self-pro­claimed genius who reject­ed the lin­ear, time-ori­ent­ed writ­ing char­ac­ter­is­tic of the nine­teenth cen­tu­ry for a spa­tial, process-ori­ent­ed, specif­i­cal­ly twen­ti­eth-cen­tu­ry lit­er­a­ture. Stein cre­at­ed dense poems and fic­tion which was crit­i­cized for being devoid of plot or dia­logue. She is known for mem­o­rable phras­es ("Rose is a rose is a rose") but not com­mer­cial suc­cess. Her only best­seller, The Auto­bi­og­ra­phy of Alice B. Tok­las, is a mem­oir of Stein's life writ­ten in the per­son of her part­ner, Toklas.
Two of Stein's ear­ly books are now reis­sued. With the cen­ten­ni­al of Stein's infa­mous and influ­en­tial if bewil­der­ing lit­tle book Ten­der But­tons, the avant garde pub­lish­er City Lights Books in San Fran­cis­co is pub­lish­ing Ten­der But­tons: The Cor­rect­ed Cen­ten­ni­al Edi­tion, which includes Stein's hand­writ­ten edits.
Ten­der But­tons is a show­case of Stein's joy­ful draw to words. She plays with lan­guage focused on the mun­dane and the the­o­ret­i­cal. The book is divid­ed into three sec­tions: objects; food and rooms, and a col­lec­tion of play­ful gib­ber­ish or provoca­tive posits: ​"Rhubarb is susan not susan not seat in bunch toys not wild and laugh­able not in lit­tle places not in neglect and veg­etable not in fold coal age not please."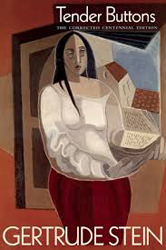 The after­word by the schol­ar Juliana Spahr explains that the work was rev­o­lu­tion­ary in its time, giv­ing much heft to descrip­tions of domes­tic spaces. Spahr does not shy away from the fact that Stein was a Jew­ish les­bian inter­est­ed in the work of Otto Weininger, the author of the anti-Semit­ic, homo­pho­bic, and misog­y­nis­tic Sex and Char­ac­ter. Stein was, of course, Jew­ish, and nev­er denied it; fas­ci­nat­ing­ly, she sym­pa­thised with Petain's Vichy regime and admired Hitler. She insist­ed on remain­ing in wartime France with Tok­las — also a Jew­ish lesbian.
To com­mem­o­rate the 75th anniver­sary of Stein's chil­dren's book, The World Is Round, Harp­er Design has pub­lished a vol­ume repli­cat­ing the orig­i­nal 1939 edi­tion, includ­ing Clement Hur­d's blue and white art on the rose-pink paper that Stein insist­ed upon.
The 34-chap­ter sto­ry chron­i­cles the adven­tures of a young girl named Rose in a tale that explores the ideas of per­son­al iden­ti­ty and indi­vid­u­al­i­ty. Her inquiry is an affir­ma­tive quest to find her place in the world. Rose's char­ac­ter as an inquis­i­tive girl was a new direc­tion for sto­ry­book characters.
With our mod­ern sen­si­bil­i­ties, this reis­sue will appeal to adults inter­est­ed in Stein as a writer or in ear­ly children's books.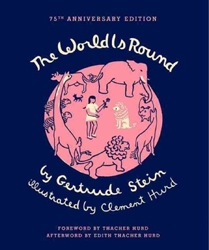 Insight into the world of ear­ly children's lit­er­a­ture and this par­tic­u­lar work is a key fea­ture of the for­ward by Thacher Hurd, the illustrator's son, and the after­word by Edith Thacher Hurd, the illustrator's wife.
Pre­vi­ous­ly unpub­lished pho­tographs and cor­re­spon­dence between Stein and Hurd, who is best known for illus­trat­ing Good­night Moon, are a win­dow into the cre­ative process and the then-bur­geon­ing world of children's lit­er­a­ture. Stein crams The World Is Round dense­ly with words and plot twists. The book was writ­ten when the children's book indus­try was in its infan­cy and trail­blaz­ers were exper­i­ment­ing in many directions.
Today the struc­ture seems dat­ed. The World Is Round has a dense plot that frus­trates as it lists event after event. But lines also delve into the dreamy uncon­scious­ness of child­hood: Why am I a lit­tle girl/​Where am I a lit­tle girl/​When am I a lit­tle girl/​Which lit­tle girl am I."
A review­er in 1939 felt that chil­dren were Stein's prop­er audi­ence but her work seems more a prece­dent to the Beat Poets.
A blunt child told the review­er: ​"It's cuck­oo crazy."
Dina Wein­stein is a Mia­mi, Flori­da-based jour­nal­ist cur­rent­ly research­ing Jews in St. Augus­tine, Flori­da dur­ing the 1960s era civ­il rights strug­gle there with a grant from the South­ern Jew­ish His­tor­i­cal Soci­ety. She men­tors young jour­nal­ists as an advis­er at the Mia­mi Dade Col­lege stu­dent news­pa­per The Reporter. Wein­stein has taught jour­nal­ism and mass com­mu­ni­ca­tions at a num­ber of col­leges includ­ing Mia­mi Dade Col­lege. She is a Boston native and a grad­u­ate of Colum­bia Uni­ver­si­ty Grad­u­ate School of Jour­nal­ism and Boston Uni­ver­si­ty School for the Arts.
Relat­ed Content:
Dina Wein­stein is a Rich­mond, Vir­ginia-based writer.