Tri­na Rob­bins is the author of the just-released Lily Renee: Escape Artist, the Jew­ish super­hero com­ic book GoGirl, and tons of oth­er books.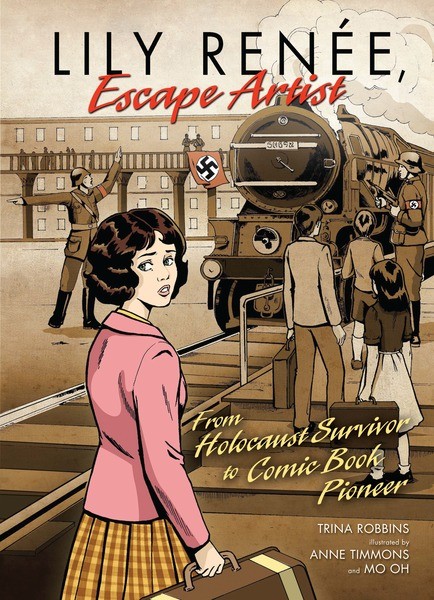 Today I'm recov­er­ing from my annu­al Worst Cold Ever, try­ing to take it easy with a book and hot chai — and I'm angry. The book I'm read­ing is Suite Fran­caise by Irene Nemirovsky, writ­ten in pen­cil in tiny cramped hand­writ­ing on the pages of a worn note­book while she was hid­ing from the Nazis in 1942. Nemirovsky was already a famous and suc­cess­ful author, but that didn't mat­ter to the Nazis, who even­tu­al­ly found her, arrest­ed her, and mur­dered her in Auschwitz. Her two young daugh­ters spent the war years in hid­ing, first in a con­vent, then mov­ing from house to house. When they fled from the Vichy gen­darmes Denise, the old­er daugh­ter, took Nemirovsky's note­book with her, not because she knew what was in it, but because it was some­thing of her mother's that she could keep. It was many years before the sis­ters could bring them­selves to read the con­tents of the note­book, but when they did they real­ized that they had been car­ry­ing around their mother's last nov­el, about Parisians flee­ing the 1940 Nazi invasion.
"Suite Fran­caise" was final­ly pub­lished 64 years after her death.
Ear­li­er this month I went to the San Fran­cis­co Con­tem­po­rary Jew­ish Muse­um to see a selec­tion of Char­lotte Salomon's exquis­ite art from her opus, ​"Life? Or The­ater?" (The entire work, at over one thou­sand pages, would have been impos­si­ble to exhib­it.) There has recent­ly been much talk about Jew­ish women artists draw­ing auto­bi­o­graph­i­cal comics (there has been a trav­el­ing exhi­bi­tion on the sub­ject) and, told sequen­tial­ly. Although each pic­ture is on a sep­a­rate page rather than being con­tained with­in pan­el bor­ders, ​"Life? Or The­ater?" is clear­ly the first graph­ic nov­el auto­bi­og­ra­phy by a Jew­ish woman artist.
Preg­nant and 25 years old, Salomon and her hus­band were arrest­ed by the Gestapo in 1943, and like Nemirovsky, tak­en to Auschwitz and there mur­dered. I'm beyond angry. Two young and vibrant, immense­ly tal­ent­ed beau­ti­ful women mur­dered by crea­tures that don't even deserve to be called human. How many oth­ers were there, who nev­er got to write their nov­els, draw their stories?
Which brings us to Lily Renee and my graph­ic nov­el, Lily Renee: Escape Artist. If Lily's sto­ry had not had a hap­py end­ing, I would not have been able to bring myself to tell it. If the Jew­ish teenag­er, Lily Renee Wil­heim, had not been able to escape Nazi-occu­pied Vien­na on one of the last Kinder­trans­port trains to Eng­land, but instead had become one of the 1.5 mil­lion chil­dren mur­dered by the Nazis, there would have been no Lily to grow up and draw comics in Amer­i­ca, to become one of the best and most famous women comics artists of the 1940s. How many oth­ers were there?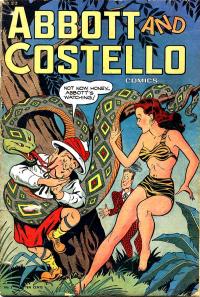 In the his­to­ries I've writ­ten about ear­ly 20th cen­tu­ry women car­toon­ists, I've always devot­ed as much space as pos­si­ble to the artist who drew Nazi-fight­ing women like avi­a­trix Jane Mar­tin and glam­orous coun­ter­spy Senori­ta Rio, and signed her comics with the sex­u­al­ly ambigu­ous name ​"L. Renee." But that wasn't much space because I didn't know any­thing about Lily, until one day I received an email that began, ​"I am Lily Renee's daugh­ter…" I found out that Lily Renee Wil­heim Philips was alive and well and liv­ing in New York City, and when I met this ele­gant, cul­tured, and gra­cious lady and learned her har­row­ing sto­ry, I knew I had to tell it.
As I said, this sto­ry has a hap­py end­ing. When Eng­land went to war with Ger­many, Lily lost touch with the par­ents she'd had to leave behind in Vien­na, and didn't know that they had escaped to Amer­i­ca. But they found her, and Lily sailed to Amer­i­ca, where, after liv­ing the hand-to-mouth exis­tence of poor refugees, Lily even­tu­al­ly found work draw­ing comics for the com­ic book pub­lish­er, Fic­tion House. At last, on paper, she was able to beat the Nazis!
So yeah, Lily Renee: Escape Artist is a com­ic by a Jew­ish woman about a Jew­ish woman who drew comics. And it's for Char­lotte Salomon and Irene Nemirovsky, and the 1.5 mil­lion kids who nev­er had the chance to grow up and pro­duce comics or nov­els or graph­ic novels.
Lily Renee: Escape Artist is a graph­ic nov­el for younger read­ers, but that only means that there's no curs­ing and no sex in the book. I write my graph­ic nov­els for young read­ers exact­ly as I would wish to read them; I nev­er write down. For inter­est­ed New York­ers, Lily and I will be talk­ing about and sign­ing the graph­ic nov­el at the Muse­um of Comics and Car­toon Art (MOC­CA) on Novem­ber 3, from 7 – 9 P.M. and on Novem­ber 6, at Books of Won­der, 18 West 18th Street, from 3 – 5 P.M. If you live in San Fran­cis­co like me, I'll be pre­sent­ing a talk and Pow­er­Point slide show at the main branch of the San Fran­cis­co pub­lic library (alas, with­out Lily) on Novem­ber 29.
Check back for more posts from Tri­na Rob­bins lat­er this week.