Ear­li­er this week, artist Jan Aron­son wrote about her illus­tra­tions for The Bronf­man Hag­gadah. She will be blog­ging here all week for Jew­ish Book Coun­cil and MyJew­ish­Learn­ing.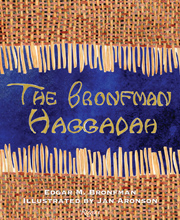 When Edgar asked me to illus­trate the text of The Bronf­man Hag­gadah, which at that point he had been writ­ing for sev­er­al years, my first response was: ​"But I'm not an illustrator!"
"Good. I don't want an illus­tra­tor. I want you to do it," was his swift reply.
And so began a project that was the oppor­tu­ni­ty of a life­time. An artist does not often get the chance to have com­plete and full cre­ative free­dom to do what they want with some­thing that is so mean­ing­ful — both in a per­son­al and spir­i­tu­al sense.
Not once was there any­one look­ing over my shoul­der try­ing to edit what I was doing. Cer­tain­ly not Edgar or even Riz­zoli, the publisher.
This project was a chance to actu­al­ly branch out and use all of my cre­ative juices. And it was a won­der­ful, won­der­ful thing to do at this point in my life as an artist. I've spent many years in my stu­dio alone cre­at­ing var­i­ous bod­ies of work, so to final­ly have the oppor­tu­ni­ty to col­lab­o­rate — with my hus­band no less — was a tremen­dous joy.
Look­ing back, Edgar's request was tru­ly a bless­ing in dis­guise. For an artist, the biggest chal­lenges often yield work of a total­ly unfore­seen — and remark­able — qual­i­ty. I was con­tin­u­ous­ly striv­ing to present the mate­r­i­al in the most stim­u­lat­ing ways pos­si­ble. How would I keep adults inter­est­ed? How do I encour­age the chil­dren, who would be at the table for their first and tenth times alike, to open the Hag­gadah and to look for­ward to turn­ing the page?
My new inhab­i­tance of the mind of an illus­tra­tor was, as it turned out, some­thing of a meta­mor­pho­sis. It changed the way that I approached my art, the way I per­ceived the art world, and the way I pre­sent­ed my work.
Vis­it Jan Aron­son's offi­cial web­site here.
Jan Aron­son is the illus­tra­tor of the The Bronf­man Hag­gadah pub­lished by Riz­zoli. Born in New Orleans, New York-based artist Jan Aron­son has had more than sev­en­ty solo and group exhi­bi­tions. Her work is includ­ed in many muse­um, cor­po­rate, and pri­vate col­lec­tions, both nation­al­ly and internationally.
Aron­son received a MFA from Pratt Insti­tute in 1973 and began teach­ing soon after. For the past 23 years she has con­cen­trat­ed on her work in a stu­dio in Long Island City. She is known for her nature inspired work that has tak­en her to Sinai, the Indi­an Himalayas, Patag­o­nia, the Ama­zon, the Amer­i­can West, the beach­es of Anguil­la and the Inca Trail to Machu Pichu. She recent­ly wrote a lec­ture enti­tled The Con­tem­po­rary Por­trait and pre­sent­ed it in var­i­ous venues in the Unit­ed States.
Aronson's work has been reviewed in numer­ous peri­od­i­cals and news­pa­pers since she began her exhi­bi­tion career in the mid-seventies.
A Depar­ture From the Tra­di­tion­al: The Bronf­man Haggadah