Miran­da Rich­mond Mouil­lot was born in Asheville, North Car­oli­na. She is the author of the recent­ly pub­lished book A Fifty-Year Silence: Love War and a Ruined House in France and will be blog­ging here all week for Jew­ish Book Coun­cil's Vis­it­ing Scribe series.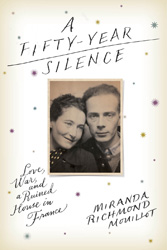 Ask ques­tions. Make sure to ask them while you still can. How I always hat­ed those sen­tences, prof­fered by well-mean­ing out­siders when­ev­er the sub­ject of my grand­par­ents came up. I always won­dered about those peo­ple and their fam­i­lies. Had they ever tried it? Because in my fam­i­ly, ask­ing ques­tions could feel about as nat­ur­al – and about as con­sid­er­ate – as reach­ing over and push­ing your hand into someone's face.
In A Fifty-Year Silence, which recounts my efforts to uncov­er the his­to­ry of my grand­par­ents, both Holo­caust sur­vivors, and the rea­sons behind their half-cen­tu­ry estrange­ment, I wrote:
I'd find myself at a loss for what to ask: the sub­jects about which I felt most curi­ous sparked so much anger and cha­grin […] that I didn't usu­al­ly have the heart to broach them.
In the near decade it took me to tease my grand­par­ents' sto­ry out of them, I would go days, weeks, even months with­out ven­tur­ing a query, for fear of stir­ring that pot of bad mem­o­ries. Ask­ing ques­tions was too dan­ger­ous, too painful, too sad. Ask­ing ques­tions just wasn't how it worked.
In the months since the pub­li­ca­tion of my book, many read­ers have shared lit­tle shards of the fam­i­ly secrets they car­ry with them, and asked me where to begin, how to find out more. In most fam­i­lies, par­tic­u­lar­ly fam­i­lies of trau­ma sur­vivors – and par­tic­u­lar­ly fam­i­lies of Holo­caust sur­vivors, ques­tions are the dan­ger­ous objects you're not allowed to car­ry onto the plane. When your rel­a­tives have lived through a war, fled for their lives, seen the world they grew up in reduced to dust, and suf­fer with the knowl­edge that they came through and their loved ones did not, they earn the right to bar all inquiries from the board­ing line. Like a secu­ri­ty agent impas­sive­ly toss­ing out a nail file, my grand­par­ents would, more often than I can count, shut down my ques­tion­ing with a shrug and a shake of their heads.
In my expe­ri­ence, you don't learn the most from ask­ing ques­tions. Or at least, not from direct ques­tions, not from the ques­tions you'd think were the ones to ask. The need to know and the impos­si­bil­i­ty of ask­ing are at the heart of every fam­i­ly mys­tery, and when read­ers come to me for advice about how to begin, I gen­er­al­ly say that the best you can do is pull a chair up to the table and wait. And I tell them about my great aunt in Jerusalem, who used to bake the most won­der­ful cakes. She'd use her hands to weigh out the ingre­di­ents, plung­ing them into the can­is­ter and let­ting the soft white flour sift through her fin­gers. When you asked where her recipes came from, the answer was always the same: ​"Auschwitz." And some­times, if you stayed at the table, she'd tell you more. Of how the women in her prison block mem­o­rized each other's recipes as they worked, or at night as they lay talk­ing to one anoth­er from their splin­tery beds. Of starv­ing moth­ers and sis­ters and daugh­ters recall­ing tea­spoons and cup­fuls of ingre­di­ents they'd nev­er taste again, parcel­ing out pieces of their lost lives just in case one of them got away, to remem­ber for the oth­ers. Where did you get that recipe? You nev­er know which ques­tion will open the door. And in the wake of each one answered, a thou­sand more inevitably linger, unasked – faces, names, whole life­times, reduced to a few sweet morsels, crumbs on a cake plate.
Miran­da Rich­mond Mouil­lot cur­rent­ly lives in the South of France.
Relat­ed Content:
Miran­da Rich­mond Mouil­lot is the author of A Fifty-Year Silence: Love, War, and a Ruined House in France. Her most recent trans­la­tion is of The Kites, the last and great­est nov­el of French author and Resis­tance hero Romain Gary.