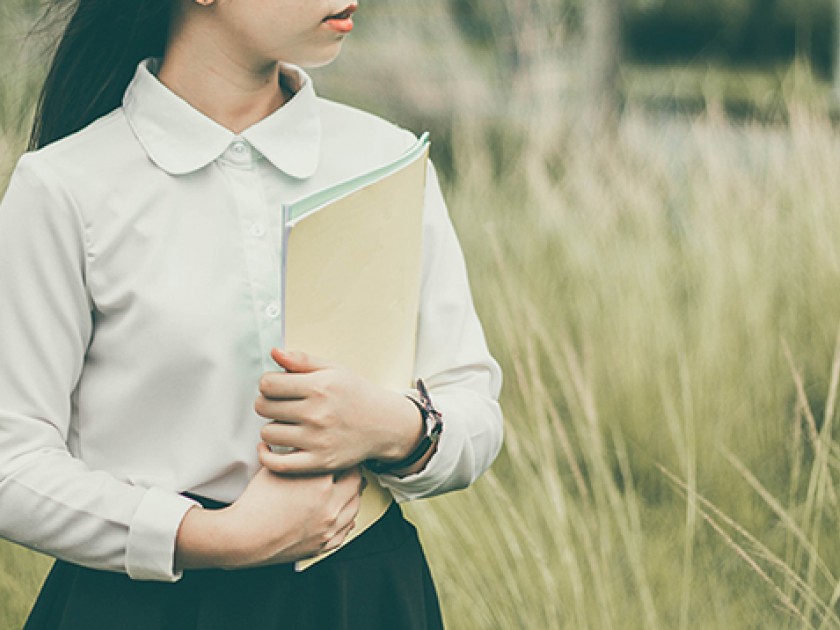 Mol­ly Pea­cock is the author of The Ana­lyst, a col­lec­tion of poet­ry explor­ing her evolv­ing rela­tion­ship with Jew­ish psy­cho­an­a­lyst Joan Stein, With the release of the book today from W. W. Nor­ton & Com­pa­ny, Mol­ly will be guest blog­ging for the Jew­ish Book Coun­cil all week as part of the Vis­it­ing Scribe series here on The ProsenPeo­ple.
I am a goy­ishe girl, age 9, return­ing to PS 88 in Buf­fa­lo, New York, just after New Year's Day, 1956, hang­ing my snow-caked leg­gings up on a coa­t­room hook with all the oth­er girls. My fourth grade class is almost exclu­sive­ly Jew­ish — except for me, a Protes­tant, and two Catholics. In Show-and-Tell my girl­friends will show off the poo­dle skirts they got for Hanukkah, and I will show off the poo­dle skirt I got for Christmas.
1956 is the same year that my future psy­chother­a­pist, Joan Stein, one of the few Jew­ish women in her class, grad­u­ates from Rad­cliffe. When I meet her in 1974, I am about to be divorced and in despair. So will begin our 38-year psy­cho­an­a­lyt­ic rela­tion­ship. It will last until 2012, when a dev­as­tat­ing stroke will force her to close her prac­tice. Aston­ish­ing­ly, a new rela­tion­ship will begin, one in which I get to watch the woman who helped me with every major deci­sion of my life make the choic­es that will infuse her end game with the pow­er and light of paint­ing. All this is part of the back­sto­ry of The Ana­lyst, a book of poems about this remark­able woman, about the pow­er of art, and about how, post-analy­sis, an unlike­ly friend­ship began.
In my writ­ing this week, I'm track­ing Joan's and my sto­ry, start­ing with my child­hood, of course. My moth­er, a raven-haired Irish farm girl who mar­ried a Navy man with PTSD (though no one called those vio­lent, alco­holic vets vic­tims of war trau­ma then), deter­mined that her daugh­ter must have the best chance in life. She con­vinced my father and grand­par­ents to buy a duplex in the north of Buf­fa­lo, where the pub­lic library is a won­der­land, where kids cat­a­pult through ele­men­tary school, and where almost every­one is Jew­ish. I am the only goy in my Brown­ie troupe. After school I vis­it my friends' hous­es where their bub­bies dole out almond cook­ies, their sleeves slip­ping upwards to reveal the num­bers on their arms. And in these hous­es, larg­er than mine, dark­er inside than mine, the light seem­ing not to come from lamps but from the pol­ish on the mas­sive mahogany fur­ni­ture, I hear the sto­ries about chil­dren who used their wits to survive.
Wits! I need my wits not to per­ish in a house­hold where my moth­er instructs me always to put the knives away imme­di­ate­ly after they are washed. You nev­er know what my father, the man who tried to push her down the cel­lar stairs, who hurls plates, glass­es, and beer bot­tles, shards fly­ing, will do when drunk and out of con­trol. Inside my house, I fear for my life. (Not that I men­tioned this to any­one until I met my analyst.)
Mean­while, mild-man­nered fathers read the news­pa­pers in my friends' hous­es. Moth­ers take the time to lie down on the couch with a headache. Argu­ments ensue about the Rosen­bergs. Bub­bies plunk babkas on those mahogany tables. My friends are grilled about what they learned in school, and I am grilled, too, a lit­tle girl with a Jew­ish name, Mol­ly. ​"I'm an Irish Mol­ly," I patient­ly explain. Sto­ries of the camps unfold, includ­ing the sto­ry of a boy stand­ing in line for the lethal show­ers who sud­den­ly drops to the floor, using his wits to save his life:
As the line shuf­fled toward the gas cham­ber and the soap was doled out, the boy spied an aban­doned mop and pail when com­mand­ed by an offi­cer to deliv­er a mes­sage. The boy scram­bled to the pail, picked up the mop and start­ed swab­bing. The line moved on, and the boy who seized his chance survived.
If only I could be like that boy, I thought. He became my exam­ple of kid resource­ful­ness. If only I could sum­mon up his vig­i­lance to pro­tect myself. The dif­fer­ence between my friends and me is not only whether you get one bonan­za of presents under tree or you stretch it out for eight nights. The dif­fer­ence is blue-col­lar violence.
In Boston, my future psy­chother­a­pist is also pro­tect­ing her­self, in quite a dif­fer­ent way: by stalk­ing out of an art class.
Eigh­teen years lat­er I will tell her the sto­ry of the vig­i­lant boy in the camps.
Mol­ly Pea­cock is the author of six pre­vi­ous col­lec­tions of poet­ry, includ­ing The Sec­ond Blush and Cor­nu­copia: New and Select­ed Poems. Her poems are includ­ed in The Oxford Book of Amer­i­can Poet­ry and appear in lead­ing lit­er­ary jour­nals inter­na­tion­al­ly. Pres­i­dent Emeri­ta of the Poet­ry Soci­ety of Amer­i­ca, she co-cre­at­ed Poet­ry in Motion, a pro­gram of plac­ards on sub­ways and bus­es. Award­ed fel­low­ships from the Ingram Mer­rill, Woodrow Wil­son, and Leon Levy Foun­da­tions, the Nation­al Endow­ment for the Arts, and the Cana­da Coun­cil for the Arts, Pea­cock is also author of a biog­ra­phy, The Paper Gar­den: Mrs. Delany Begins Her Life's Work at 72, and a mem­oir, Par­adise, Piece by Piece. She is based in Toron­to and New York.