Assaf Gavron is a writer and trans­la­tor, and the Amer­i­can Israeli Coop­er­a­tive Enter­prise (AICE) Schol­ar at the Uni­ver­si­ty of Nebras­ka at Oma­ha for 2014 – 2015. He is the author of sev­en books and numer­ous trans­la­tions, includ­ing those from Eng­lish to Hebrew of J.D. Salinger, Philip Roth, Audrey Nif­f­e­neger, Nathan Eng­lan­der, and Jonathan Safran Foer. Mul­ti-tal­ent­ed, he is the cap­tain of the ​"Israeli nation­al foot­ball team of writ­ers and poets," accord­ing to his web­site (www​.assaf​gavron​.com), and a singer/​songwriter with a band called ​"Mouth and Foot." He has lived most­ly in Israel, but has also spent time in Eng­land and Germany.
Jew­ish Book Coun­cil caught up with him by phone to dis­cuss his most recent nov­el, The Hill­top, win­ner of Israel's Bern­stein Prize and the first work of fic­tion to grap­ple with the unau­tho­rized hill­top West Bank settlements.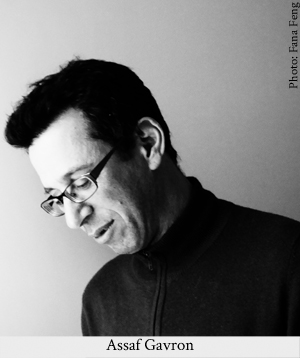 Beth Kissileff: You have a tremen­dous abil­i­ty to por­tray dif­fer­ent types of peo­ple in the book. The char­acters change through­out the book and the book chron­i­cles their changes. There are two dif­fer­ent baalei teshu­vah, returnees to reli­gious Judaism, Josh and Gabi. They are not stereo­types, but indi­vid­u­als. Even the Shin Bet informer is seen as sympathetic.
Assaf Gavron: Thank you, I'm hap­py you thought that way. Any nov­el, if it aims to be a good nov­el — regard­less of what the sub­ject is — shows a vari­ety of peo­ple in a place. There is a stereo­type of a set­tler, but there is nev­er one type. Also, a per­son is not one-sided or clear-cut. Not only do peo­ple change over the years, but at any giv­en moment there are con­flicts, and facets.
To write a nov­el, if you don't dis­play that vari­ety you lose credibility.
With the set­tlers — with any group of peo­ple that oth­ers have clear opin­ions about — every­one thinks they know what the set­tlers think, but if you dig deep­er, they are human beings with motives and his­to­ries and pres­sure and rea­sons, the dif­fer­ent things that make up our lives. I like to do that with sub­jects that seem to be clear.
BK: This is one of my favorite pas­sages. Can you com­ment on it? ​"Long­ing is the engine of the world. The begin­ning and the end. Long­ing comes with so much pain that can break you. What­ev­er we do, we're bro­ken ves­sels. Rab­bi Nach­man brought music out of long­ing. The heart beats and lets up. Long­ing — touch­es, and leaves."
AG: This is one of the themes of the nov­el, in terms of this very basic con­nec­tion set­tlers have to the land. Long­ing for phys­i­cal land but also for a dif­fer­ent time, a Bib­li­cal time when things were more clear, God would pun­ish the ene­my and so on.
BK: You are able to cre­ate sym­pa­thy even for peo­ple who do ter­ri­ble things. One charac­ter, Nir, is a self-involved pot­head who doesn't help his wife at all; anoth­er, Gabi, beats his tod­dler. We learn from their emo­tions that they are not just stereotypes.
AG: I like to do that in a way, to con­fuse, to get away from sim­plic­i­ty with a char­ac­ter. We know we are sup­posed to hate Gabi, but we like him because Gabi is a lik­able char­ac­ter. A nov­el should do that; it should give a com­plex pic­ture, not the easy one. Human beings are peo­ple, with a charm­ing side and a hor­ri­ble side. I nev­er met any­one who is only a mon­ster or an angel — it doesn't exist. A real­is­tic nov­el should show this complexity.
Some per­ceive the set­tlers as bad, vio­lent, stop­ping the peace process, but you know, maybe there are some dif­fer­ent peo­ple there. Maybe even if I don't agree I can see where they are com­ing from.
Espe­cial­ly with the Mid­dle East and con­flict, peo­ple have opin­ions and don't move. But some peo­ple change [and real­ize] it is a lit­tle more com­plex than what it seems.
BK: What moti­vat­ed you to write?
AG: I want­ed a more round­ed view of Israel — those who are good, who inform, who fuck up, who lie and cheat, and who forgive.
I sep­a­rate my polit­i­cal opin­ions from the book. I don't think the book makes a polit­i­cal point or reach­es a con­clu­sion. Yes, these set­tle­ments are against the law, but they're still there forty years later.
I won't spoil the end of the book, but in the end the fight is still going on. Bot­tom line, the set­tle­ments are not some­thing that I am sup­port­ing; I show the complexity.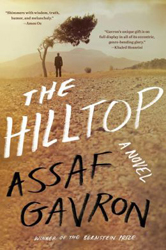 BK: There is a scene when Gabi los­es it with his son — a slow burn­ing of anger, his whole life reacts with anger. And then there is a love­ly rec­on­cil­i­a­tion scene with some­one he hurt bad­ly in the army that could be read for the High Hol­i­days as an exam­ple of repentance.
AG: If you are writ­ing a nov­el about Israel, I think vio­lence is part of our soci­ety, the way it affects peo­ple. Not every­one is vio­lent, but I want this sub­ject to be part of the per­son­al life of the main char­ac­ters. Gabi is not 100% vio­lent, not a mean per­son, but it is part of him. There are gen­tle parts, lov­ing parts, peace­ful parts. That is Israel also, not only Gabi.
But Gabi has a burst of vio­lence at the end: he takes part in the tag mehir [price tag at­tack]. I am hope­ful that on the nation­al lev­el, we can show dif­fer­ent sides, our gen­tle side, our lov­ing side, our rec­on­cil­i­a­tion side.
Beth Kissileff is the edi­tor of Read­ing Gen­e­sis (Con­tin­u­um Books, 2014) an anthol­o­gy of aca­demic writ­ing about Gen­e­sis. Her nov­el Ques­tion­ing Return is under review for pub­li­ca­tion and she is writ­ing a sec­ond nov­el and vol­ume of short sto­ries. She has taught at the Univer­sity of Pitts­burgh, Car­leton Col­lege, the Uni­ver­si­ty of Min­neso­ta, Smith Col­lege and Mount Holyoke College.
Relat­ed Content:
Beth Kissileff is in the process of fundrais­ing and writ­ing grants to devel­op a pro­gram to assist rab­bis of all denom­i­na­tions with writ­ing and pub­lish­ing books. Kissileff is a rab­binic spouse and author of the nov­el Ques­tion­ing Return as well as edi­tor of the anthol­o­gy Read­ing Gen­e­sis: Begin­ings.