Intrigued by a nefar­i­ous Jew­ish char­ac­ter in Bar­bara Klein Moss's debut nov­el, Jew­ish Book Coun­cil sought to learn more about the sym­pa­thet­ic ser­pent in The Lan­guage of Par­adise. Between com­par­ing out­ra­geous exege­ses on the sto­ry of Eden and swap­ping slip-ups in tran­si­tion­ing between writ­ing in arcane lan­guage and liv­ing in the mod­ern world, the author offered insight into the Jew­ish expe­ri­ence of nine­teenth-cen­tu­ry New Eng­land and the com­plex­i­ties of cast­ing a Jew­ish villain.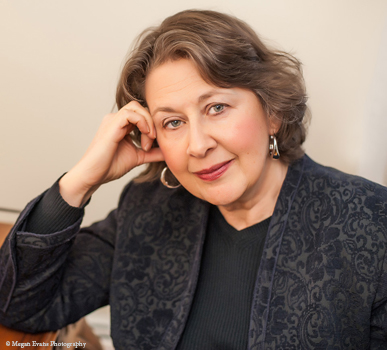 Nat Bern­stein: I'm curi­ous as to where this nov­el start­ed. What came to you first: the con­cept, the char­ac­ters, or the sto­ry — or an iso­lat­ed scene?
Bar­bara Klein Moss: I had an idea in my mind for years to write about a char­ac­ter obsessed with find­ing the first lan­guage. I've been writ­ing about Eden for a long time: my ear­li­er pub­li­ca­tion was a col­lec­tion of con­tem­po­rary sto­ries on the theme of Eden. The part of the Gen­e­sis sto­ry that fas­ci­nates me the most is Adam nam­ing the ani­mals — which is dis­pensed with in a line, this com­plex sub­ject: God passed the ani­mals before Adam and he gave them names, and then he named his wife — and I was always intrigued by that, and I thought there were fic­tion­al pos­si­bil­i­ties there. At some point the idea came to me that there would be a cler­gy­man obsessed with find­ing the ​"gold­en tongue," and his wife who was a vision­ary, a painter who tried to cap­ture his vision in her painting.
NLB: We learn very lit­tle of Lean­der Solloway's ​"true char­ac­ter" oth­er than that he is a Jew, which is shared as a state­ment rather than an insight­ful solil­o­quy — in fact, the only reflec­tions on his iden­ti­ty or reli­gious her­itage in the nov­el are sup­plant­ed by Gideon's (and lat­er Sophy's) pass­ing mus­ings, obser­va­tions, assump­tions, and stereo­types. Why make this char­ac­ter Jew­ish? And, once that choice was made, why not delve into it further?
BKM: When I first cre­at­ed the char­ac­ter, when he came to me, I didn't know he was Jew­ish; it was as I wrote him that I dis­cov­ered it — it was as much of a sur­prise to me as to any­one. (My edi­tor, who is also Jew­ish — as I am — was very alarmed by this, and she said, ​"But if he's the Ser­pent, the bad guy in this sto­ry, it might not be a good idea to make him Jew­ish!") Yet it seemed so clear to me, that this was why he was— first of all, I have nev­er seen him as a Ser­pent, I should say that — the way he is. When Lean­der first tells Gideon that he's a Jew, he says, ​"So now you will under­stand the nature of my so-called mag­ic. If the world regards you always as a son of the cir­cum­cised you have a choice: you can live your life with­in the walls they have built around you, con­sort­ing only with your own kind, or you can can become a shape-shifter." And he does become a shape-shifter. I think that Lean­der is the only mod­ern man in the nov­el. He is in a sense a psy­chol­o­gist: he learns how to ​"pitch his tent in oth­er men's minds," as he says, and to ​"make him­self at home in their ghet­tos" — what he means by that is to get to know them in such a way that he becomes part of their lives for a while.
NLB: That's inter­est­ing to think about: How dif­fer­ent his role in the sto­ry would be if this was a sto­ry set two hun­dred years later.
BKM: You know, I think prob­a­bly he would be con­sid­ered a sage two hun­dred years lat­er. I real­ly do. He is advanced in many ways, even in his phys­i­cal­i­ty: he is unashamed of who he is, he is a very sen­su­al man, and rev­els in the sex­u­al aspects of life. He is a manip­u­la­tor, but you can't always make peo­ple of your own belief sys­tem heroes — I think that's as false as mak­ing him a vil­lain. He has learned to manip­u­late to sur­vive and he is also a sort of magi­cian: he appears and dis­ap­pears out of nowhere, in a sense, and he los­es him­self in oth­er people's lives. But I think the poignan­cy of Lean­der is that he real­ly is look­ing for his own tribe. He has this deep long­ing to set­tle some­where, to rest some­where, and I think he's cho­sen Gideon and Sophy for that reason.
NLB: I kept expect­ing some kind of ​"Hath a Jew not eyes?" out­burst from Lean­der, and he real­ly stayed so con­tained with it. He does reflect that ​"if you're a Jew, you have two choic­es, and this is my sto­ry," but maybe between the lan­guage and the way this char­ac­ter was poised, I was just wait­ing for a Shy­lock moment, you know? Because he is sim­i­lar­ly com­pli­cat­ed: your heart goes out to him, despite the hav­oc he's wreak­ing on the envi­ron­ment he's insert­ed him­self into.
BKM: For me, the Shy­lock moment is when Par­son Ent­whis­tle comes to tell them about the rumors that have start­ed in the town, and the rumors have a clear anti-Semit­ic tinge to them — to the point that they're accus­ing him of using the baby's blood. And the poignan­cy there is that he bursts out in this almost hys­ter­i­cal laugh­ter — Sophy and Gideon are appalled, they can't imag­ine why he would react that way — and it's because he knows it's found him again, this per­ni­cious thing. He knows he can nev­er real­ly escape.
NLB: In read­ing the nov­el, I began to sus­pect Leander's her­itage long before it is ever con­fessed, large­ly because his char­ac­ter remind­ed me so much of Jew­ish vil­lains in Grimms' more obscure sto­ries. So it inter­est­ed me that you set his ori­gin in Kas­sel, and even named it as the home­town of the Broth­ers Grimm. Was this a nod to their depic­tion of Jews, brought in again in The Lan­guage of Par­adise—or was that sheer coincidence?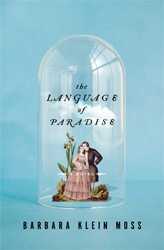 BKM: That hon­est­ly was sheer coin­ci­dence. I just hap­pened to know some­one who had come from Kas­sel, and when I dis­cov­ered it was from the Broth­ers Grimm it appealed to me. Lean­der is a sto­ry­teller him­self and a myth­i­cal fig­ure to peo­ple of the town. He has a mag­i­cal qual­i­ty. I wasn't relat­ing it to his sup­posed villainy.
NLB: There are moments when both Gideon and Sophy see his actions or some­thing he said as a con­fir­ma­tion of what they had known or had assumed about Jews. Did you have any hes­i­ta­tions about cast­ing the Jews in the stereo­types of his time?
BKM: For Gideon, who's nev­er known any Jews, there is a for­eign­ness to his friend, a kind of exoti­cism. And this fas­ci­nates him; he's nev­er met some­one Euro­pean before! He's a boy from a rather obscure vil­lage, and so a lot of this is just pure exoti­cism and fas­ci­na­tion. Sophy, in the end, sees Lean­der as some­thing of a hero for her: he saw her, he saw her art, he was a world­ly man — which for her is not a neg­a­tive thing.
NLB: I'm intrigued by the cor­re­spon­dence between Par­son Ent­whis­tle and the Ger­man rab­bi. Did you do much research into this? How like­ly would an exchange between New Eng­land Protes­tant and Euro­pean Jew­ish cler­gy­men have been? Would a rab­bi in Kas­sel (was there one?) have had suf­fi­cient com­mand of Eng­lish to reply?
BKM: There is some inven­tion in this, but I didn't think it was total­ly improb­a­ble that they would com­mu­ni­cate. There was a syn­a­gogue in Kas­sel at the time, and they're both schol­ar­ly men — I thought it was a real pos­si­bil­i­ty. Ent­whis­tle, for his era, is extreme­ly lib­er­al. He doesn't share the prej­u­dices that many in the vil­lage do. This was a time when there was a cer­tain enlight­en­ment among cler­gy­man: they weren't all stern Calvin­ists like Hedge.
NLB: Per­son­al­ly, I real­ly took to Ent­whis­tle. I thought he was such a qui­et hero in the story.
BKM: He real­ly was! I almost wish he could have had a big­ger role. He had a feel­ing for Sophy that was more than he could express; he saw who she was.
NLB: Did you enter into a writer's equiv­a­lent of method act­ing? Once you sat down with the book, were you in the space of the nine­teenth cen­tu­ry, and was it hard to break out of that when you left your writ­ing desk?
BKM: Yes, that is real­ly what it was like. I sub­merged myself in that world so deeply that I could hear the char­ac­ters' voic­es in my head. It was actu­al­ly hard for me not to use the nine­teenth cen­tu­ry gram­mar and usage after­wards! I found myself using ​"vexed" as an adjec­tive in a mod­ern sto­ry I was writ­ing, and I real­ized that it was still strong in my head, this nine­teenth cen­tu­ry world.
Nat Bern­stein is the JBC Net­work Coor­di­na­tor at the Jew­ish Book Coun­cil and an F'07 grad­u­ate of Hamp­shire College.
Read the Bar­bara Klein Moss's fol­low-up to the con­ver­sa­tion here!
Relat­ed Content:
Nat Bern­stein is the for­mer Man­ag­er of Dig­i­tal Con­tent & Media, JBC Net­work Coor­di­na­tor, and Con­tribut­ing Edi­tor at the Jew­ish Book Coun­cil and a grad­u­ate of Hamp­shire College.