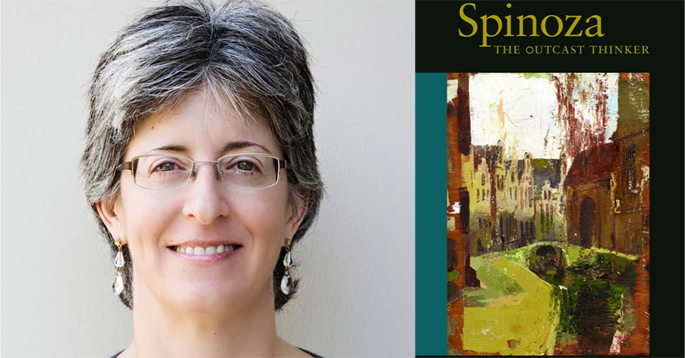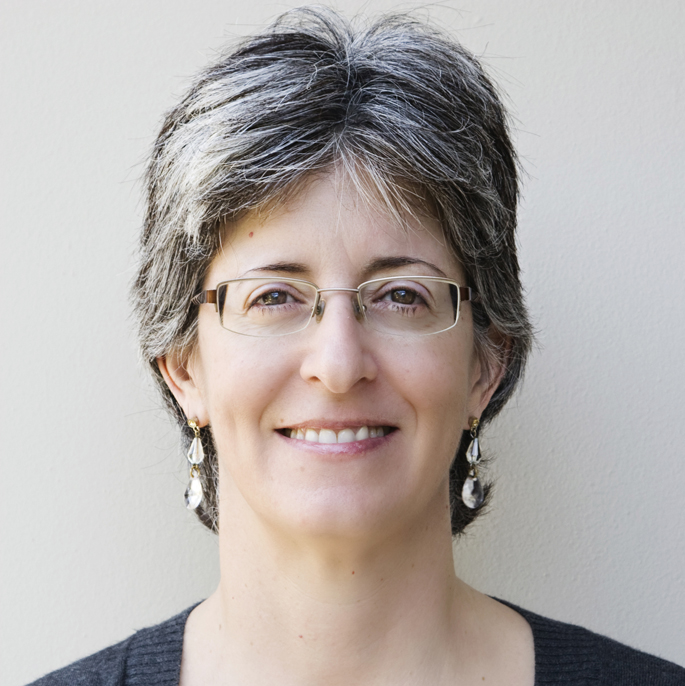 Devra Lehmann is the author of Spin­oza: The Out­cast Thinker, win­ner of the 2014 Nation­al Jew­ish Book Award in the cat­e­go­ry of Children's and Young Adult Literature.
Michal Hoschan­der Malen: Why did you choose Spin­oza as the sub­ject for your young adult biography?
Devra Lehmann: A long time ago, I was cap­ti­vat­ed by what I heard about Spin­oza in my Jew­ish his­to­ry class at an Ortho­dox girls' high school. Actu­al­ly, most of what I recall is my teacher's hushed and obvi­ously uneasy tone, which remind­ed me of the way my old­er rel­a­tives would whis­per about can­cer. It took a long time for me to fol­low up on Spin­oza, but when I did, I was hooked. If you don't take Spinoza's genius into con­sid­er­a­tion, I have a lot in com­mon with him. My fore­bears, like Spinoza's, under­went hor­rif­ic suf­fer­ing because of their Jew­ish iden­ti­ty, and I grew up, like Spin­oza, in a com­mu­ni­ty that tri­umphant­ly assert­ed its reli­gion and cul­ture in a more hos­pitable, but for­eign land.
Most impor­tant­ly, in the ques­tions that Spin­oza raised about reli­gion I found many of my own strug­gles. Even set­ting aside the con­tent of those ques­tions, which Spin­oza presents in the The­o­log­i­cal-Polit­i­cal Trea­tise far bet­ter than I can — I was intrigued sim­ply by his hav­ing asked them and by the way they were received dur­ing his life­time. One of our ear­li­est sources describes how Spin­oza, as a teenag­er in his communi­ty's reli­gious school, quick­ly dis­cov­ered his rabbi's inabil­i­ty or unwilling­ness to address his ques­tions. As a result, Spin­oza sim­ply stopped say­ing any­thing in class but kept a record of his ques­tions to pur­sue on his own. Per­haps because I have spent almost all my life in class­rooms, that descrip­tion res­onat­ed with me. Although I have most­ly fond mem­o­ries of my reli­gious school­ing, I dis­tinct­ly remem­ber that same feel­ing of futil­i­ty when I tried to raise con­cerns with some of my teach­ers. And I fre­quent­ly saw the same thing hap­pen­ing many years lat­er, when I was observ­ing class­es and con­duct­ing inter­views with stu­dents and teach­ers as part of my doc­tor­al research in Jew­ish education.
So it was real­ly my sense of a per­son­al con­nec­tion that got me inter­est­ed in writ­ing about Spin­oza. The young adult bit came lat­er. My orig­i­nal goal, in fact, had been to write a play based on Spinoza's life after his excom­mu­ni­ca­tion, and I first under­took a young adult biog­ra­phy as a kind of warm-up exer­cise, a way to pull my research and my ideas togeth­er. But then that lit­tle warm-up took on a life of its own, and I'm hap­py with where it has led me.
MHM: You did a remark­able job trans­lat­ing the com­plex­i­ties of Spino­za's life and philoso­phies into lan­guage that young peo­ple can access and under­stand. What are some of the issues you faced in meet­ing that challenge?
DL: Thank you for the com­pli­ment. This is where my not being a genius is a dis­tinct asset. Even before sit­ting down to write, I had to trans­late Spinoza's ideas into sim­ple, direct lan­guage just so that I could make sense of what I was read­ing. This was true as well for those Big Ideas that I'd often heard about — and per­haps, I'll con­fess, even writ­ten about in col­lege papers with all the appro­pri­ate jar­gon — with­out ever real­ly grasp­ing.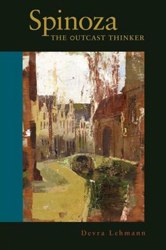 Just why, for exam­ple, was Descartes's mind-body split so very crit­i­cal in the his­to­ry of West­ern thought? (And why should I care?) Once I began spelling out answers to these sorts of ques­tions just for my own under­stand­ing, it wasn't so hard to cre­ate a writ­ten text suit­able for young adults.
It was where I sensed a divide between myself and my audi­ence that I had the most dif­fi­cul­ty. For instance, I didn't always know the degree to which I could assume a young reader's famil­iar­i­ty with some of the back­ground — the Span­ish Inqui­si­tion, the Ref­or­ma­tion, Galileo, Descartes. On the one hand, I didn't want to bela­bor issues that my read­ers would know well, but on the oth­er hand, I didn't want to leave out infor­ma­tion that my read­ers would lack but need to know. Often my stu­dents and my chil­dren helped me fig­ure out the bal­ance. For the most part I aimed for a friend­ly ​"hi, there — I'm here to jog your mem­o­ry, because you've prob­a­bly already heard of this" approach. I'm sure I didn't always hit it right. But it isn't a ter­ri­ble thing to review what you already know, and there's always Wikipedia for mate­r­i­al I left out.
Anoth­er major issue was the flow of my nar­ra­tive. When you're deal­ing with sources that are obvi­ous­ly ten­den­tious, poten­tial­ly unre­li­able, or sim­ply silent about entire peri­ods in a subject's life, it is arti­fi­cial and aca­d­e­m­i­cal­ly mis­lead­ing to tell a smooth sto­ry. If you're writ­ing a biog­ra­phy for adults, you'll gen­er­al­ly incor­po­rate into your nar­ra­tive nu­merous com­ments about the bias­es or lim­i­ta­tions of your sources; you might even get into a lengthy dis­cus­sion about why you have cho­sen to rely on one source rather than anoth­er. But for a younger audi­ence, all that creaky com­men­tary can become a huge turn-off. In an ear­ly draft, I dis­cussed the nature of my sources as I used them, and I couldn't get my own chil­dren to read the whole thing. My com­pro­mise was to keep the nar­ra­tive flow­ing and to leave the more schol­ar­ly com­men­tary for my notes sec­tion at the back of the book. This means that read­ers who don't both­er read­ing the notes will come away with a more sim­plis­tic view of Spinoza's life than I might like, but at least they've learned some­thing along the way.
MHM: Spinoza's sto­ry was full of dra­ma, par­tic­u­lar­ly his rela­tion­ships with his fam­i­ly and with the Jew­ish com­mu­ni­ty. Was there any part which intrigued you most?
DL: Absolute­ly. I'm both fas­ci­nat­ed and hor­ri­fied by what Jorge Luis Borges cap­tures in his poem ​"Spin­oza": ​"Free from metaphor and myth / He works a hard crys­tal." Spin­oza lit­er­al­ly worked hard crys­tal as a lens grinder, but his life and his thought were in them­selves a kind of hard crys­tal. Spin­oza had a pre­cise, math­e­mat­i­cal mind, and he had such con­fi­dence in rea­son that he viewed absolute­ly every­thing through its lens. In the Ethics, he attempt­ed to ana­lyze all human emo­tion and behav­ior as if they are no dif­fer­ent from the ​"lines, planes, and bod­ies" whose fea­tures and inter­ac­tions a physi­cist might chart out. It's a rather me­chanical world­view — and an unset­tling­ly cold one, espe­cial­ly when you con­sid­er that it dis­missed roman­tic love as an obsta­cle to true happi­ness. Spinoza's true hap­pi­ness can be achieved only by indi­vid­u­als who free them­selves from depen­dence on things beyond their con­trol, and that class of things most cer­tain­ly includes some­one with whom you are in love. Spin­oza didn't make any allowances for the mys­te­ri­ous poet­ry, Borges's metaphor and myth, that makes life worth­while for many of us.
Ulti­mate­ly Spin­oza just didn't seem to need oth­ers in the way that I think (or hope) most peo­ple do. I think that this frosti­ness helps to explain the ease with which he left his fam­i­ly and com­mu­ni­ty behind. Of course, we don't know what was real­ly going on inside him, either then or lat­er in his life, and we do know that his excom­mu­ni­ca­tion pro­hib­it­ed mem­bers of the Jew­ish com­mu­ni­ty from stay­ing in con­tact with him. But Spinoza's utter break was entire­ly in keep­ing with his rar­i­fied per­sonality. In all fair­ness, I should add that the friends that Spin­oza made out­side the Jew­ish com­mu­ni­ty were deeply devot­ed to him, and that he seems to have had love­ly rela­tion­ships with his land­lords. It's actu­al­ly this hot-and-cold split in his per­son­al­i­ty, against the back­drop of his vil­i­fi­ca­tion by tra­di­tion­al Europe, that I was hop­ing to explore in my play.
MHM: Tell us a bit about your research process.
I'm remind­ed of what my father told me when I turned forty, after I'd already spent much of my life immersed in books. ​"Con­grat­u­la­tions," he said. ​"Now you'll begin to under­stand the things you are read­ing." When­ev­er I approach a new top­ic, I feel as though I'm in my pre-forty years as my father char­ac­ter­ized them. I read exten­sive­ly, maybe even a bit indis­crim­i­nate­ly, based on a read­ing list I devel­op by pok­ing around on the Inter­net, ask­ing knowl­edge­able friends, and pay­ing atten­tion to ref­er­ences in mate­r­i­al I already have. I plow through the mate­r­i­al, but I real­ly don't under­stand a lot because I'm unfa­mil­iar with the assump­tions and ter­mi­nol­o­gy of the sub­ject. So when I'm done with that first round, I read every­thing all over again from the begin­ning. And that's when I turn forty and begin to under­stand what I'm reading.
That process gives me the overview that I need in order to plan, in the broad­est way, where I'll want to go with my writ­ing. Then, as I work on each chap­ter, I hone in on the rel­e­vant mate­r­i­al I've already encoun­tered, and I dis­cov­er all sorts of issues that require fur­ther research. Some­times that fill­ing in of gaps takes the most time. Because of the breezy style in which young adult non­fic­tion has to be writ­ten, at least in com­par­i­son with aca­d­e­m­ic work for adults, I doubt that many peo­ple would guess how much research goes into it. I can eas­i­ly spend an entire day study­ing the mate­r­i­al that I dis­till into a sin­gle sen­tence. It's espe­cial­ly at this point that I find the Inter­net indis­pens­able, and I thank my lucky stars for the good for­tune to live in this era. I'm old enough to have used a type­writer in col­lege, so I find resources like the Inter­net Archive noth­ing short of miraculous.
MHM: Do you think the young peo­ple of today have a hunger for or are recep­tive to addi­tion­al non­fic­tion top­ics like this, areas of his­to­ry that they may not be famil­iar with or fig­ures from the past whose names may sound famil­iar but whose sto­ries they have not heard? There real­ly haven't been that many pub­lished in the past few years. Do you think the suc­cess of this book will help open that world up a bit and per­haps make top­ics such as his­to­ry and phi­los­o­phy seem less daunt­ing to this age group?
DL: Like any group of peo­ple, ​"the young peo­ple of today" are a var­ied bunch. Look, we all know that seri­ous young adult non­fic­tion will nev­er have the mass appeal of Twi­light or The Hunger Games. But I've worked with kids for almost thir­ty years in all kinds of edu­ca­tion­al set­tings, and I've nev­er found a group of kids that won't go wild over a thought-pro­­vok­ing ques­tion. (Is there a point to our exis­tence? Can a law firm tell an employ­ee not to wear a yarmulke or hijab to work? Can we ever tru­ly under­stand anoth­er human being? Should a twen­ty-year-old from an abu­sive fam­i­ly be held respon­si­ble for his or her crimes?) When those sorts of issues arise in my class­es, it reminds me of noth­ing more than a pack of dogs fight­ing over a juicy steak.
So yes, I think that there is a huge inter­est in a lot of non­fic­tion top­ics, and espe­cial­ly in the kinds of ques­tions that philoso­phers ask. Of course, only a small minor­i­ty will pick up a book about such things of their own voli­tion; per­haps a slight­ly larg­er group will pick it up because it relates to a school assign­ment. But there are def­i­nite­ly kids out there who pre­fer non­fic­tion to fic­tion, and there are cer­tain­ly many more whose taste for non­fic­tion can be nur­tured. And both groups are com­plete­ly under­served by what's now avail­able. The body of young adult non­fic­tion has grown in the last decade, but it is shock­ing­ly small com­pared to what's avail­able for younger kids and for adults. I can't tell you how often I've strug­gled to find acces­si­ble mate­r­i­al for high school stu­dents who are inter­est­ed in study­ing a spe­cif­ic top­ic. The intel­lec­tu­al his­to­ri­an Jonathan Israel was kind enough to read my book and to remark, ​"If I were a young per­son read­ing this it would come as a rev­e­la­tion to me." I am obvi­ous­ly flat­tered by the com­ment, but as a teacher, I also find it haunt­ing. Because of the dearth of non­fic­tion for young adults, how many bud­ding thinkers are miss­ing out on such revelations?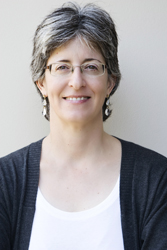 DL: Since many of your read­ers have influ­ence in the pub­lish­ing world and oth­ers are edu­ca­tors or par­ents or just peo­ple who wor­ry about the next gen­er­a­tion, maybe I should men­tion the des­o­la­tion I faced when I first tried to get my man­u­script pub­lished. I knew that get­ting a book pub­lished is a rocky and uncer­tain affair, and I was pre­pared to hear that huge swaths of my man­u­script need­ed revi­sion. But noth­ing pre­pared me for how thor­ough­ly indif­fer­ent my top­ic would appear to lit­er­ary agents and pub­lish­ers. I quick­ly dis­cov­ered that the words ​"young adult non­fic­tion" in my query let­ters were like the cross­es that were once paint­ed on doors to mark the homes of plague vic­tims. No one even both­ered to look at what I had writ­ten. I was sim­ply told again and again, by both agents and edi­tors, that there was no mar­ket for such a thing. I don't know what I would have done had I not chanced upon Karen Klock­n­er, my edi­tor, and the rest of the ide­al­is­tic folk at name­los, whose busi­ness mod­el allows them to take on projects like mine. But there aren't enough namelos­es out there. When bot­tom-line prof­its con­sis­tent­ly trump edu­ca­tion­al or cul­tur­al val­ue, we are all impoverished.
MHM: What are you plan­ning to write next? Can you give us any hints? More biogra­phies? Oth­er gen­res? What can we look for­ward to reading?
DL: I'm excit­ed about the idea of writ­ing intel­lec­tu­al his­to­ry for young adults, and I think that biog­ra­phy is a par­tic­u­lar­ly good way to go about it for my age group. The life of a spe­cif­ic indi­vid­ual pro­vides a coher­ent and engag­ing sto­ry­line, and it gives me a spring­board for leaps into the larg­er cul­tur­al and polit­i­cal scene. I'm in the mid­dle of a biog­ra­phy of Socrates, and I'm think­ing about Saint Augus­tine next. I also have on hold a few chap­ters that I've writ­ten for a biog­ra­phy of Doña Gra­cia Nasi, the six­teenth-cen­tu­ry banker who used her con­sid­er­able wealth and inter­na­tion­al influ­ence to help fel­low Jews escape the Span­ish and Por­tuguese Inqui­si­tions. And I still haven't for­got­ten that play I want­ed to write!
Michal Hoschan­der Malen is a librar­i­an and edi­tor of ref­er­ence books. She is the children's and young adult sec­tion edi­tor at Jew­ish Book Council.
Relat­ed Content:
Michal Hoschan­der Malen is the edi­tor of Jew­ish Book Coun­cil's young adult and children's book reviews. A for­mer librar­i­an, she has lec­tured on top­ics relat­ing to lit­er­a­cy, run book clubs, and loves to read aloud to her grandchildren.