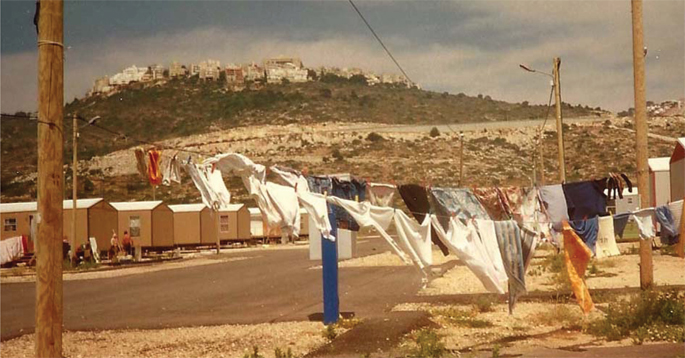 Jew­ish Book Coun­cil sat down with Dina Elen­bo­gen, poet and author of Drawn from Water: An Amer­i­can Poet, An Ethiopi­an Fam­i­ly, An Israeli Sto­ry, to talk about her expe­ri­ence of writ­ing the book, liv­ing in Israel, and wit­ness­ing history.
Howard Schwartz: You kept a detailed jour­nal for many years. At what point did you decide to write Drawn from Water, and how many years did it take?
Dina Elen­bo­gen: It is dif­fi­cult to say how long it took, because in between vis­its to Israel and drafts of the book I was also writ­ing oth­er things, teach­ing, rais­ing chil­dren, and wait­ing for my next return. I had been keep­ing a jour­nal for a long time, par­tic­u­lar­ly while liv­ing in Israel, when I was con­stant­ly inspired by dai­ly life and writ­ing down my impres­sions of and encoun­ters with the Ethiopi­an com­mu­ni­ty. I had received a grant to return to Israel to see how the com­mu­ni­ty was far­ing five years after Oper­a­tion Moses, and my assign­ment was to report on my find­ings, so on all of my return vis­its I was both report­ing and writ­ing per­son­al impres­sions. It was­n't until the Nineties, the after­math of Oper­a­tion Solomon, that I real­ized that my per­son­al rela­tion­ship with Israel, poet­ry, and the Ethiopi­an Jew­ish com­mu­ni­ty were meant to be part of the same narrative.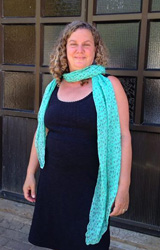 HS: As a poet, you nat­u­ral­ly brought a poet­'s per­spec­tive to your expe­ri­ences. How did this impact your life in Ma'alot?
DE: I felt every­thing deeply. I saw both the beau­ty and the ugli­ness. I lis­tened to peo­ple's words and silences. I under­stood the nuances. I also strug­gled with the fact that I was a poet and not an anthro­pol­o­gist: there were times when I want­ed to be more of an anthro­pol­o­gist, to have a more objec­tive and the­o­ret­i­cal under­stand­ing of the absorp­tion process. It was­n't until I was far into the book that I came to peace with the fact that what I had to offer was the sto­ry as told from a poet. When I found an edi­tor who asked me to revise with my poet­'s hat on, I knew my task was almost complete.
HS: What was your impres­sion of most Israeli's atti­tude towards the Ethiopi­ans? Did the immi­grants feel wel­come, despite their difficulties?
DE: There was and con­tin­ues to be a mixed response to the Ethiopi­an com­mu­ni­ty in Israel. In the after­math of Oper­a­tion Solomon in 1991, Israelis of all kinds were so moved by the sight of 15,000 Jews brought to Israel over one Shab­bat in such a hero­ic effort. Though many of these new cit­i­zens proved to be good sol­diers, work­ers, and stu­dents, Oper­a­tion Solomon coin­cid­ed with a huge aliyah—a wave immi­gra­tion to Israel — from Rus­sia, as well as the after­math of the Gulf War, and Israelis were faced with the chal­lenges of all of these events all at once. There were many who wel­comed them, brought clothes and goods and tried to make them feel at home; but there are those who feared and dis­crim­i­nat­ed against them, and con­tin­ue to now.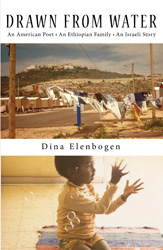 HS: Drawn from Water not only chron­i­cles the Ethiopi­an aliyah, but also the changes you expe­ri­enced. How did your roman­tic view of Israel evolve into a more real­is­tic attitude?
DE: I wit­nessed the evo­lu­tion of racism against Ethiopi­an Israelis. I was there at the begin­ning and saw the poten­tial of this com­mu­ni­ty to con­tribute so much to Israeli soci­ety. At first it seemed that Israeli chil­dren throw­ing stones and adults refer­ring to them as bar­bar­ic would pass. How­ev­er, some of the racist atti­tudes have become insti­tu­tion­al­ized: teach­ers give up on Ethiopi­an stu­dents for being behind and don't look for cre­ative ways to help them; the more recent offens­es of police bru­tal­i­ty are incom­pre­hen­si­ble, extreme­ly con­cern­ing and dis­il­lu­sion­ing. I try to hold onto the dream to a cer­tain degree, but I have become more of an advo­cate than a dream­er. For­tu­nate­ly this next gen­er­a­tion of Ethiopi­an Jews, born in Israel, is stand­ing up for itself, protest­ing in a loud­er voice. Hope­ful­ly it will be heard.
HS: You made the dif­fi­cult deci­sion not to make aliyah and to return to your life in the Unit­ed States. Do you ever won­der about your alter­nate des­tiny if you had remained in Israel?
DE: I do. I would have to have made aliyah when I was still young and ide­al­is­tic. The coun­try has changed pro­found­ly over the past thir­ty years and I have become less tol­er­ant of Israel, par­tic­u­lar­ly cur­rent poli­cies. I have built a won­der­ful life with my fam­i­ly in Amer­i­ca. Yet even now, when I walk for a day on Israeli soil, vis­it with my friends through­out the coun­try — par­tic­u­lar­ly with the Ethiopi­an fam­i­lies I befriend­ed — some­thing is still moved in me. The dream­er returns and I remem­ber what I love about the coun­try and how in some inex­plic­a­ble way it feels more like home to me than any­where else in the world.
Relat­ed Content:
Howard Schwartz's most recent col­lec­tion of Jew­ish folk­tales is Leaves from the Gar­den of Eden: One Hun­dred Clas­sic Jew­ish Tales. His book, Tree of Souls: The Mythol­o­gy of Judaism, won The Nation­al Jew­ish Book Award in
2005
.