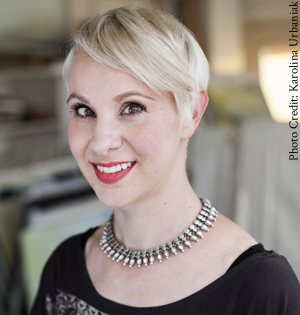 Eve Har­ris's debut nov­el, The Mar­ry­ing of Chani Kauf­man, was pub­lished in April by Grove Press/​Black Cat.
Shi­ra Schin­del: You've talked about your per­son­al con­nec­tion to Judaism and in par­tic­u­lar your spir­i­tu­al­i­ty. Was some of the reli­gious frus­tra­tion you explored in the book also per­son­al to you?
Eve Har­ris: Well, I am spir­i­tu­al but I'm not reli­gious, because it was not my upbring­ing. My father came to Eng­land when he was ten years old as a Holo­caust refugee. My mom was born right after the war in Poland, and on both sides my grand­par­ents were sur­vivors. My father wasn't in the camps, but he was in hid­ing. In the past I believe my fam­i­ly was reli­gious, but we're no longer a reli­gious fam­i­ly because of these experi­ences, because of the Holo­caust. My broth­er and I were brought up with Shab­bos din­ners and we kept major hol­i­days, like Rosh Hashanah and Passover, but we were a very sec­u­lar house­hold. I was also brought up in West Lon­don, where there are very few Jew­ish peo­ple. I think that had an effect on me. I had to work hard to find Jew­ish friends, and to make sure to meet a Jew­ish part­ner. In some ways I think I missed out on a lot.
SS: Was it a cul­ture shock for you to then enter the pri­vate Hare­di girls' school where you once taught Eng­lish and Drama?
EH: Yes. When I got the job at this real­ly reli­gious school — which became part of the inspi­ra­tion for the book — it gave me a fly on the wall view of a world that I would nev­er have glimpsed if I hadn't been teach­ing there. That year was tru­ly tran­si­tion­al for me. I'm not say­ing I became more reli­gious in the sense of keep­ing more obser­vances; I didn't, but it was fascinating.
As a teacher I was expect­ed to dress accord­ing to Hare­di Jew­ish cus­tom while on school prop­er­ty. I got mar­ried that year as well, and once I was mar­ried I was expect­ed to cov­er my hair on school grounds, which I did. It always felt a bit like play­ing Won­der Woman, because after school I would take off my hat, whip off my head­scarf, and look like my nor­mal self again. As I was going on the train toward my stop, away from the school, I would feel more and more relieved. I often felt like I was play­ing a part.
SS: In what way did that year inspire you to write this book?
EH: While I was teach­ing at the school I'd often walk with teach­ers into Gold­ers Green, and peo­ple would tell me things. I soaked it up like a sponge. I had no inten­tion of writ­ing a book at that point, but I found it inter­est­ing and I just lis­tened. Maybe it was easy for them to talk to me because I was an out­sider. But there are no secrets in the book.
One thing I learned is it can seem very calm and per­fect in this com­munity, like every­one has their roles to play and behaves in a cer­tain way. But there's also a lot of frus­tra­tion, and I want­ed to write the book to reflect how human it was. Even under­neath the veneer of per­fec­tion, even with the frame­work these indi­vid­u­als can fall back on when times are bad, it's not easy there either, and these are just human beings strug­gling. I think it can be hard to see ultra-Ortho­dox Jews as peo­ple with the same types of human frus­tra­tions you expe­ri­ence. I've tried hard to give my char­ac­ters depth, and to have com­pas­sion for them, so that they will seem real.
SS: Now that the book has been pub­lished, have frum (reli­gious) read­ers reached out to you?
EH: When the book first came out there were some invi­ta­tions to Shab­bos din­ners! One girl had gone to the school where I taught, and wrote to say that I had it spot on. We met for cof­fee. She's not frum any­more. She said to me that while read­ing it she did a two-day cringe-binge. I had a few emails like that. Nobody likes a mir­ror being held up to him or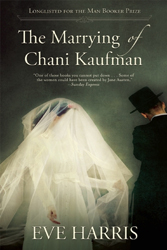 her­self. But it's not a doc­u­men­tary. It's a book. A piece of fic­tion, and it's sup­posed to be enter­tain­ing. So, make of it what you will.
SS: What do you think Riv­ka would be doing now, a cou­ple of years later?
EH: I think Rivka's prob­a­bly at home. It's evening now in Lon­don. I reck­on she's got a real­ly nice flat just a few miles down the road from her kids in Gold­ers Green. And I think she's mak­ing her eve­ning meal. She still can't bring her­self to eat treif. She's prob­a­bly got the radio on, or her com­put­er on. She might be work­ing on some­thing. I don't think she's back in the com­mu­ni­ty, but I think she's always got that pull-push with the com­mu­ni­ty. I think she's def­i­nite­ly got her hair down and she's wear­ing some jeans! I don't see her going back. She'll nev­er be the same per­son she was before she entered that world.
Shi­ra Schin­del is the head of Con­tent and Acqui­si­tions at Qlovi, an edu­ca­tion tech­nol­o­gy start­up accel­er­at­ing lit­er­a­cy in K‑12 class­rooms. She for­mer­ly worked in the lit­er­ary depart­ment at ICM Part­ners, and stud­ied cre­ative writ­ing at Colum­bia University.
Relat­ed Content:
Shi­ra Schin­del is the Direc­tor of Busi­ness Devel­op­ment
&
Author Engage­ment at Litographs and for­mer­ly the head of Con­tent and Acqui­si­tions at Qlovi, an edu­ca­tion tech­nol­o­gy start­up accel­er­at­ing lit­er­a­cy in K‑
12
class­rooms. Before that she worked in the lit­er­ary depart­ment at
ICM
Part­ners, and stud­ied Cre­ative Writ­ing at Colum­bia University.