with Shi­ra Schindel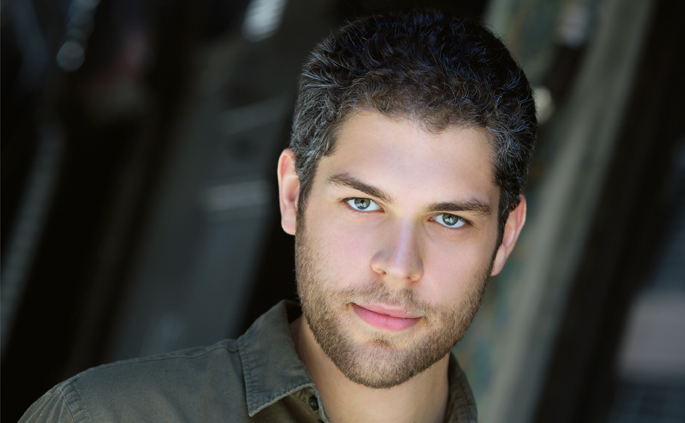 Jew­ish Book Coun­cil sat down with Gavriel Sav­it to dis­cuss his debut nov­el, Anna and the Swal­low Man, the vel­vety mind of Borges, Holo­caust fatigue, and the beau­ty of not know­ing. Much like the expe­ri­ence of read­ing his com­pact and inspir­ing book, in talk­ing with the author we learned a lot in a short amount of time.
Shi­ra Schin­del: I per­son­al­ly loved Anna and the Swal­low Man, and can't wait to pass it on to friends and fam­i­ly. Have you been sur­prised by adults' inter­est in this book, which is billed as being for young readers?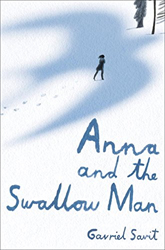 Gavriel Sav­it: It's inter­est­ing how when you write a sto­ry that's cen­tered around a young woman, it gets received as being on the more juve­nile side, and that's an unfor­tu­nate real­i­ty of the way we think of women's nar­ra­tives in the world right now. But, it also sort of opened up the book. I didn't imme­di­ate­ly think of it as a child's nar­ra­tive, but I do think it's fun­da­men­tal­ly a sto­ry about a mag­i­cal time and mind­set in child­hood, the imme­di­a­cy of which a lot of us for­get as we get older.
I also think we are very for­tu­nate right now that what has tra­di­tion­al­ly been con­sid­ered gener­ic fic­tion — spec­u­la­tive, detec­tive, children's — is falling by the way­side. Young adult nar­ra­tives are en vogue. There's no shame in read­ing a book we enjoy.
SS: What about Holo­caust nar­ra­tives? There are many out there who say we've pub­lished enough books on the sub­ject matter.
GS: I admit I also have a degree of Holo­caust fatigue. There is so much out there that seems to tread the same ground over and over again. A lot of it, for me, devolves into mis­ery porn and I don't want that.
There is a book I read by Yan Mar­tel, Beat­rice and Vir­gil, that deals with the dif­fi­cul­ty of intro­duc­ing art and sto­ry into the space of World War II and Holo­caust nar­ra­tives.
There is so much art cre­at­ed about the Holo­caust, and a lot of it seems to be very con­cerned with por­tray­ing hor­ror. Which is obvi­ous­ly real, and I would nev­er want to min­i­mize the hor­ror of that time and place.
It seems to me, how­ev­er, that human beings live full lives even in the most atro­cious of sit­u­a­tions, and it's some­what regret­table that it's not always pos­si­ble to see the nuance in human expe­ri­ence with­in these ter­ri­ble sit­u­a­tions. That, I feel, is one of the most fas­ci­nat­ing things: How do you grow up sur­round­ed by this hor­ri­ble danger?
But maybe the answer is sim­ply: What is the alternative?
SS: In what ways has your Jew­ish upbring­ing influ­enced you as a writer?
GS: My Judaism is nar­ra­tive, which was true from a very young age. I think that, in very strong ways, those of us who had the priv­i­lege of a Jew­ish edu­ca­tion when we were young also received tex­tu­al ambi­gu­i­ty from that age. At this moment of dis­cov­er­ing what sto­ry, nar­ra­tive, and lit­er­a­ture is I was simul­ta­ne­ous­ly receiv­ing some of the most com­plex, mul­ti­far­i­ous sto­ries in the West­ern Cannon.
I seem to have trou­ble not incor­po­rat­ing Jew­ish char­ac­ters, or Judaism, into the things I write. I start­ed with the Swal­low Man and Anna and every­thing else grew out of them — Reb Hirschl was a won­der­ful sur­prise: he is the kind of per­son who cul­ti­vat­ed thinkers are like­ly to dis­miss off the bat, but he's a smart guy. I love that he car­ries that around, and doesn't need to show it to you outright.
SS: Names, or the for­feit­ing of one's giv­en name, play a key role in the book. Does the Swal­low Man have a name oth­er than the one you gave him?
GS: The Swal­low Man does have a name, and I sus­pect his name sounds very much like oth­er people's names. He has not told me pre­cise­ly what it is, and I'm not going to ask him, because I think that would be a mistake.
SS: It must be very excit­ing to be a debut author. Is there any­thing you're par­tic­u­lar­ly excit­ed about, besides hear­ing how read­ers respond to your book?
GS: I'm excit­ed to talk to librar­i­ans about the book, and speak about it in schools in gen­er­al. When I was a kid, I read a lot of the Red­wall series by Bri­an Jacques. I remem­ber dis­cov­er­ing that there was this per­son behind the books, the author. One of the things you're always taught is that there's ​"title by author." That's the for­mu­la, but I don't think I real­ly under­stood what it meant until I was deep in the uni­verse of this guy's books — there was one dude writ­ing all of this! I final­ly looked up Bri­an Jacques on the (then ter­ri­bly slow) Inter­net, and there he was. There's some­thing won­der­ful­ly wiz­ard­ly about dis­cov­er­ing that. I'm look­ing for­ward to see­ing it from the oth­er side.
SS: What do you hope read­ers will learn from the book that they may not have known before?
GS: For me, the book — inso­far as it's about any­thing that is reducible to a phrase — is about not know­ing, and the ways in which that is mag­i­cal. I know uncer­tain­ty is an uncom­fort­able state for a lot of peo­ple, but if some­one can get to the end of the book and under­stand the tan­ta­liz­ing glo­ry of not quite know­ing some­thing I know, I think the book will have been a success.
SS: So you won't give us any reveals as to what hap­pens next to these characters?
GS: I'm not sure there are any sat­is­fy­ing answers. At the end of the book, you already know the answers, and if I tell you it would take away the answer you already know.
The hard­est part of this book to write was the end­ing. It's a del­i­cate thing and it's hard to know what should be artic­u­lat­ed and what shouldn't be. I went through a few drafts of the end­ing that more explic­it­ly told what hap­pened to Anna lat­er in life, so I have some ideas about what I think she might have done or lived through. But I don't imag­ine that liv­ing through some­thing like that is like­ly to dis­pose you to talk very much about it. I think if there are peo­ple who you do talk to about it, they are few in num­ber and very select.
SS: Your edi­tor, Erin Clarke, declares that Anna sits ​"at the inter­sec­tion of mag­ic real­ism and fairy tale." How have fairy tales influ­enced your writing?
GS: I love the aes­thet­ic of fairy tales and the way they feel. That's some­thing I've car­ried into adult­hood from child­hood. Fairy tales all seem to take place in this amor­phous world in which there has recent­ly been a war and peo­ple are in dan­ger. It occurred to me that the mov­ing around that is pre­cip­i­tat­ed by that kind of dan­ger and uncer­tain­ty also hap­pened in Europe sev­en­ty years ago.
In some ways World War II is the per­fect back­drop for a new fairy tale. A lot of peo­ple feel like telling sto­ries that are relat­ed to World War II and the Holo­caust in any way oth­er than real­ism, or jour­nal­ism, is irre­spon­si­ble. Obvi­ous­ly, doc­u­ment­ing and remem­ber­ing is impor­tant across the board, but that's not exclu­sive of art. What is hor­rif­ic about the Holo­caust is not that there were unthink­ing human beings, but rather that real peo­ple who thought, and felt, and wor­ried, com­mit­ted atroc­i­ties. I hope that the book is suc­cess­ful in explor­ing that ter­ri­to­ry, and that it doesn't upset peo­ple who are more com­mit­ted to the fac­tu­al his­to­ry. That said, my phi­los­o­phy is that if any sto­ry is worth telling, it's prob­a­bly going to upset somebody.
SS: Are there any books or writ­ers that par­tic­u­lar­ly inspired you in writ­ing your novel?
GS: My mag­i­cal real­ism patron saint is Jorge Luis Borges. I love his brain. It's so much fun and so enchant­i­ng.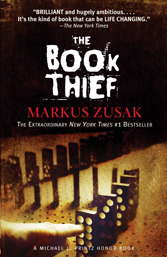 It's got this won­der­ful, dark red vel­vet tex­ture that I like to wrap around myself. It's fantastic.
Obvi­ous­ly also Markus Zusak's The Book Thief; peo­ple would be insane not to read it.
Most of my influ­ence has come from diverse direc­tions. I'm attract­ed to his­tor­i­cal­ly and cul­tur­al­ly rel­e­vant mag­i­cal real­ism. It's a bizarre sug­ges­tion, but Jonathan Strange & Mr. Nor­rell by Susan­na Clarke imag­ines what it would be like if mag­ic exist­ed at the turn of the nine­teenth cen­tu­ry in Eng­land. It's a great book and feels to me like the sort of thing that exists in the world and impli­cates things that don't exist in the world.
SS: The fol­low­ing pas­sage from your book par­tic­u­lar­ly stood out to me; what did this moment in the book mean to you?
"

What makes it spe­cial?" said the Swal­low Man. ​

"

It's a bird. A bird that flies and sings. And if the wolves and bears have their way, no one will ever fly or sing in pre­cise­ly the same way that it does. Nev­er again. Does it need to be more spe­cial than that?"
GS: That par­tic­u­lar sec­tion is some­thing that I con­tin­ue to think about. It's real­ly kind of a moral­ly and emo­tion­al­ly com­plex thing that human beings have this deeply con­ser­v­a­tive ten­den­cy. We like things to be the way that they were before. It's inter­est­ing to look at it in the con­text of endan­gered species. On a fun­da­men­tal lev­el — and I do not advo­cate any­thing destruc­tive in our nat­ur­al envi­ron­ment — evo­lu­tion works: enti­ties com­pete, the more suc­cess­ful con­tin­ue to sur­vive, the less suc­cess­ful fall by the way­side and when the envi­ron­ment can­not con­tin­ue to bear a flour­ish­ing or more suc­cess­ful enti­ty even­tu­al­ly they begin to die off. That's the sort of fail-safe of evo­lu­tion and envi­ron­men­tal activ­i­ty. But we as human beings have this beau­ti­ful­ly and ter­ri­bly irra­tional nos­tal­gia for things that we have seen before. So we have cer­tain­ly cre­at­ed an aber­rant nat­ur­al envi­ron­ment where a lot of crea­tures that were around when we were less pow­er­ful can­not exist. It's a shame, but that's the way it is. We still have this strong­ly irra­tional urge to keep them around, even if they are nat­u­ral­ly unsuit­ed to con­tin­ue to exist.
I think ratio­nal thought and rea­son­ing are a tremen­dous­ly use­ful tool. But that urge humans have to keep the beau­ti­ful bird, the one that flies like no oth­er, speaks very high­ly of human irra­tional­i­ty. I'm afraid of a world that con­tains a fun­da­men­tal imbal­ance between human ratio­nal­i­ty and irra­tional­i­ty, in either direc­tion. I'd like to see the most ratio­nal peo­ple embrace a mea­sure of irra­tional­i­ty, and vice versa.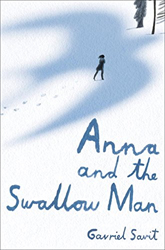 In the mean­time, I'll prob­a­bly just watch the birds fly around.
SS: You write in the book that ​"A ques­tion holds all the poten­tial of the liv­ing uni­verse with­in it."Are there any ques­tions you'd like to leave us with now?
GS: Yes.
SS: Is that it?
GS: Yes.
Shi­ra Schin­del is the Direc­tor of Busi­ness Devel­op­ment & Author Engage­ment at Litographs and for­mer­ly the head of Con­tent and Acqui­si­tions at Qlovi, an edu­ca­tion tech­nol­o­gy start­up accel­er­at­ing lit­er­a­cy in K‑12 class­rooms. Before that she worked in the lit­er­ary depart­ment at ICM Part­ners, and stud­ied Cre­ative Writ­ing at Colum­bia University.
Relat­ed Content:
Shi­ra Schin­del is the Direc­tor of Busi­ness Devel­op­ment
&
Author Engage­ment at Litographs and for­mer­ly the head of Con­tent and Acqui­si­tions at Qlovi, an edu­ca­tion tech­nol­o­gy start­up accel­er­at­ing lit­er­a­cy in K‑
12
class­rooms. Before that she worked in the lit­er­ary depart­ment at
ICM
Part­ners, and stud­ied Cre­ative Writ­ing at Colum­bia University.