Jew­ish Book Coun­cil's Car­ol Kauf­man recent­ly spoke with Joseph Berg­er about his new book, The Pious Ones: The World of Hasidim and Their Bat­tles with Amer­i­ca, which was pub­lished in Sep­tem­ber, 2014 by Harp­er Perennial.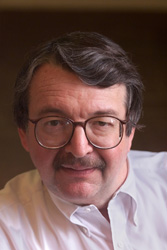 Car­ol Kauf­man: Why did you decide to write a book about the Hasidim, and why now?
Joseph Berg­er: I had been writ­ing many arti­cles about Hasidim and thought I had learned enough to write a book explain­ing what many out­siders con­sid­er a curi­ous, eso­teric group. The fact that my moth­er grew up in a Hasidic sum­mer resort out­side War­saw and filled me with Hasidic tales may have been a sub­con­scious motivation.
CK: In the book you write about a sleep-away sum­mer camp in the Catskills for Sat­mar boys ages 9 – 13, where the boys get up each morn­ing at 6:45 and eager­ly study Torah and Tal­mud for six hours a day. Your book is filled with exam­ples of what some might call extreme behav­ior. Why do you think some Hasidic sects have become more aus­tere, punc­til­ious, and zeal­ous than their East­ern Euro­pean fore­bears ever were?
JB: The Baal Shem Tov and oth­er founders of Hasidism empha­sized fer­vor in prayer and ful­fill­ment of the mitzvot, and that zeal prac­ti­cal­ly defines Hasidim. How else would you have frail Hasidim hook­ing them­selves up to IV's in syn­a­gogue base­ments on Yom Kip­pur so they can gain nour­ish­ment with­out actu­al­ly eating?
CK: You've report­ed on New York, includ­ing its Hasidim, for about 30 years. What else did you learn about them that sur­prised you?
JB: The ways in which Hasidic zeal is expressed aston­ished me. Take shop­ping for Passover. A Hasidic mar­ket will have two rows of root veg­eta­bles — washed and unwashed. Whole­heart­ed Hasidim pre­fer to see gran­ules of earth on their veg­eta­bles and clean them off them­selves so they can be sure no hametz con­t­a­m­i­nat­ed the wash­ing. I was also sur­prised by how often the Hasidic approach con­flict­ed with the demo­c­ra­t­ic Amer­i­can approach, like the Mon­sey Hasidim who string a cur­tain down the aisle of a pub­licly-financed bus so they can have sep­a­rate seat­ing for prayer.
CK: Crys­tal ball-gaz­ing, where do you see the Hasidim ten years on? Do you think they will be thriv­ing? What do you think about the defects&mdash ex-Hasidim, most­ly young women? Will their ranks con­tin­ue to grow?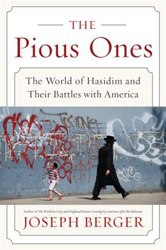 JB: With their large fam­i­lies, Hasidim are grow­ing at a breath­tak­ing rate and as a result Ortho­dox Jews could become a major­i­ty of Jews in New York in twen­ty years, chang­ing the community's lib­er­al, cos­mopoli­tan pro­file. Despite the atten­tion they get, defec­tors are still a tiny slice of the Hasidic pop­u­la­tion. The way of life is so all-encom­pass­ing that it is dif­fi­cult for skep­tics to leave. The Internet's sub­ver­sive impact, how­ev­er, may upset such cal­cu­la­tions. Politi­cians have long wok­en up to mus­cu­lar Hasidic growth and are eager to gain their bloc votes, so con­tro­ver­sies like the one over cir­cum­ci­sion prac­tices often end in the Hasidic favor.
CK: Are you think­ing about the next book you might like to write?
JB: I'm tak­ing a breather and enjoy­ing some of the respons­es I've received to The Pious Ones. Then per­haps I'll think about my next project.
Car­ol Kauf­man is the edi­tor of Jew­ish Book World.
Relat­ed Content:
Car­ol is the exec­u­tive edi­tor of Jew­ish Book Coun­cil. She joined the JBC as the edi­tor of Jew­ish Book World in 2003, short­ly after her son's bar mitz­vah. Before hav­ing a fam­i­ly she held posi­tions as an edi­tor and copy­writer and is the author of two books on ten­nis and oth­er rac­quet sports. She is a native New York­er and a grad­u­ate of the Uni­ver­si­ty of Penn­syl­va­nia with a BA and MA in English.