Sarah Wildman's Paper Love: Search­ing for the Girl My Grand­fa­ther Left Behind, her sto­ry of look­ing for the woman her grand­fa­ther left behind, is a page turn­er. This is par­tic­u­lar­ly com­mend­able as read­ers will gen­er­al­ly know the his­to­ry of the Holo­caust. The book, with its recount­ing of some­times frus­trat­ing, exhaust­ing, and con­tentious research efforts, ulti­mate­ly is a memo­r­i­al to one Holo­caust victim's fate.
Wildman's doc­tor grand­fa­ther fled Aus­tria in 1938, right after the Anschluss, along with his imme­di­ate fam­i­ly, while Valy, ​"the true love of his life," as Wildman's grand­moth­er lat­er called her, hur­ried back home to Czecho­slo­va­kia. Years after her grandfather's death, Amer­i­can-born Wild­man dis­cov­ers a cache of doc­u­ments labeled ​"Patients A‑G." It har­bors Valy's let­ters, full of love and, as time goes on, full of des­per­a­tion. The let­ters end in 1941. Wild­man sets out to find what happened.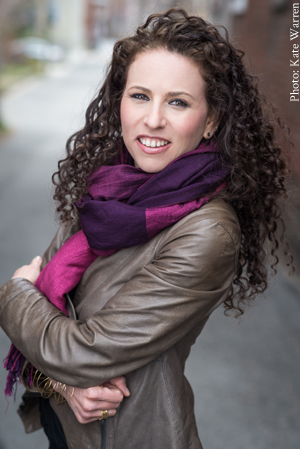 Annette Gendler: What sent you on this quest to find out what hap­pened to Valy?
Sarah Wild­man: The dis­cov­ery of the let­ters was, for me, imme­di­ate­ly an oppor­tu­ni­ty to allow one per­son to nar­rate her sto­ry, as it was hap­pen­ing to her. Let­ters give read­ers a sense of what life was real­ly like dur­ing this dark time — as it was being expe­ri­enced. I want­ed to use that imme­di­a­cy and lay­er her words against my research on the restric­tions that stripped her of her right to live a nor­mal life.
AG: Why do you think it is impor­tant to some of us of the sec­ond or third Holo­caust gen­er­a­tion to piece togeth­er these sto­ries of the past? Why this obses­sion to dig through archives to fig­ure out the sto­ry of some­one who's not even a fam­i­ly member?
SW: This is the crux of the quest – how does the past inform our present? And our future? What do we need to know about the past to under­stand our iden­ti­ties today? For me allow­ing Valy to speak was incred­i­bly impor­tant on two lev­els: First, the Nazi effort was to erase these voic­es, as well as these peo­ple, and here was this chance to upend that era­sure, in some small, inti­mate way. Sec­ond, I knew Valy's words were cen­sored, but I set out to place them as much as pos­si­ble in con­text – the restric­tions, the day-to-day humil­i­a­tions, the total ter­ror of the time – so that, by immers­ing myself both in her world of words and her world of depri­va­tion, I might start to under­stand what this peri­od real­ly was like, and then try to under­stand what it means for me. I have so often won­dered who I would have been and what would have happened.
These were the words of a woman who felt so mod­ern, so relat­able, I won­dered if telling her sto­ry would res­cue a voice that might be a bridge to that peri­od. You are cor­rect – she is not a fam­i­ly mem­ber. The book is often called a fam­i­ly mem­oir – but in real­i­ty it is the un-fam­i­ly mem­oir. It is the fam­i­ly that wasn't. The life my grand­fa­ther didn't live, the woman he didn't mar­ry, so it's not so strange to won­der who she was. Had he tak­en that path, I wouldn't be here. Her very exis­tence speaks to the ten­u­ous­ness of all our lives, with or with­out war, and how we are here based on the choic­es of those who came before us, as well as geopo­lit­i­cal forces beyond their and our control.
AG:Your book speaks to the pow­er of place. You went to some pains to vis­it places like Trop­pau, where Valy was from, even though you knew it would be great­ly altered. Why was it so impor­tant for you to ​"be, sim­ply, in Trop­pau, wan­der there, maybe run into elder­ly peo­ple, maybe catch some glimpse of the life of the late 1930s, nav­i­gate the city?" Why did you need to know exact­ly where her mother's shoe store had been? Can't a house be just a house?
SW: I love this ques­tion. For me this became a jour­ney about what the French call – lieux de mem­oire – places of mem­o­ry. I want­ed to see how cities had gone on being cities, how they had swal­lowed up what had come before. It was like a walk­ing arche­o­log­i­cal dig: there are lay­ers of his­to­ry in each place, and most often peo­ple have no idea at all what came before. But I want­ed to see – as much as pos­si­ble – what Valy and my grand­fa­ther saw as they walked out the door. If I could stand on the Ringstrasse and hear what they said to each oth­er as the tram passed them by, on that ear­ly spring night just before the Anschluss, if I could walk into the court­yard of the Jew­ish Hos­pi­tal in Berlin, if I could stand where she had once lived, I could feel that much more their pres­ence. Also I want­ed to see places where great trau­ma had tak­en place that were not con­cen­tra­tion camps. There's a moment when I real­ized that the last build­ing where Valy's moth­er worked in Berlin was a day care cen­ter and the chil­dren were deport­ed while their moth­ers were at their fac­to­ries. The image of this destroyed child-care cen­ter, on a street that is now filled with cool shops and art gal­leries, was unbe­liev­ably dev­as­tat­ing for me.
AG: Paper Love also strikes me as a search for a lost cul­ture, your grandfather's Vien­na. Do you feel, after spend­ing so much time in the Vien­na of today, that you have a bet­ter under­stand­ing of your grandfather's world of the 1930s? Have you been able to rec­on­cile, for your­self, your affin­i­ty for this city even though it is fraught with uncom­fort­able encoun­ters, such as the still van­dal­ized Jew­ish cemetery?
SW: I have often thought that what must have been most dis­com­fort­ing to my grand­moth­er was not nec­es­sar­i­ly just the idea of Valy, though of course there was that, but that she could nev­er exact­ly know the world from which my grand­fa­ther had come – not only because she wasn't born there, but because so much that made vibrant Jew­ish Vien­na so vibrant had ceased to exist after the war. Sure, there were Jews who returned, and yes, there were some Jews who remained. But the city of my grandfather's youth had been leached of that breath and vital­i­ty that he had so thrived upon.
When I first vis­it­ed Vien­na, it felt so muse­um like, I couldn't quite see how I would ever sur­vive there. And then it began to open up for me; I began to love the streets, the street­cars, the dif­fi­cul­ty. Sure­ly, in part, the rea­son that I fell in love with Vien­na was as much the obvi­ous bits – the art, the Naschmarkt, the archi­tec­ture, the opera – as that I had the mar­velous oppor­tu­ni­ty to make friends there. With them I was able to nav­i­gate the city, and dis­cuss its prob­lems, in an hon­est way, with those who are of the third gen­er­a­tion of Aus­tria and Ger­many as well as Jews. Indeed, the night after I went to that ceme­tery, I went out with two close friends, and we talked well into the night. With­out them the expe­ri­ence would have been far lone­li­er, and more ter­ri­fy­ing. Strange­ly enough, lat­er I real­ized the bar we end­ed up at that night was across the street from the gro­cery store my grandfather's half-broth­er had once owned. Places of mem­o­ry, everywhere.
AG: Your title, Paper Love, cap­tures not only the trove of love let­ters that form the heart of the book, but also the fact that often a ​"small men­tion in [a] file […] might sim­ply be the only evi­dence that a per­son lived at all." Do you find it trou­ble­some that our paper­less gen­er­a­tion won't leave a paper trail? Noth­ing tangible?
SW: I have often thought that it is a shame that my chil­dren will not know the sim­ple joy of, first, receiv­ing a let­ter in the mail, and then, years lat­er com­ing across that let­ter, and remem­ber­ing who you were then, and who the let­ter writer was. I am of the gen­er­a­tion that had a brief dal­liance with paper and pen – when I lived in Jerusalem in col­lege, I reg­u­lar­ly exchanged let­ters with friends, all of which are still in a box in my par­ents' home. I have the let­ters from high school, telling of loves and hates and sto­ries all in a way a bit more con­scious than we are now, in a our often dis­pos­able email world. So yes, I think we are strange­ly almost eras­ing our­selves, even in our crazy over-doc­u­ment­ed lives.
AG: Why did you choose to wrap up the book with the post­war years of your wider fam­i­ly, the sto­ries of ​"unhap­py sur­vival," rather than end­ing it with Valy?
SW: I want­ed to come back, in some way, to the oth­er peo­ple of the box, and also to the lega­cy of my grandfather's pre­vi­ous life, and the choic­es they made after the war to sup­press so many of their sto­ries. I felt that to bet­ter under­stand their silence, you need­ed to see that there was a brief moment that they spoke of their pain in 1945, 1946 and then it was as if a col­lec­tive deci­sion was made to end that con­ver­sa­tion, for­ev­er. But I want­ed to know how those rela­tion­ships had recon­nect­ed after an eight year silence, after the Euro­pean apoc­a­lypse had tak­en place. For so many of them, they nev­er had what Amer­i­cans like to call ​"clo­sure" – they nev­er knew exact­ly what their loved ones had gone through. And that must have haunt­ed them.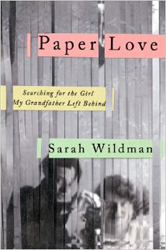 AG: After all this work, do you feel you under­stand your grand­fa­ther bet­ter? Or did your work, in the end, leave you with more ques­tions that you wish you could have asked him?
SW: Hon­est­ly, both. I believe I now know far bet­ter the real man, ver­sus the two-dimen­sion­al pic­ture I had as his grand­daugh­ter. But I also want to know a great deal more, par­tic­u­lar­ly how was he able to know what he knew, to have expe­ri­enced what he had expe­ri­enced, and still for­ev­er look for­ward, for­ev­er live with such opti­mism, with such joy? There is a let­ter towards the end of the book, writ­ten to his child­hood best friend Bruno in 1986, in which he implores Bruno to live with ​"Entzueck­en," with delight. I love that let­ter. To live in the moment! How did he do that?
Annette Gendler is a non­fic­tion writer. She has com­plet­ed a mem­oir about the impos­si­ble love between a Ger­man and a Jew that hap­pened twice in her fam­i­ly, once to fail dur­ing WWII, and once to suc­ceed in her own life. An excerpt, ​"Giv­ing Up Christ­mas," was pub­lished in Tablet Mag­a­zine in Decem­ber 2012. Vis­it her atwww​.annet​te​gendler​.com.
Relat­ed Content:
Annette Gendler's work has appeared in the Wall Street Jour­nal, Tablet Mag­a­zine, Kveller, Bel­la Grace, and Art­ful Blog­ging, among oth­ers. She served as the 2014 – 2015 writer-in-res­i­dence at the Hem­ing­way Birth­place Home in Oak Park, Illi­nois. Born in New Jer­sey, she grew up in Munich, Ger­many, and now lives in Chica­go where she teach­es mem­oir writing.