Yele­na Akhtiorskaya was recent­ly named one of the Nation­al Book Foun­da­tion's 2014 5 Under 35 Hon­orees. Her debut nov­el Pan­ic in a Suit­case was pub­lished in July by Riverhead.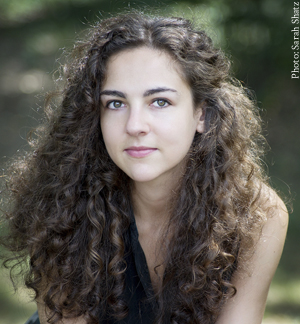 Nat Bern­stein: What was the impe­tus behind Pan­ic in a Suit­case? What inspired the nov­el, and what pushed you to write it?
Yele­na Akhtiorskaya: The impe­tus for Pan­ic in a Suit­case was real­ly just the vague but potent need to write that is always present, always nag­ging, like a fer­al beast-child that will bite off your arm if you don't keep throw­ing things at it. The only thing I hap­pened to have on hand was ​"my expe­ri­ence." I wish I could've giv­en it some­thing tasti­er and more sat­is­fy­ing, but it was an emer­gency sit­u­a­tion and the most impor­tant thing is that I saved myself — for now.
The inspi­ra­tion was my fam­i­ly and the hilar­i­ous and dev­as­tat­ing ab­surdity that is Brighton Beach. What pushed me to write it, oth­er than com­pul­sion, was a desire to chron­i­cle, under­stand, and conquer.
NLB: Your bio indi­cates that you share roots in Odessa and Brighton Beach in com­mon with your char­ac­ters. To what extent is the nov­el autobiographical?
YA: With the nov­el it's hard to say, but my bio is almost entire­ly autobiographical.
NLB: As a writer, where or how do you see your fic­tion and non­fic­tion writ­ing interact?
YA: I don't write very much non­fic­tion, and, to be hon­est, when I do I have the sense that I'm trick­ing some­body because I don't entire­ly under­stand the dis­tinc­tion. A piece of writ­ing is either good or not. The good is true, the not good is false. Every­thing a per­son writes should be infused with her opin­ions, thoughts, feel­ings, moods, dreams. Basi­cal­ly, the goal is to have a real­ly good infu­sion mech­a­nism worked out.
NLB: We tend to focus on the iso­la­tion and per­pet­u­al home­less­ness of the immi­grant expe­ri­ence (I'm think­ing of Jhumpa Lahiri's sto­ries, in par­tic­u­lar, or Junot Diaz, Julie Otsu­ka) but the cast of Pan­ic in a Suit­case con­vey the oppo­site phe­nom­e­non: the trans­plants — Mari­na, Esther, Robert — share a ground­ed­ness in where they are and con­nectivity with the mem­bers of their fam­i­ly and acquain­tances, while Fri­da and Pasha seem indi­vid­u­al­ly alien­at­ed and alien­at­ing both at home and abroad. Do you find some­thing uni­fy­ing in the immi­grant expe­ri­ence of which per­haps their root­ed rel­a­tives feel an absence or distance?
YA: For bet­ter or worse, you take your­self wher­ev­er you go, so peo­ple who are ground­ed, prac­ti­cal, sane, and social in the old coun­try, will be the same in their new land, where­as peo­ple who are mis­er­able, unbear­able, and iso­lat­ed are going to stay that way wher­ev­er they go (which is why it's prob­a­bly best they stay put). Pasha and Fri­da are of the lat­ter vari­ety. It doesn't mat­ter where they are. The out­side world, made of crowds and noise, is there to be bris­tled against and pushed out. But I absolute­ly think immi­gra­tion can be invig­o­rat­ing, and serve to strength­en bonds.
NLB: Pasha is set (or sets him­self) apart from his fam­i­ly in every con­ceiv­able way: a poet in a fam­i­ly of med­i­cine, he lan­guish­es in Odessa rather than join­ing his eager par­ents and sis­ter in the Unit­ed States — and renounces his reli­gious her­itage for Chris­tian­i­ty. What do you feel is the stark­est line of divi­sion between him and his imme­di­ate relatives?
YA: The Atlantic Ocean is a pret­ty good par­ti­tion, even con­sid­er­ing Skype. There's just some­thing to be said for sheer dis­tance. Essen­tial­ly, the stark­est line of divi­sion is an invis­i­ble one — it's some­thing inside of Pasha that allows him to have an inde­pen­dent way of think­ing and to make the deci­sions that then seem to be the things that set him apart. The spe­cif­ic deci­sions mat­ter less. Pasha could've sub­sti­tut­ed Christian­ity with a lot of things. But I don't know if he could've been as apart if he lived on the same block in Brighton Beach.
NLB: Is Pasha — as the per­sona of Pavel Rober­tovich Nas­mer­tov, ​"the great Russ­ian poet" — based or inspired by a real-life or lit­er­ary figure?
YA: I should prob­a­bly be coy about this, but my uncle is a Russ­ian poet, and he is pret­ty great.
NLB: Do you share Frida's sub­li­mat­ed belief that ​"old Odessa's great­ness lay sole­ly in its Jews" — many of whom relo­cat­ed to the commu­nity in which you grew up?
YA: I think that's being sim­plis­tic about it! Like you said, a large contin­gent of Odessan Jew­ry relo­cat­ed to Brighton Beach and yet it's very dif­ficult to imag­ine that the Brighton Beach com­mu­ni­ty ever con­tributed to a city's great­ness, let alone been sole­ly respon­si­ble for it. And I don't think get­ting a quar­ter mil­lion Jews to set­tle in Odessa today would bring back the mag­ic — though some would say that the mag­ic isn't even gone, and on cer­tain days I might agree; it's real­ly a love­ly city. But I attribute the city's cur­rent love­li­ness to a mix­ture of nice archi­tec­ture, a quaint feel­ing, the eter­nal sea breeze, nos­tal­gia, and the glow­ing em­bers of true his­tor­i­cal spe­cial­ness. That spe­cial­ness was a result of many fac­tors, but the Jews were, I think, the most integral.
NLB: The cur­rent lit­er­ary scene is boast­ing a wealth of nov­els explor­ing the simul­ta­ne­ous col­lec­tive and indi­vid­ual nar­ra­tives of Sovi­et immi­grant fam­i­lies, per­vad­ed by some­thing of a chron­ic melan­choly, or dis­satisfaction, or detach­ment. Do you think Sovi­et-her­itage writ­ers have been in a sense doomed to write about ​"unhap­py fam­i­lies" since Tol­stoy penned the open­ing to Anna Karen­i­na—does the com­mon explo­ration of fam­i­ly micro-tur­moil stem from a lit­er­ary lega­cy, or from some­thing intrin­sic to the cul­ture and iden­ti­ty of a Russ­ian-speak­ing household?
YA: Tol­stoy had a catchy line but I think all writ­ers regard­less of cul­ture or era are doomed to write about unhap­py fam­i­lies because they're doomed to live in them, and often be the sin­gle­hand­ed cause of the un­happiness. Prob­a­bly immi­grant writ­ers in gen­er­al are going to be crank­ing out more fam­i­ly-heavy stuff because often it's the fam­i­ly unit that gets unmoored and trans­plant­ed into a new place where every­thing is strange and for­eign. The walls around the fam­i­ly for­ti­fy and inside those walls tem­per­a­tures rise, result­ing in a thick, gar­licky, inces­tu­ous stew that is irre­sistible to write about. (What else are you going to do with it?) If there's any­thing par­tic­u­lar­ly Russ­ian, though, it's the chron­ic melan­choly and dis­sat­is­fac­tion. That is the Russ­ian tra­di­tion. Rus­sians are fan­tas­tic, maybe the best, at suffering.
NLB: What oth­er works inform your writ­ing? Which authors — clas­sic or con­tem­po­rary — were most influ­en­tial while you worked on Pan­ic in a Suit­case?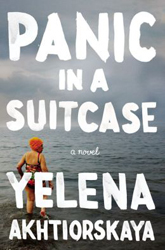 YA: As far as I'm aware, it's still a mys­tery how the brain decides which input will inform the out­put and which will be filed away in some unknown loca­tion, nev­er to be accessed again except in polite din­ner con­ver­sa­tion. Since I don't have con­trol over this process, it's nec­es­sary to be extreme­ly care­ful. Even one crap­py book is dan­ger­ous. While writ­ing this book, I was read­ing Bel­low, Nabokov, Tol­stoy, Platonov, Leonard Michaels, Clarice Lispecter, Harold Brod­key. It wasn't on pur­pose, but it seems that if I was read­ing you, you're Jew­ish, Russ­ian, or Russ­ian-Jew­ish, and dead.
NLB: What are you read­ing now, and what can your read­ers expect from you next?
YA: I'm read­ing Musil's The Man With­out Qual­i­ties and a sta­tis­tics text­book. I just read Elaine Kraf's The Princess of 72nd Street and it is unbe­liev­able. I urge you to read it! As for what's next, I've learned this is a giant let­down, and I apol­o­gize in advance, but I'm afraid it's going to be a sto­ry collection.
Nat Bern­stein is the JBC Net­work Coor­di­na­tor at the Jew­ish Book Coun­cil and a grad­u­ate of Hamp­shire College.
Relat­ed Content:
Nat Bern­stein is the for­mer Man­ag­er of Dig­i­tal Con­tent & Media, JBC Net­work Coor­di­na­tor, and Con­tribut­ing Edi­tor at the Jew­ish Book Coun­cil and a grad­u­ate of Hamp­shire College.