Sande Boritz Berg­er is the author of The Sweet­ness, a nov­el on its sec­ond tour through the JBC Net­work.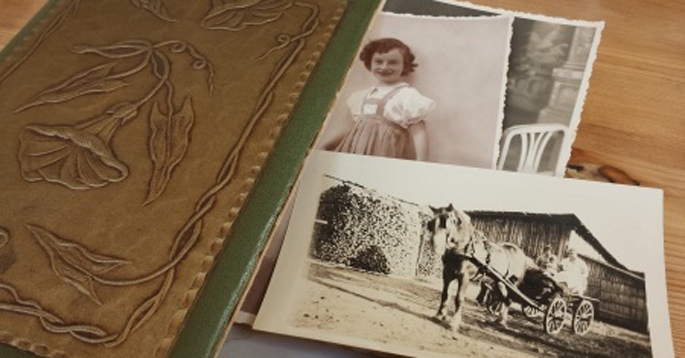 "So," read­ers ask, ​"is that you on the book cover?"
The child adorn­ing the cov­er of my nov­el The Sweet­ness was born years before me. There is no need to say, ​"But we are relat­ed," and cer­tain­ly no need to men­tion that, although we are sec­ond cousins, we have nev­er met. Yet the desire to tell every sin­gle detail about the sto­ry burns with­in me.
The truth is, though it would take years, writ­ing became a way of breath­ing life into the girl seen on the cov­er of The Sweet­ness: her face unfor­get­table, her eyes, in par­tic­u­lar, haunt­ing and as inquis­i­tive as the per­sona I cre­at­ed for her in this nov­el inspired by my family's com­pli­cat­ed his­to­ry. Her real name, Rosha, is the name I chose to give her. I saw no rea­son to alter that par­tic­u­lar truth. She came into my life quite unex­pect­ed­ly about fif­teen years ago on a chilly, dark, Decem­ber after­noon while I was vis­it­ing my great aunt's tiny stu­dio apart­ment in the Brook­lyn neigh­bor­hood where she had lived for over fifty years, the last twen­ty as a widow.
When she could no longer trav­el to spend time with my fam­i­ly, I would try a cou­ple of times a month to vis­it her and bring lunch — usu­al­ly fresh bagels and smoked salmon from the city. I could almost mouth her words as soon as she took her first bite: ​"These are ridicu­lous! Too big for human con­sump­tion." Actu­al­ly, though dif­fi­cult to please, she was right, and so we ate our lunch in silence, me not wish­ing to rat­tle her mood. But I some­how always knew she was glad for my com­pa­ny. In her younger, health­i­er, days, she had often joked say­ing she was my real moth­er. My aunt had mar­ried late in life and nev­er had kids of her own.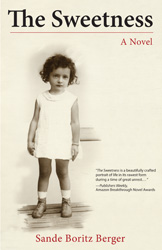 It was after lunch on one of those vis­its that, instead of doz­ing off in her favorite tuft­ed high-back chair in the steamy liv­ing room, my aunt reached into her linen clos­et and took down a round met­al cook­ie box, which she placed smack in the cen­ter of her kitchen table. Think­ing (hop­ing) that maybe the box con­tained sug­ar-coat­ed but­ter cook­ies, I pried open the lid to find the box stuffed to the brim with tat­tered doc­u­ments and let­ters. With her pale arms crossed against her chest, my aunt sat back and gazed out the tiny win­dow streaked with winter's dirt. I bab­bled on, quick­ly rif­fling through the flo­ral embossed box, as if search­ing for the crack­er­jack prize, and after some min­utes I select­ed a thick enve­lope yel­lowed from time. Inside, there was an offi­cial look­ing doc­u­ment from Riga, Latvia: a telegram addressed to my grand­fa­ther — my aunt's old­er broth­er — from rel­a­tives announc­ing the birth of their baby named Rosha, who they announced was doing well. The year stamped on the doc­u­ment was 1931.
A sepia pho­to­graph slipped from the enve­lope onto the table, and sud­den­ly there she was — a child, no longer a baby, per­haps five or six years old. I held that pho­to in my hands for a very long time, glanc­ing up at my aunt whose eyes had quick­ly red­dened. In anoth­er pho­to I rec­og­nized my grand­moth­er rid­ing in a horse and bug­gy and sit­ting along­side a woman with the lit­tle girl, who was the child's moth­er. My grand­moth­er, spiffy in a large brimmed hat looked like a sophis­ti­cat­ed trav­el­er total­ly out of her ele­ment — far from her busy life in Brook­lyn with her own two children.
When my aunt said she want­ed me to keep the box filled with all her doc­u­ments, I felt as though she had hand­ed me the keys to my family's mys­te­ri­ous past. Of course I had lots of ques­tions, but she said very lit­tle, and to push fur­ther I knew would have upset her. What I do remem­ber about that day was her say­ing these words:
"I should have stayed. I nev­er should have come here."
"But if you had," I answered, ​"you might have been killed."
"So what," she said, turn­ing from the win­dow, ​"so what!" She looked more like a bel­liger­ent teen instead of a frail, 95-year-old woman. It was as though her eighty years in Amer­i­ca had been noth­ing more than a hand­ful of seeds that nev­er took root.
I will nev­er for­get how she looked that day; there was so much sor­row etched across her face. It wasn't until she passed away that I began writ­ing my sto­ry. It was Rosha's sto­ry, which I even­tu­al­ly alter­nat­ed with anoth­er near­ly-com­plet­ed nar­ra­tive I had been work­ing on sep­a­rate­ly. And it was through the merg­ing of those two par­al­lel tales that a theme final­ly became clear to me.
At the end of her life, once more, my aunt had to face all the choic­es she had made, each haunt­ing regret that evolved from mere­ly sur­viv­ing. It would take me a long, long time, but through the writ­ing of The Sweet­ness, I began to under­stand her remorse.
Sande Boritz Berg­er​'s debut nov­el, The Sweet­ness, is avail­able wher­ev­er books are sold. She received an MFA from Stony Brook Southamp­ton Col­lege and lives in Bridgehampton.
Relat­ed Content:
After near­ly two decades as a scriptwriter and video pro­duc­er for
For­tune

500
com­pa­nies, Sande Boritz Berg­er returned to her first pas­sion: writ­ing fic­tion and non­fic­tion full time. She com­plet­ed an M.F.A. in Writ­ing and Lit­er­a­ture at Stony Brook Southamp­ton Col­lege where she was award­ed The Deb­o­rah Hecht Memo­r­i­al prize for fic­tion. Essays and short sto­ries have appeared in over
20
antholo­gies, and her nov­el
The Sweet­ness
was a semi-final­ist in Ama­zon's year­ly Break­through Nov­el Awards. Sande lives in Man­hat­tan with her hus­band and has two daughters.