On Mon­day, Assaf Gavron wrote about moon­light­ing as an Israeli mover in New York City. His most recent book, Almost Dead, is now avail­able. He's blog­ging all week for the Jew­ish Book Coun­cil and MyJew­ish­Learn­ing.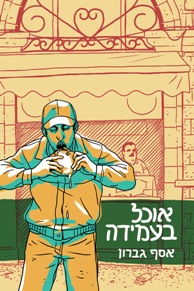 My book Eat­ing Stand­ing Up start­ed life as a week­ly col­umn for the Jerusalem local mag­a­zine Kol Ha'ir in 1995. The con­cept was sim­ple, and is clear­ly evi­dent in the title: to review each week one of Jerusalem​'s hun­dreds of fast food joints — sand­wich­es, burg­ers, piz­zas, shwar­mas, humus places — and the jew­el in the crown: falafel.
Jerusalem prides itself, among oth­er things, for it's fast food, which derives its inspi­ra­tion from the unique mul­ti­cul­tur­al expe­ri­ence of the city: east and west, ori­en­tal and Euro­pean, Arab and Jew­ish, ancient and new. My col­leagues and friends found the idea that I should under­take such a task any­where between dis­gust­ing and aston­ish­ing. But I -– despite a cou­ple of unde­sired stom­ach trou­bles along the road -– sim­ply loved the job, and with­in weeks the col­umn became wide­ly pop­u­lar. My rave reviews were framed and hung on walls of the lucky joints, while angry reac­tions, threat­en­ing phone calls in the mid­dle of the night and a hand­ful of law­suits were filed by the vic­tims of my less favor­able reviews.
As the col­umn gained pop­u­lar­i­ty, a sto­ry start­ed to emerge with­in its pages, the ongo­ing sto­ry of ​"The Eater" -– a sin­gle, frus­trat­ed Jerusalemite in his mid-20s, along with a reg­u­lar cast — his faith­ful right-hand man ​"The Arab-Issues Reporter," ​"The Most Beau­ti­ful Girl in Jerusalem" (who was the tar­get of The Eater's desires), ​"The Veg­e­tar­i­an Com­men­ta­tor" — and sev­er­al oth­er recur­ring char­ac­ters. As much as it was their sto­ry, it was also the sto­ry of Jerusalem in the mid-90s, a city in tran­si­tion from the opti­mistic, qui­et, peace-process days, through the Rabin assas­si­na­tion and the fol­low­ing bloody sui­cide bomb­ings and their depress­ing aftermath.
In 2009, the one hun­dred or so reviews that appeared between ear­ly 1995 and the end of 1996 were col­lect­ed in a book by the Jerusalem pub­lish­er Ugan­da. Even thir­teen years lat­er, with about half of the places reviewed not exist­ing any­more, the book was received as an authen­tic slice of life, a memen­to from the not-so-dis­tance past of the city. And for those vis­it­ing Jerusalem, here are a cou­ple of must-eat joints which scored high on the Eat­ing Stand­ing Up scale:
Shalom Falafel, 34 Beza­lel St., Jerusalem
A small, falafel-only joint just out­side the cen­ter, with the unique, orange-col­ored falafel balls and a per­fect, always fresh and inex­pen­sive portion.
Burekas Musa, 30 Jaf­fa St., Jerusalem
Anoth­er tiny shop not far from the old city with only one item on the menu -– a large, tri­an­gu­lar burekas (Balkan pas­try filled with salty cheese), served with a hard-boiled egg, hot toma­to sauce, tahi­na and a divine pick­led cucumber.
Eat­ing Stand­ing Up was pub­lished in 2009 in Israel. Assaf Gavron's most recent book, Almost Dead, is now available.