Ear­li­er this week, Daniel Smith, whose newest book, Mon­key Mind: A Mem­oir of Anx­i­ety, is now avail­able, wrote about hear­ing voic­es and cop­ing with anx­i­ety. He has been blog­ging here all week for Jew­ish Book Coun­cil and MyJew­ish­Learn­ing.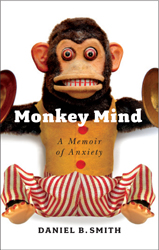 This past May I pub­lished an essay in The New York Times titled ​"Do the Jews Own Anx­i­ety?" Not long after­ward, I received an email from a read­er I will call David C. David C. began his email by quot­ing my essay — ​"We, the Jews, have encour­aged the world to think of us as anx­ious" — and pro­ceed­ed over the course of 240 head­long words to berate me for being one of those ​"self-absorbed, high­ly neu­rot­ic" Amer­i­can Jews who are ​"quick to inter­nal­ize the infe­ri­or­i­ty cast upon them by the gen­tiles." The email end­ed in a par­tic­u­lar­ly indig­nant fash­ion with the fol­low­ing lines: ​"With Jews like you, who needs anti-Semi­tes? Kol tuv, boy­chik."

I attend­ed Hebrew school and was Bar Mitz­va­hed. I went to Bran­deis, which has a promi­nent and esteemed Hebrew depart­ment. I have been to Israel. Yet I have no knowl­edge of the Hebrew lan­guage beyond a smat­ter­ing of com­mon words. I had no idea what kol tuv meant. I had to Google it.

All the best.

Kol tuv, boy­chik: All the best, young man.

David C. cor­re­spon­dent was sneer­ing at me.

It wasn't a pleas­ant email to receive, but I wasn't sur­prised. I'd been expect­ing a note like this soon­er or lat­er. In fact, I was almost glad to receive it. David C.'s resent­ment was its own sort of Bar Mitz­vah, its own com­ing of age. I had already been ini­ti­at­ed, up there on the bimah twen­ty-one years ago, into the tribe of Jew­ish men. Now I had been ini­ti­at­ed into the tribe of Jew­ish writ­ers who get in trou­ble for dis­cussing what is com­mon­ly referred to as ​"Jew­ish neu­ro­sis."

The main rea­son I wasn't sur­prised is that when I was in my late teens and twen­ties, I devel­oped a pas­sion for the work of Philip Roth. I had read, in the base­ment of the Bran­deis library, Roth's pre­co­cious 1959 debut, Good­bye, Colum­bus, and lat­er his mem­oir The Facts, which he sub­ti­tled ​"A Novelist's Auto­bi­og­ra­phy."

Roth was only twen­ty-six, an aus­tere and bril­liant lit­er­ary novi­tiate, when he pub­lished Good­bye, Colum­bus. He was hap­py, no doubt, for the praise and adu­la­tion lav­ished on his book, but he was whol­ly unpre­pared for the angry crit­i­cism that came in the wake of suc­cess. In The Facts he tells the sto­ry of the ​"most bruis­ing pub­lic exchange" of his life. He was appear­ing along­side Ralph Elli­son and the nov­el­ist Pietro Di Dona­to on a pan­el at Yeshi­va Uni­ver­si­ty when the audi­ence turned antag­o­nis­tic, then threat­en­ing. How, they insist­ed, could he have writ­ten about such unsa­vory, con­niv­ing, uneth­i­cal Jew­ish char­ac­ters? (They were espe­cial­ly upset about his short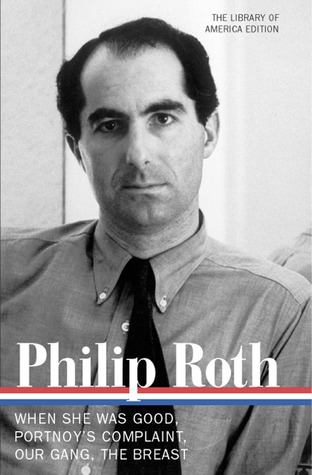 sto­ry ​"Defend­er of the Faith.") Where was his tact? His com­pas­sion? His self-love? Where was his loy­al­ty? As Roth tried to leave the hall, the most hos­tile of the audi­ence mem­bers began to sur­round him and shout. Roth writes:
I lis­tened to the final ver­dict against me, as harsh a judg­ment as I ever hope to hear in this or any oth­er world. I only began to shout, ​'Clear away, step back — I'm get­ting out of here,' after some­body, shak­ing a fist in my face began to holler, ​'You were brought up on anti-Semit­ic lit­er­a­ture!' ​'Yes,' I hollered back, ​'and what is that?' — curi­ous­ly want­i­ng to know what he meant. ​'Eng­lish lit­er­a­ture!' he cried. ​'Eng­lish Lit­er­a­ture is anti-Semit­ic literature.' "
In short, Roth had been trained in self-loathing. His crit­ics deemed him a ​"self-hat­ing" Jew. Or as my cor­re­spon­dent David C. asked: ​"With Jews like you, who needs anti-Semi­tes?"

I don't intend to com­pare myself to Philip Roth. (Per­ish the thought, sweet as it is.) I mean only to say that when one is a Jew who writes about his tribes­men in a way that can, in even a small way, be con­strued as undig­ni­fied or unsa­vory, one has to be pre­pared for anger and insults — and sneer­ing. David C.'s was only the first such response. I don't expect it will be the last.
Vis­it Daniel Smith's offi­cial web­site here.