Rab­bi Sara Bran­des is the author of Mag­i­cal World: Sto­ries, Reflec­tions, Poems. Invit­ed to weigh in on recent devel­op­ments at the Kotel, the West­ern Wall of Jerusalem's Old City, Sara is blog­ging here all week as part of the Vis­it­ing Scribe series on The ProsenPeo­ple.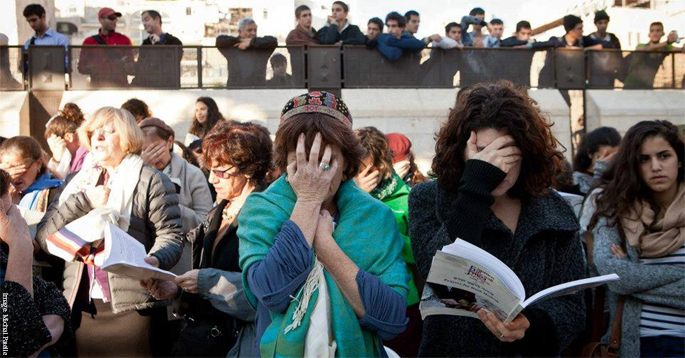 I am a cow­ard­ly fem­i­nist. I lived in Jerusalem for three years between 2000 and 2006, and I nev­er prayed with Women of the Wall (WOW). I am embar­rassed to admit it.
Dur­ing my years in Jerusalem, I had a good excuse. It was the time of the Sec­ond Intifa­da, and bus­es were blow­ing up all around us. I did go to the Wall then, though, even walk­ing through Pales­tin­ian East Jerusalem on Shab­bat, smil­ing at the sweet Arab chil­dren and enjoy­ing the smell of fresh baked bread. It was a mat­ter of soul, not safe­ty that kept me away from WOW's month­ly gath­er­ings, and mine was bunkered in the fortress I had built in my heart. I reserved my ener­gy for deep breaths and resist­ing the urge jump off the Israel-shaped ship I was on, there­by cav­ing to ter­ror. To seek out addi­tion­al ten­sion, on pur­pose and among my own, by stand­ing with WOW seemed unthink­able then.
For near­ly thir­ty years, WOW has shone light square­ly on a face of Judaism that I pre­ferred not to see. I was in my twen­ties, a new­ly reli­gious stu­dent in a co-ed plu­ral­ist Yeshi­va, and I was in love with all of it. Hav­ing tired of the lim­it­less free­dom of the Amer­i­can uni­ver­si­ty expe­ri­ence, I embraced the struc­ture and stric­tures of reli­gious life; a child of a lib­er­al Jew­ish house­hold, I found myself now a part of a great, ancient sto­ry. It was a sto­ry of uni­ty — one God, one Jew­ish peo­ple. I was a part of it, and it was mine.
Women of the Wall bore wit­ness to anoth­er sto­ry entirely.
There are few things in our mod­ern world that demand the depths of my courage, strength, and resilience more than star­ing into the eyes of silenced women. Such women elic­it more cog­ni­tive dis­so­nance than abject pover­ty in some far off land or vic­tims of nat­ur­al dis­as­ter, where blame ani­mates my courage. They are the home­less man on my cor­ner, whom I pre­tend to ignore every day, but they look just like me. They are me, when­ev­er I am not advo­cat­ing for change.
Amer­i­can cul­ture denies us a name for the silenced woman, but Judaism does not. Judaism names her voice, call­ing it kol isha, com­part­men­tal­iz­ing and leg­is­lat­ing it. ​"The voice of a woman is allur­ing." and ​"It may not be heard dur­ing the time of prayer [as not to draw away a man's atten­tion]" (Tal­mud Bavli Bera­chot 24b). In Ortho­dox Jew­ish spaces where these rules are at play, women are for­bid­den from singing and lead­ing prayer, from gen­er­al­ly occu­py­ing the spot­light based on oth­er com­pli­men­ta­ry pro­hi­bi­tions against women's lead­er­ship in gen­er­al and in favor of modesty.
The mis­sion of Women of the Wall was to call upon all of us to hear women's voic­es, the kolot nashim that had been silenced for so long. They pur­sued their mis­sion by gath­er­ing as women in a women's space at the Kote­land doing what the boys were doing; they prayed togeth­er, com­plete with the rit­u­al garb worn by devot­ed Jew­ish wor­ship­pers. No more, no less. Their behav­ior per­plexed almost every­one, because they took up an issue that the lib­er­al Jew­ish world had leapt beyond: sec­u­lar moder­ni­ty grant­i­ng women some aspect of voice.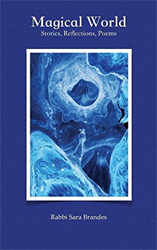 Women of the Wall called our atten­tion to the work of jus­tice still emer­gent, to the fem­i­nist work that is not yet com­plete. For 2,000 years, unques­tioned patri­archy ruled the world. Women only won the right to their own voic­es yes­ter­day, rel­a­tive­ly speak­ing; we have just begun to uncov­er the many crevass­es where her silence was felt, where the absence of her voice and wis­dom left the world too quiet.
As a think­ing, feel­ing being, one nat­u­ral­ly locates them­selves with­in the ​"haves" rather than ​"have nots." As a young woman in Jerusalem, a devot­ed stu­dent of Torah, I cer­tain­ly did. It was so much more pleas­ant to stand qui­et­ly among the ​"haves," assum­ing that I was wel­come. But, had I opened my eyes, I would have seen that I was wel­come to pass only if I was will­ing restrain my voice. Now that I call Israel my home and count myself a mem­ber of the pro­gres­sive, plu­ral­is­tic Kib­butz Han­na­ton, I regret that I have lost my oppor­tu­ni­ty to stand with these women, to take up this cause. Their work is not yet com­plete, and gath­er­ing as women in the new­ly cre­at­ed egal­i­tar­i­an sec­tion, lacks the sym­bol­ic pow­er of their for­mer strug­gle. We will all have to find new venues to con­tin­ue to spread their sim­ple mes­sage. The Jew­ish world, and the world at large, will not be com­plete until women's voic­es — indeed all voic­es — can be heard.
Rab­bi Sara Bran­des is the author of Mag­i­cal World: Sto­ries, Reflec­tions, Poems, a spir­i­tu­al mem­oir inspired by her life in the north of Israel. She blogs about the com­plex­i­ty of life there at www​.heris​rael​.com.
Relat­ed Content:
Rab­bi Sara Bran­des was born in Los Ange­les and received her rab­bini­cal ordi­na­tion from the Jew­ish The­o­log­i­cal Sem­i­nary of Amer­i­ca. She worked as an edu­ca­tor, yoga instruc­tor, hos­pi­tal chap­lain, and direc­tor of the Neshama Cen­ter and Mik­vah before mov­ing with her fam­i­ly to Kib­butz Han­na­ton in Israel.
Kol Isha — A Voice for Every Woman