Beth War­ren is a reg­is­tered dietit­ian, a cer­ti­fied dietit­ian-nutri­tion­ist with a pri­vate prac­tice in Brook­lyn, New York, and the author of the recent­ly pub­lished book Liv­ing a Real Life with Real Food: How to Get Healthy, Lose Weight, and Stay Ener­gized — The Kosher Way (Sky­horse Publishing).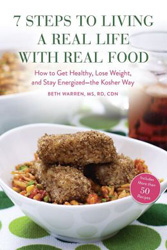 Tak­ing a walk through mid­town Man­hat­tan is all it takes to be hit with restau­rant signs adver­tis­ing terms such as, ​"kosher," ​"kosher-style," ​"kosher-veg­e­tar­i­an," or ​"glatt kosher." Although it seems to be the cur­rent fad with these fan­cy terms, the prin­ci­ples of the kosher diet have been around long before the food pro­duc­tion of our time.
Despite the dif­fer­ent ways the world has come to describe kosher styles of cook­ing, the term ​"kosher" lit­er­al­ly means ​"fit or prop­er" and when it relates to diet, means that the foods are made in con­junc­tion with the Jew­ish dietary laws of kashrut. Cer­tain prin­ci­ples of a kosher diet were seen with our fore­fa­thers before they became actu­al Torah laws brought down at Mt. Sinai. Today, the Jew­ish peo­ple are still fol­low­ing the laws of kashrut for the same rea­son why the Israelites fol­lowed back then: because G‑d said so. The basic com­mand­ment to eat kosher food is the main rea­son why the kosher eat­ing prin­ci­ples are still applic­a­ble today.
Of course, we all want to believe the rumor of the mill and the rea­son why oth­er health con­scious con­sumers pur­chase kosher prod­ucts, which is because they feel those foods are bet­ter for our bod­ies. Although the Ram­bam, Rab­bi Moshe Ben Mai­mon oth­er­wise known as Mai­monides, ven­tures to say in his book Hil­chot Deot that all kosher food is inher­ent­ly health­i­er, the mod­ern day evo­lu­tion of ingre­di­ents trans­formed many kosher ingre­di­ents into heav­i­ly processed foods. The kosher con­sumer needs to be vig­i­lant, if not more so than oth­er restric­tive diets, since the ingre­di­ents being used to meet the laws of kashrut, such as ​"pareve" (mean­ing non-dairy nor meat ingre­di­ents), man­i­fest them­selves in unhealthy man-made ingre­di­ents such as trans fat.
Through my book, I invite you to take the prin­ci­ples of keep­ing a kosher diet and use them to lead a health­i­er lifestyle. The fol­low­ing are a few key ways on how to use the kosher prin­ci­ples to help you live a real life with real food:
1. Fol­low­ing a kosher diet elim­i­nates about 30 per­cent of food prod­ucts from the mar­ket and allows you to focus on few­er items to make a more health­ful choice. These days, we are faced with an over­whelm­ing amount of prod­ucts on the mar­ket shad­ow­ing health­i­er choic­es, only mak­ing a smart choice more difficult.
2. Since you are inspect­ing a food pack­age for kosher ingre­di­ents and a hechsh­er (kosher sym­bol), it encour­ages you to read food labels.
3. Because of all the laws of kashrut, keep­ing kosher also teach­es you a sense of dis­ci­pline when it comes to how to eat, when to eat and accli­ma­tiz­ing you to say, ​"No," to some food choic­es both inside and out­side the home, a prac­tice essen­tial to liv­ing a real food way of real life.
It is vital to under­stand that foods with a kosher sym­bol do not make them auto­mat­i­cal­ly more health­ful. Through­out my book, Liv­ing Real Life with Real Food: How to Get Healthy, Lose Weight, and Stay Ener­gized — The Kosher Way, I guide you how to sift through var­i­ous foods to find the healthy choic­es amongst kosher real food.
Read more about Beth War­ren and her new book here.
Nation­al­ly rec­og­nized reg­is­tered dietit­ian-nutri­tion­ist and media expert, Beth War­ren has shared her kosher exper­tise and prac­ti­cal nutri­tion approach on nation­al and local tele­vi­sion and radio pro­grams includ­ing NBC's Day­time, Pix
11
News and Sirius/​XM Doc­tor's radio, along with print and online pub­li­ca­tions includ­ing The
NY
Post, Wom­en's Health, Self, Glam­our, Shape, Ladies' Home Jour­nal, Pre­ven­tion, Men's Fit­ness and WebMD.Beth is the founder and chief exec­u­tive offi­cer of Beth War­ren Nutri­tion,
LLC
, a New York-based nutri­tion pri­vate prac­tice She also works as a con­sul­tant for com­pa­nies and brands, includ­ing past work with chef Roc­co DiSpir­i­to's meal ser­vice, as a spokesper­son and brand ambas­sador for food com­pa­nies Sig­gi's Yogurt and
KIND
Snacks and as an expert for web­site includ­ing health​grades​.com, yahoohealth​.com and self​.com. She has been a speak­er at pro­fes­sion­al and con­sumer events and is a proud mem­ber of the Acad­e­my of Nutri­tion and Dietet­ics (
AND
).