Paul Gold­berg first heard a Moscow ver­sion of the myth about Jews using blood for reli­gious rit­u­als when he was ten, in 1969. By the time he emi­grat­ed to the US in 1973, he had col­lect­ed the Moscow sto­ries that under­pin his debut nov­el, The Yid. Paul is blog­ging here all week as a Vis­it­ing Scribe here on The ProsenPeo­ple.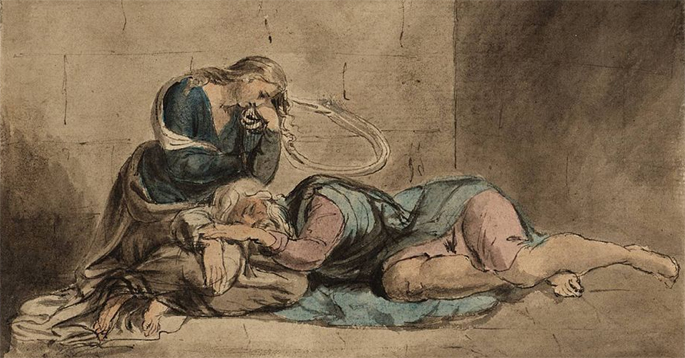 Imag­ine Moscow in late Feb­ru­ary of 1953.
The most pow­er­ful tyrant in human his­to­ry is mad. His para­noia, his demen­tia afflicts the entire land. A group of promi­nent doc­tors — most of them Jews — is behind bars, await­ing exe­cu­tion. Omi­nous vehi­cles called Black Marias fan out across the city to arrest ene­mies of the people.
This drum­beat of hatred is heard in the streets. Ancient tales of blood libel are cir­cu­lat­ing on bus­es, trol­leys and street­cars. Thugs and mil­i­tary units are prepar­ing a pogrom — the biggest since Kristall­nacht. Freight trains amass in Moscow and its envi­rons, and lists of Jews and half-Jews are being pre­pared for deportation.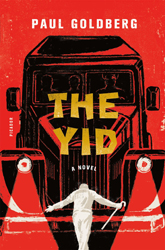 The Yid begins with a knock on the door. Three goons come to arrest Solomon Levin­son, an actor once employed at the Moscow State Jew­ish The­ater. Friends call Levin­son der komandir, the com­man­der. As a young man in 1918 he led a band of Red par­ti­sans who fought against the White Guard and the Czech legion­naires and the Unit­ed States Marines along­side the Trans-Siber­ian Rail­road. Levin­son became a for­mi­da­ble swords­man in the civ­il war. His mas­tery of small-swords and stage­craft make him dead­lier still.
He and his com­pan­ions con­front the fun­da­men­tal ques­tion of Russ­ian lit­er­a­ture: Chto che­loveku delat'? What's a man to do? They decide to take the ulti­mate chal­lenge of patri­o­tism and rise up: ​"The king is mad! Down with the king!" They deter­mine — strate­gi­cal­ly — that on some occa­sions sim­ple ter­ror­ism is what his­to­ry calls for. I will not throw in any spoil­ers here.
To write The Yid, I had to inject real­i­ty into events that occurred six years before I was born. I need­ed some­one to guide me, and I turned to a writer who had an aston­ish­ing com­mand of that ter­rain — mad­ness, evil, blood libel, racism, regi­cide, the bound­ary between the stage and the world. This writer was nei­ther Russ­ian nor Jew­ish. Though he died in 1616, he remains con­tem­po­rary, even urgent.
There is a lot of Shake­speare in The Yid—all of it in Yiddish.
Shake­speare was big in the USSR of the 1930s. Cen­sors thought it was safe — as did play­wrights and trans­la­tors. The Rus­sians have a spe­cial appre­ci­a­tion for Shakespeare's abil­i­ty to explain the hor­ror of their lives. The Bard knew noth­ing of Marx­ism-Lenin­ism-Stal­in­ism, but he under­stood wis­dom, pow­er — the loss of pow­er, espe­cial­ly — and of course folly.
One of the most inter­est­ing per­for­mances of Lear opened in 1935 in Moscow, in Yid­dish. Solomon Mikhoels, the artis­tic direc­tor of the Moscow State Jew­ish The­ater, decid­ed to stage Kinig Lir, star­ring him­self as the title role. The pro­duc­tion of Kinig Lir, the sto­ry of a king gone mad, is the his­tor­i­cal back­drop of The Yid: the sto­ry of a king mak­ing a dead­ly error was play­ing out against the back­drop of the Moscow Tri­als, with their the­atri­cal accu­sa­tions, script­ed con­fes­sions and, of course, executions.
(Argu­ment can also be made that Lear is a Jew­ish sto­ry. Who is Lear but a roy­al Tevye, an old fool with strong-willed daughters?)
There is an inter­est­ing line in Mikhoels' arti­cle on Lear: ​"The tragedy of Lear, to me, begins not at the moment where he is ban­ished by Goner­il. The tragedy begins at the point where he ban­ish­es Cordelia — that is in Act I."
Is Stal­in Lear? Is he mak­ing a fatal mis­take? Is Trot­sky — who is ban­ished — Kent? Is Bukharin Cordelia?
Indeed, Mikhoels planned to test the notion that Shake­speare was safe mate­r­i­al by stag­ing Richard III, cast­ing him­self in the role of the tyrant. I would not be the first per­son to argue that the twen­ti­eth cen­tu­ry trans­formed Richard III into a play about Stalin.
The war was fol­lowed by more urgent mate­r­i­al for Moscow State Jew­ish The­ater. Shmuel Halkin, the trans­la­tor of Lear, wrote a play called The Avengers of the Ghet­to. And then came cat­a­stro­phe: the anti-Semit­ic cam­paigns, the bizarre assas­si­na­tion of Mikhoels in 1948, the exe­cu­tion of Yid­dish poets at the end of the Moscow State Jew­ish Theater.
Lear is a warn­ing to Stal­in: You are mak­ing cat­a­stroph­ic errors of judg­ment, which set you and your coun­try on a path to dis­as­ter. But in Feb­ru­ary 1953, the time for warn­ings has passed. My char­ac­ters are deep in dis­as­ter, and they accept that the ulti­mate chal­lenge is to act as Russ­ian patri­ots, to slay the tyrant.
Now, we cir­cle back to Shake­speare, as seen through the bro­ken mir­ror of the cel­e­brat­ed Russ­ian poet Alexan­der Sergeye­vich Pushkin, born 183 years after Shakespeare's death. In Boris Godunov, his epic play about polit­i­cal assas­si­na­tion and tyran­ny, Pushkin riffs on Shake­speare. Some say he riffs on Puc­ci­ni as well. As I read it, it's Mac­beth made Russian.
Here is an excerpt from Pushkin's Boris Godunov, the usurper's soliloquy:
… Rag­ing pesti­lence
Will burn the soul, and poi­son fill the heart,
Reproach assault the ears with ham­mer-blows,
And spin­ning head, and ris­ing nau­sea,
And blood-bathed boys appear before the eyes …
How glad I'd be to flee — but where? … Hor­ri­ble!
Oh, pity him whose con­science is unclean!
Is regi­cide fol­lowed by regret? Does it cause madness?
The char­ac­ters in The Yid are con­trar­i­ans. Their answer is an emphat­ic No. Lear was your warn­ing, Com­rade Stal­in; you should not have exe­cut­ed Bukharin or ban­ished Trotsky.
The year is not 1935. It's March 1, 1953, 4:42 AM in Moscow. The great bio­me­chan­i­cal Machine of Truth is blast­ing off the dust and cob­webs. The wheels of just revenge begin to grind.
Paul Gold­berg has writ­ten two books about the Sovi­et human rights move­ment, and has co-authored (with Otis Braw­ley) the book How We Do Harm, an exposé of the Amer­i­can health­care sys­tem. He is the edi­tor and pub­lish­er of The Can­cer Let­ter, a pub­li­ca­tion focused on the busi­ness and pol­i­tics of can­cer. He lives in Wash­ing­ton, D.C.
Relat­ed Content:
Paul Gold­berg is the author of two pre­vi­ous nov­els: The Yid, a final­ist for the Sami Rohr Prize for Jew­ish Lit­er­a­ture and the Nation­al Jew­ish Book Award's Gold­berg Prize for Debut Fic­tion, and The Chateau. He has writ­ten two books about the Sovi­et human rights move­ment as well as an expose of the U.S. health­care sys­tem. He lives in Wash­ing­ton, D.C.