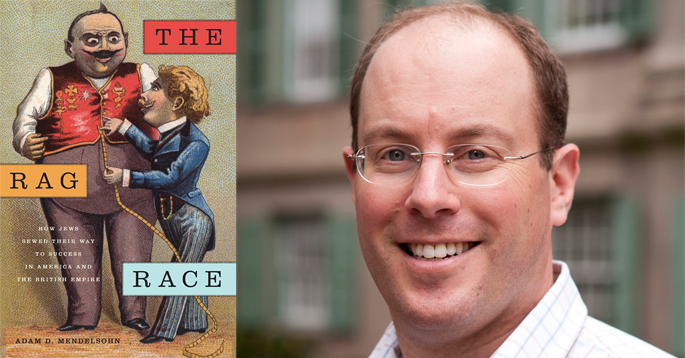 Jew­ish Book Coun­cil is proud to intro­duce read­ers to the five emerg­ing non­fic­tion authors named as final­ists for the 2016 Sami Rohr Prize for Jew­ish Lit­er­a­ture. Today, we invite you to learn more about Adam D. Mendel­sohn and his book, The Rag Race: How Jews Sewed Their Way to Suc­cess in Amer­i­ca and the British Empire, a vivid pic­ture of how ​"rag pick­ing" in nine­teenth-cen­tu­ry Eng­land and the Unit­ed States served as the spring­board for Jews to enter the mid­dle and upper classes.
A warm con­grat­u­la­tions to Adam and the oth­er four final­ists: Yehu­dah Mirsky, Aviya Kush­n­er, Dan Ephron, and Lisa Moses Leff. Be sure to check back soon to see which of these authors will be tak­ing home the $100,000 prize!
What are some of the most chal­leng­ing things about writ­ing nonfiction?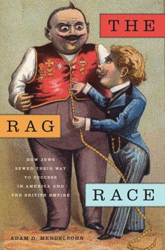 Two things. First­ly, decid­ing on the right moment to switch my ener­gies from research to writ­ing. The temp­ta­tion is so strong to keep on dig­ging, to fol­low one more lead, to fer­ret out addi­tion­al detail (pick your pre­ferred metaphor!). I find that much of the excite­ment of any research project comes from this ini­tial explorato­ry phase: the thrill of the chase. But at some point the hunt has to take sec­ond place to the busi­ness of writ­ing. And sec­ond­ly, I am unset­tled by an aware­ness that any his­tor­i­cal project is so much the prod­uct of hap­pen­stance — the sur­vival of par­tic­u­lar archival col­lec­tions; an accu­mu­la­tion of autho­r­i­al deci­sions, some made know­ing­ly, oth­ers unwit­ting; the neces­si­ty of selec­tion; the whims and inter­ests of the writer.
What or who has been your inspi­ra­tion for writ­ing nonfiction?
Many inspi­ra­tions, but one is the sheer plea­sure I get from read­ing books that teach me new things and force me to think in new ways. If I am able to pro­duce work that gives sim­i­lar plea­sure to oth­ers, I'd be delight­ed. Mis­sion accomplished.
Who is your intend­ed audience?
This book was writ­ten with an aca­d­e­m­ic audi­ence in mind, but with the aim of mak­ing it acces­si­ble to as wide a read­er­ship as pos­si­ble. I like to believe that the ques­tion I grap­ple with at the heart of my book — why have Jews pros­pered so dra­mat­i­cal­ly in Amer­i­ca— is one that Jews and oth­ers should be think­ing about. If Jew­ish suc­cess is not sole­ly the prod­uct of the par­tic­u­lar cul­tur­al bag­gage car­ried by Jews to these shores, then the expe­ri­ence of Jews has enor­mous poten­tial rel­e­vance to more recent immi­grant groups.
Are you work­ing on any­thing new right now?
Many projects large and small. I'm over­see­ing a study — the first of its kind — attempt­ing to track the atti­tudes of black South Africans toward Jews. I'm anno­tat­ing the can­did trav­el diaries of a nine­teenth-cen­tu­ry Jamaican Jew. And I'm in the ear­ly stages of a project about a curi­ous episode that took place in Ethiopia in 1868.
What are you read­ing now?
My read­ing is schiz­o­phrenic. If I'm lucky I get to read some­thing more seri­ous in-between recita­tions of Win­nie the Witch and The Gruffa­lo to my kids. I have a guilt-induc­ing stack of New York­ers sit­ting on my bed­side table. I am a vora­cious read­er of nov­els (most recent­ly Julian Barne's The Sense of an End­ing and David Benioff's City of Thieves). And I am busy with a bril­liant new book about the con­cen­tra­tion camp sys­tem called KL.
If you had to list your top five favorite books…
Here are some that have influ­enced me:
Homage to Cat­alo­nia by George Orwell
One Day in the Life of Ivan Deniso­vich by Alek­san­dr Solzhen­it­syn
Replen­ish­ing the Earth by James Belich
Cul­ture of the Jews by David Biale (and oth­ers)
The Drowned and the Saved by Pri­mo Levi
When did you decide to be a writer? Where were you?
I've always enjoyed words — as a teenag­er I'd peruse the dic­tio­nary for plea­sure. But I only tru­ly dis­cov­ered the thrill of writ­ing non­fic­tion as a uni­ver­si­ty stu­dent. For me the plea­sure comes both from the research and the puz­zle-game of get­ting a sen­tence right.
What is the moun­tain­top for you — how do you define success?
Find­ing a fresh idea or nov­el per­spec­tive, and pre­sent­ing it clear­ly and per­sua­sive­ly. Occa­sion­al­ly I'll chance across some­thing that is star­tling­ly orig­i­nal, but is so obvi­ous (in a good way) once it has been fleshed out.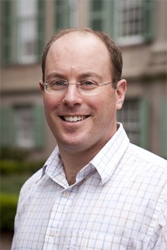 How do you write — what is your pri­vate modus operan­di? What tal­is­mans, rit­u­als, props do you use to assist you?
Paja­mas help. But oth­er­wise all I need is a prob­lem to solve, typ­i­cal­ly a sen­tence that needs puz­zling over. Once I get stuck in, the text takes over.
What do you want read­ers to get out of your book?
I do not for one moment imag­ine that I've writ­ten the defin­i­tive book about the eco­nom­ic suc­cess of Jews in Amer­i­ca. Instead I hope to trou­ble the waters a lit­tle, per­suad­ing read­ers to think again about what role cul­ture has played in this process, and per­haps to reassess the con­ven­tion­al wisdom.
Adam Mendel­sohn is Asso­ciate Pro­fes­sor of His­to­ry and Direc­tor of the Isaac and Jessie Kaplan Cen­tre for Jew­ish Stud­ies and Research at the Uni­ver­si­ty of Cape Town, the only such cen­ter in Africa.
Relat­ed Content: