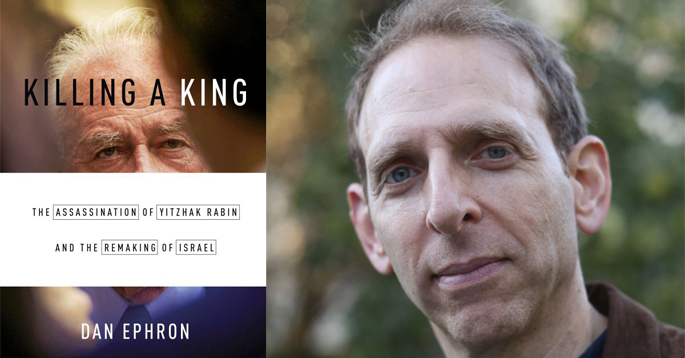 Jew­ish Book Coun­cil is proud to intro­duce read­ers to the five emerg­ing non­fic­tion authors named as final­ists for the 2016 Sami Rohr Prize for Jew­ish Lit­er­a­ture. Today, we invite you to learn more about Dan Ephron and his book, Killing a King: The Assas­si­na­tion of Yitzhak Rabin and the Remak­ing of Israel, an account trac­ing the par­al­lel sto­ries of Israeli Prime Min­is­ter Yitzhak Rabin and his assas­sin, Yigal Amir, for the two years lead­ing up to the bru­tal mur­der in 1995.
A warm con­grat­u­la­tions to Dan and the oth­er four final­ists: Lisa Moses Leff, Aviya Kush­n­er, Adam D. Mendel­sohn, and Yehu­dah Mirsky. Be sure to check back soon to see which of these authors will be tak­ing home the $100,000 prize!
What are some of the most chal­leng­ing things about writ­ing nonfiction?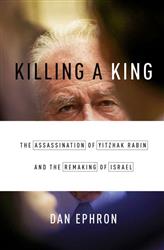 The ​"non" part of non­fic­tion, main­ly: lay­ing out the facts accu­rate­ly and fair­ly with­out dis­rupt­ing the nar­ra­tive flow. It's tricky.
What or who has been your inspi­ra­tion for writ­ing nonfiction?
I was read­ing Erik Larson's excel­lent In the Gar­den of Beasts while writ­ing Killing a King. He's great at not call­ing atten­tion to his own writ­ing. It allowed me to lose myself in the story.
Who is your intend­ed audience?
My father-in-law was one of the read­ers I had mind. He reads a lot, most­ly not about the Mid­dle East. I want­ed Killing a King to engage peo­ple who didn't nec­es­sar­i­ly share my obses­sion with the region. But I also want­ed read­ers famil­iar with the details of the Rabin assas­si­na­tion to be drawn in and under­stand some­thing new.
Are you work­ing on any­thing new right now?
I'm hunt­ing for a new book idea. If you have one, please meet me at the bar in 10 minutes.
What are you read­ing now?
Alis­tair Horne's A Sav­age War of Peace, about the Alger­ian bat­tle for inde­pen­dence. The author tog­gles back and forth between nar­ra­tive detail and his­tor­i­cal sweep. It's very effective.
If you had to list your top five favorite books…
I wouldn't swear they're my all-time favorites. But here are five good books I've read late­ly:
A Spy Among Friends by Ben Mac­in­tyre
Thir­teen Days in Sep­tem­ber by Lawrence Wright
Between the World and Me by Ta-Nehisi Coates
Ghet­to­side by Jill Leovy
Man­son by Jeff Guinn
When did you decide to be a writer? Where were you?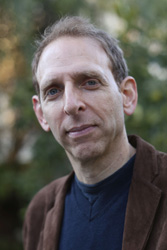 I decid­ed in col­lege to be a jour­nal­ist. The writer­ly ambi­tions came later.
What is the moun­tain­top for you — how do you define success?
I think of suc­cess as the priv­i­lege to write about things that inter­est me while not hav­ing to resort to liv­ing in my par­ents' basement.
How do you write — what is your pri­vate modus operan­di? What tal­is­mans, rit­u­als, props do you use to assist you?
I have no rou­tines or rit­u­als, though I did have a dai­ly word count I kept to while writ­ing the book. Dead­lines moti­vate me. Also, fear of failure.
What do you want read­ers to get out of your book?
The feel­ing that it end­ed too quickly.
Dan Ephron has served as the Jerusalem bureau chief for Newsweek and The Dai­ly Beast. He now lives in New York City.
Relat­ed Content: