Alan Lelchuk is the author of the acclaimed nov­els, Amer­i­can Mis­chief, Miri­am at Thir­ty-Four, Shrink­ing, Miri­am in Her For­ties, Play­ing the Game, Brook­lyn Boy, Ziff: a Life?, and On Home Ground. His most recent book is Search­ing for Wal­len­berg, and he will be blog­ging here all week for Jew­ish Book Coun­cil's Vis­it­ing Scribe series.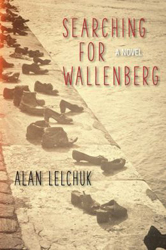 Meet­ing Daniel Paglian­sky in 2003, the KGB inter­roga­tor of Wal­len­berg in 1945 – 47, was like meet­ing a soul from Hades. He was a bag of bones in his late 80's, but his eyes were fierce and his deter­mi­na­tion steely, and he banged the desk with his fist as though it were a gav­el. He yelled at me when he entered the study where I was stand­ing with my inter­preter and his son, asked how dare I vis­it when told explic­it­ly not to! I shiv­ered inward­ly at his mad feroc­i­ty in his advanced age, but stayed cool and said noth­ing, let­ting him beat me up ver­bal­ly. I knew I was meet­ing his­to­ry incar­nate here, a Sovi­et Offi­cer and KGB inter­roga­tor who had nev­er before met with a Westerner.
I had heard about the infa­mous fel­low from Niki­ta Petrov, my friend and guide from Memo­r­i­al House in Moscow, who had writ­ten arti­cles and a book about the KGB, and knew all about its his­to­ry, rules, pro­to­cols. In fact he had warned me, ​"You will nev­er get to meet with him, you see he won't even meet up with the FSB who have invit­ed him to speak with them about what went on back then, with Wal­len­berg, with full immu­ni­ty in case he need­ed that." So Niki­ta was quite amazed when the meet­ing occurred, and when I explained to him how it had hap­pened, he nod­ded. ("Yes, only by crazy chance!") Here's what hap­pened. My inter­preter and I had called sev­er­al times, and Paglian­sky had polite­ly enough refused, say­ing he was too ill. But ten days before my leav­ing Moscow, we were up at Pushkin­skaya, a famous square in cen­tral Moscow, and we called again, since I knew it was a short walk from his apart­ment. This time his son answered and said, in Russ­ian to my inter­preter, ​"An Amer­i­can writer? Sure, come on over, Dad is hav­ing lunch with moth­er now, but they will be fin­ished soon." Rather excit­ed, my fin­gers crossed, we walked the fif­teen min­utes to his apart­ment block, found the apart­ment, and were greet­ed cor­dial­ly by this tall hefty fel­low, Gyor­gi, the son, a man of about 55. He took our coats and called out to his father in the next room that I was here, the Amer­i­can writer, but then his father yelled back, in Russ­ian, ​"Why did you let him in! I told him not to come!" But Gyor­gi only smiled to us, said father would calm down, just take it easy, and escort­ed us into father's study. He asked what I want­ed to talk about, I said the World War II era, I was writ­ing a nov­el about it, and maybe Wal­len­berg. Gyor­gi shook his head, ​"No, you mustn't ask him about that, or he will throw you out imme­di­ate­ly! Please." I nod­ded, and was left to regard the wide oak desk with the glass top cov­er­ing numer­ous pho­tos under­neath it, and the book­shelves, filled with books in Ger­man, Russ­ian, and Eng­lish. I was tempt­ed to take the small pho­to of the youth­ful Paglian­sky, hand­some in his Sovi­et officer's uni­form, but instead gazed at the book­shelves, aston­ished to find Brook­lyn left­ie writ­ers of the 1930's like Daniel Fuchs and Michel Gold, as well as Howard Fast. How and why did he col­lect these hard to find writers?
The inter­view pro­ceed­ed for about an hour, with Paglian­sky alter­nate­ly speak­ing in Russ­ian and Eng­lish, alter­nate­ly angry and cool. Once he calmed down after his ini­tial tirade against me and all Amer­i­cans, he answered my many ques­tions, includ­ing that he read those Brook­lyn writ­ers to brush up on Amer­i­can idioms and dia­logue! I learned that he and his pris­on­er Wal­len­berg had much in com­mon: cul­tur­al inter­ests, Ger­man poet­ry, archi­tec­ture, chess. In fact both were bud­ding archi­tects; no sur­prise, the KGB took spe­cial care to assign an inter­roga­tor who had close affini­ties with the pris­on­er. It was a stun­ning hour, wit­nessed by the son and my interpreter.
Imme­di­ate­ly after­ward I took copi­ous notes, and lat­er on, when writ­ing the nov­el, I includ­ed the scene just as it had hap­pened. But I also extrap­o­lat­ed from it, back to the 1945 – 47 years, scenes of actu­al inter­ro­ga­tion between Wal­len­berg and Paglian­sky, based on the char­ac­ter­is­tics I had learned from my inter­view. So I would say that as I was mak­ing his­to­ry, I was also ​'invent­ing' his­to­ry, through lit­er­a­ture — an invent­ed cred­i­ble one based on an actu­al event and my per­cep­tion of how it might have gone down years earlier.
Alan Lelchuk's short fic­tion has appeared in such pub­li­ca­tions as Transat­lantic, The Atlantic, Mod­ern Occa­sions, The Boston Globe Mag­a­zine, and Par­ti­san Review. He is an edi­tor at Steer­forth Press and teach­es at Dart­mouth Col­lege in New Hamp­shire. Read more about him here.
Relat­ed Content:
Alan Lelchuk is a nov­el­ist and pro­fes­sor who was born and grew up in Brook­lyn, NY. He received his BA in World Lit­er­a­ture from Brook­lyn Col­lege in 1960 and stud­ied at Uni­ver­si­ty Col­lege, Lon­don in 1962 – 63, receiv­ing his MA in 1963 and PhD in 1965, both in Eng­lish from Stan­ford Uni­ver­si­ty. He is a co-founder of Steer­forth Press, has taught at Bran­deis Uni­ver­si­ty and Amherst Col­lege, and since 1985 has been on the fac­ul­ty of Dart­mouth College.