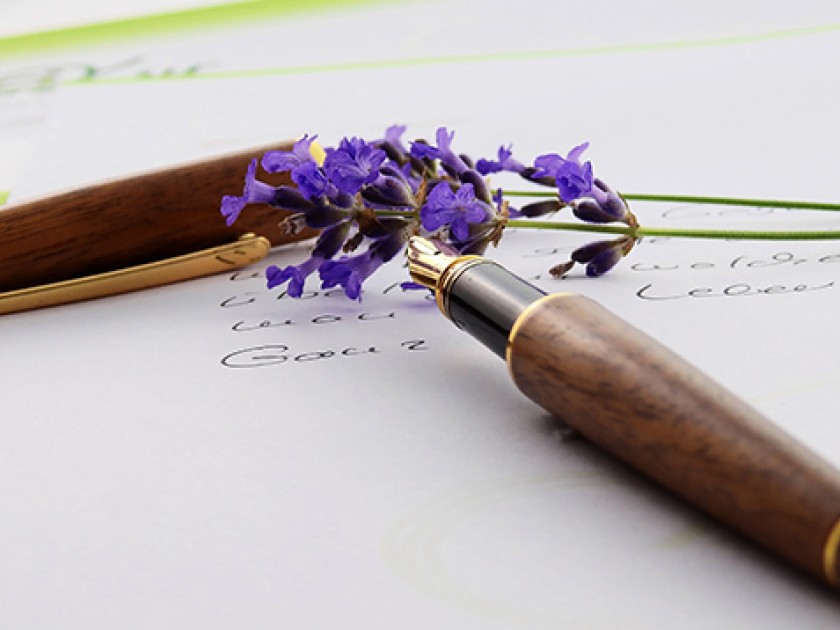 Ron­na Wineberg, author of Nine Facts That Can Change Your Life, has been guest blog­ging for the Jew­ish Book Coun­cil this week as part of the Vis­it­ing Scribe series.
After my moth­er died six and a half years ago, at 84, my father did not want to live in their house alone. They had lived in a small house near Chica­go for fifty five years, and raised two daugh­ters there. He came to live in New York with me for a few months, and my sis­ter and I had to decide what to do about the house.
He want­ed to move to a senior com­mu­ni­ty in the same town where he'd lived. He didn't want to spend time in the old house or sort through pos­ses­sions. They remind­ed him too much of my moth­er. My father didn't say this, but it was clear that the house, which had been a hap­py place, was full of sad­ness for him now. After she died, he wan­dered around the house in a way he nev­er had when she was alive or he just sat in the kitchen. The house felt emp­ty of her pres­ence, yet some­how full of her presence.
My sis­ter and I con­sult­ed with him, but she and I took over the task of sell­ing the house. We had to find a real­tor, set a price, and pre­pare the house for sale.
This was a dif­fi­cult time. We were all griev­ing my moth­er. But the task of dis­man­tling the house had to be com­plet­ed and done quick­ly. My father moved to an apart­ment in the senior com­mu­ni­ty, a tri­al, to see if he would like liv­ing there. In the mean­time, my sis­ter and I began to clean the house, go through clos­ets, draw­ers, cab­i­nets, shelves, our par­ents' lives. There was so much emo­tion and dis­cov­ery. Fifty-five years' worth of pos­ses­sions were crammed into the rooms.
As a writer, I find that my emo­tions some­times make their way into fic­tion. This doesn't always hap­pen, and I often imag­ine emo­tions, but it hap­pened with the house. In my new col­lec­tion of short sto­ries, Nine Facts That Can Change Your Life, there are two sto­ries about a parent's death and clean­ing out a fam­i­ly home, ​"Relo­ca­tion" and ​"Exca­va­tion."
I was astound­ed by the things we found in my par­ents' home: cards, let­ters, invi­ta­tions from six­ty years ago, war sav­ings bonds, old pho­tos, old cloth­ing — even my mother's home-made wed­ding dress. So much fam­i­ly his­to­ry. I imag­ined oth­er objects one might find and oth­er sce­nar­ios; these made their way into the sto­ries. The sto­ries are fic­tion. What is true about them, though, is the emo­tion — the feel­ings of loss, let­ting go, the dis­cov­ery of a parent's past that a child may not have known about.
Over the course of months, my sis­ter, some cousins, my chil­dren, and I cleaned the house. In a small room in the base­ment, my father's office, we found a bulging mani­la enve­lope in a pile of papers. Inside the enve­lope were let­ters he'd writ­ten home from the army dur­ing World War II. Some were writ­ten on thin pieces of paper, air­mail sta­tion­ary, in his tiny scrawl. He wrote to his moth­er, sis­ters, and broth­er, some­times just to a sis­ter, about what it was like to be a sol­dier at that time in his­to­ry and time in his life. I dis­cov­ered he wrote beautifully.
My father was a qui­et man and often lis­tened when in a group of peo­ple. He had a great sense of humor and intel­li­gence. He owned a whole­sale store in Chica­go where he sold men's cloth­ing and lat­er was a manufacturer's rep­re­sen­ta­tive for a com­pa­ny that import­ed men's cloth­ing. The fam­i­ly sto­ry is he had want­ed to be a doc­tor when he was young, but his father died when my dad was sev­en­teen. My father helped sup­port the fam­i­ly then and took over the small dry goods business.
He was respon­si­ble, smart, informed, prac­ti­cal, nur­tur­ing, and devot­ed to the fam­i­ly. We all under­stood that in the hier­ar­chy of impor­tance, he felt fam­i­ly came first. He knew about pol­i­tics, facts, fig­ures, his­to­ry, and enjoyed music and the­ater, but he did not talk much about emo­tion. He did, how­ev­er, in the letters.
The let­ters are sit­ting in the bulging enve­lope in a file cab­i­net in my apart­ment. I have read only a few of them. He died four and half years ago; the loss had felt too fresh. Those I've read offer a glimpse into a part of my father he did not talk about.
I didn't, of course, know him when he was a young adult, but his voice, hopes, dis­ap­point­ments are there on the pages he wrote home. The war, his­to­ry, and pol­i­tics are on those pages, too.
"I read years ago that every let­ter has two lives," a char­ac­ter in my sto­ry col­lec­tion says, ​"One in the writer's mind, and the oth­er that the read­er gives to it."
I'm ready to read my father's let­ters now, to give them their sec­ond or, per­haps, third life. Who knows what I will find or the emo­tions that will arise as I read them, the emo­tions I will dis­cov­er. Per­haps in some form, some man­ner, they will make their way into fic­tion some­day, too.
Ron­na Wineberg is the author of
On Bit­ter­sweet Place
, her first nov­el, and a debut col­lec­tion,
Sec­ond Lan­guage
, which won the New Rivers Press Many Voic­es Project Lit­er­ary Com­pe­ti­tion, and was the run­ner-up for the
2006
Reform Judaism Prize for Jew­ish Fic­tion. She is the recip­i­ent of a schol­ar­ship from the Bread Loaf Writ­ers Con­fer­ence and fel­low­ships from the New York Foun­da­tion for the Arts and else­where. She is the found­ing fic­tion edi­tor of
Belle­vue Lit­er­ary Review
, and lives in New York.