Stephanie Feld­man is a grad­u­ate of Barnard Col­lege. Her debut nov­el, The Angel of Loss­es, will be pub­lished by Ecco on July 29th. She will be blog­ging here all week for Jew­ish Book Coun­cil and MyJew­ish­Learn­ing.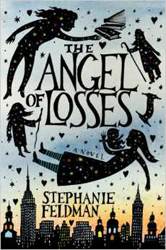 I grew up assum­ing that the Wan­der­ing Jew was a Jew­ish cre­ation, our metaphor for the Dias­po­ra. When I began study­ing goth­ic lit­er­a­ture in col­lege, how­ev­er, I learned that he's actu­al­ly a Chris­t­ian leg­end, a Roman who taunt­ed Jesus and is pun­ished with immortality.
But I loved the Wan­der­ing Jew — his mys­tery, his mag­ic, his mix of dan­ger and tragedy. I could­n't leave him behind to the more-or-less explic­it anti-Semi­tism of 300-year-old British authors. I did­n't want him to be, as my pro­fes­sors would say, ​"the Other."
I decid­ed to write my own goth­ic nov­el with a Wan­der­ing Jew based on Jew­ish tra­di­tion. I stud­ied Jew­ish folk­lore and his­to­ry and found a wealth of wiz­ards and trav­el­ers, some of whom appear in my nov­el, The Angel of Loss­es.
Here are a few of my favorite Wan­der­ing Jews:
1. Eli­jah
A body of Jew­ish folk­lore fea­tures the prophet Eli­jah, back on earth after his ascen­sion to help pious Jews in need. He arrives as an unnamed stranger, and dis­ap­pears again before any­one can guess his true identity.
2. Rab­bi Aki­ba ben Joseph
The sec­ond-cen­tu­ry rab­bi is a famous mys­tic and reli­gious schol­ar — ​"Head of all the Sages," accord­ing to the Tal­mud — but he was also a polit­i­cal fig­ure. Aki­ba trav­eled through the Mid­dle East encour­ag­ing Jew­ish com­mu­ni­ties to sup­port the Jew­ish gen­er­al Bar Koch­ba, who led a briefly suc­cess­ful revolt against the Romans. I prize him for his leg­endary jour­ney to par­adise. Accord­ing to lore, Aki­ba brought three rab­bis with him on this for­bid­den mis­sion. Upon breach­ing par­adise, one died, anoth­er went insane, and the third became an apos­tate. Aki­ba, some­how, sur­vived unscathed.
3. Eldad Ha-Dani
In the ninth cen­tu­ry, Eldad Ha-Dani trav­eled through North Africa, the Mid­dle East, and Spain, announc­ing him­self as a mem­ber of an inde­pen­dent Jew­ish king­dom in Africa found­ed by four of the ten Lost Tribes of Israel. His con­tem­po­raries accept­ed as truth his tales of an extra­or­di­nar­i­ly wealthy, hid­den Jew­ish nation. Today, schol­ars con­sid­er him to be a fraud, but his mas­tery of an unusu­al ver­sion of Hebrew sug­gests that he may have indeed come from some kind of sur­viv­ing iso­lat­ed Jew­ish com­mu­ni­ty in Africa.
4. Ben­jamin of Tudela
A twelfth-cen­tu­ry Span­ish Jew, Ben­jamin of Tudela trav­eled through Europe, North Africa, and Asia. His nar­ra­tive, rec­og­nized as a pre­cur­sor of Mar­co Polo's, fea­tures both metic­u­lous obser­va­tions of Jew­ish com­mu­ni­ties and fan­tas­tic tales of Jew­ish magi­cians and enig­mat­ic tribes.
5. and 6. Shlo­mo Molko and David Reubeni
Mes­sian­ic fever gripped the Jew­ish pop­u­la­tion in the wake of the fif­teenth-cen­tu­ry Span­ish expul­sion. Molko, the son of con­ver­sos, redis­cov­ered his Jew­ish her­itage and trav­eled through Europe and the Mid­dle East with self-pro­claimed Mes­si­ah David Ruebeni. Molko and Reubeni's jour­ney speaks to the des­per­a­tion and hope of their time, the sense that the reassem­bly of the dias­po­ra — and the Ten Lost Tribes of leg­end — was immi­nent. Molko was burned at the stake in Italy, and his shawl is still on dis­play in Prague.
7. Israel Cohen
Read­ing him when I did, I came to see Israel Cohen, who pub­lished sev­er­al books about the Jew­ish com­mu­ni­ties of Europe, as an ear­ly twen­ti­eth-cen­tu­ry suc­ces­sor to Ben­jamin of Tudela. I couldn't shake one of his notes about the Vil­na Jew­ish library, which one of my char­ac­ters adds to his col­lec­tion of leg­ends of the Wan­der­ing Jew: ​"Beneath the Library there was a lit­tle room, on the door of which in bold let­ters appeared the sign of a Hebrew scribe. The door opened as I descend­ed, and out came a hun­gry-look­ing man, with sunken, stub­bly cheeks, and a dirty collar."
8. The White Rebbe
A medieval Pol­ish leg­end describes a ​"White Rebbe" who sends a calf into a cave. When the ani­mal fails to return, the holy man deter­mines he's dis­cov­ered a mag­i­cal path to Jerusalem. The White Rebbe descends into the cave him­self and is nev­er seen again.
I bor­rowed the name ​"White Rebbe" for my own Wan­der­ing Jew, the hero — or anti-hero — of the mys­te­ri­ous fairy tales my pro­tag­o­nist Mar­jorie Burke dis­cov­ers among her late grandfather's belong­ings. My White Rebbe's sto­ry com­bines the mag­ic, his­to­ry, dar­ing, and spir­i­tu­al long­ing of the Jew­ish trav­el­ers I dis­cov­ered in my research, and like the Wan­der­ing Jews of goth­ic lit­er­a­ture, he refus­es to remain safe­ly in the past.
Stephanie Feld­man lives out­side Philadel­phia with her hus­band and daugh­ter. Read more about her and her work here.
Relat­ed Content:
Stephanie Feld­man is a grad­u­ate of Barnard Col­lege. She lives out­side Philadel­phia, Penn­syl­va­nia, with her hus­band and her daughter.