Ear­li­er this week, Har­ry Brod wrote about speak­ing back­wards, a cou­ple of say­ings with which he dis­agrees and why he always has a valid pass­port. He will be blog­ging here all week for Jew­ish Book Coun­cil and MyJew­ish­Learn­ing.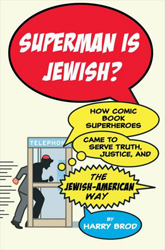 "Jews don't have a mid­dle range," I said to my friend and colleague.
He was telling me about his expe­ri­ence teach­ing a new course at our uni­ver­si­ty. Fac­ul­ty from very dif­fer­ent fields had come togeth­er to devel­op a com­mon core of read­ings and top­ics for a course designed to intro­duce first year stu­dents to col­lege life. Each pro­fes­sor would teach their own sec­tion but the stu­dents would receive a com­mon expe­ri­ence. The for­mat meant that every instruc­tor would be out of their area of exper­tise and com­fort zone for at least part of the course, most like­ly for most of it.
"So there I was," he told me, ​"stand­ing in front of these new stu­dents as an expe­ri­enced teacher, not just ner­vous but terrified."
"Yeah," I said, ​"Jews don't have a mid­dle range. We go right from a lit­tle bit scared to absolute­ly terrified."
It's a lega­cy of the Holo­caust, with roots fur­ther back in our his­to­ry. The flames of the Holo­caust have singed all of our imag­i­na­tions, leav­ing behind their psy­cho­log­i­cal scars. And scar tis­sue isn't flex­i­ble. So we end up not hav­ing a whole lot of flex­i­bil­i­ty when we feel threat­ened. We tend to oper­ate in all-or-noth­ing mode. When we get scared, even just a bit, we start to see Nazis.
We're not the only ones who suf­fer from a scarred imag­i­na­tion in deal­ing with anti-Semi­tism. It's a prin­ci­pal rea­son why anti-Semi­tism remains set apart, so often unin­te­grat­ed with the oth­er ​"isms" peo­ple are try­ing to address: racism, sex­ism, clas­sism, het­ero­sex­ism, etc. At least for some of us, when some­one rais­es a ques­tion about whether we have act­ed in some way that is sex­ist, racist, etc., we under­stand that there may be sub­tle issues of unin­tend­ed prej­u­dice involved, and we might be will­ing to exam­ine our actions and beliefs to at least some extent. We don't react as if we're being called ser­i­al rapists or mem­bers of the KKK. But raise a ques­tion about anti-Semi­tism pos­si­bly being at work, and peo­ple react like they're being called Nazis. The Nazi ter­ror con­tin­ues to impact peo­ple in a way that make it prac­ti­cal­ly impos­si­ble to dis­cuss more sub­tle forms of anti-Semi­tism short of geno­cide. Jews aren't the only ones with no mid­dle range when it comes to anti-Semitism.
Har­ry Brod is a pro­fes­sor of phi­los­o­phy and human­i­ties at the Uni­ver­si­ty of North­ern Iowa and the author of Super­man is Jew­ish?: How Com­ic Book Super­heroes Came to Serve Truth, Jus­tice, and the Jew­ish-Amer­i­can Way (Free Press; Novem­ber 2012).