Nora Rubel, author of the recent­ly pub­lished Doubt­ing the Devout: The Ultra-Ortho­dox in the Jew­ish Amer­i­can Imag­i­na­tion
, will be blog­ging all week for MyJew­ish­Learn­ing and the Jew­ish Book Council.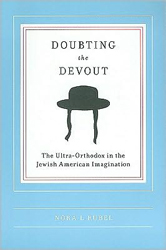 I just fin­ished reread­ing Eliz­a­beth Ehrlich's Miriam's Kitchen for what feels like the umpteenth time. I assign this mul­ti-lay­ered mem­oir of a woman's jour­ney into the obser­vance of kashrut for my class on reli­gion and food­ways. Upon com­ple­tion — every spring semes­ter — I want to throw out all my dish­es, kash­er my pots, and start all over in a neat­ly orga­nized kosher kitchen that pays homage to these bound­aries that my ances­tors found so impor­tant. Except that this is myth, one that goes quite a few gen­er­a­tions back. My pater­nal grand­par­ents — Holo­caust sur­vivors — taught me to enjoy a good lob­ster. My mater­nal grand­fa­ther, the grand­son of a great rab­bi in Poland, had no use for orga­nized reli­gion, let alone such anti­quat­ed dietary laws. My par­ents eat on Yom Kip­pur. And yet, despite the long­stand­ing rit­u­al impu­ri­ty of my kitchen his­to­ry, I am haunt­ed by minor trans­gres­sions. I am hyper­aware of the cut­ting board used to slice meat and I will choose a dif­fer­ent one for dairy — even if these items will share space on the din­ner table.
When I see my moth­er-in-law drink a glass of milk with a meat meal, I recoil. But is that the response of a clos­et­ed kosher girl or just that of a pre­ten­tious food­ie who believes that milk is not the prop­er gas­tro­nom­ic accom­pa­ni­ment to a lemon­grass-scent­ed beef stew? It is one thing to take on these oblig­a­tions when there is a cul­tur­al con­text for such behav­ior, but I grew up with none. Per­haps I am just too lazy to take the leap into what would sure­ly be a down­ward spi­ral into obses­sive com­pul­sive behav­ior. My part­ner and I already have food rules, but ours are more along the lines of Michael Pollan's rec­om­men­da­tions than those mitzvot passed down at Sinai. We make our own bread, buy meat from farm­ers we know, belong to a CSA, and eschew processed foods. We eat in what we see as an eth­i­cal way. But is it Jewish?
Last fall the pres­i­dent of the Reform Move­ment, Eric Yoffie, sug­gest­ed a way that it might be.​"This is not about kashrut… We need to think about how the food we eat advances the val­ues we hold as Reform Jews." In the after­math of the night­mare rev­e­la­tions of the Postville slaugh­ter house, one real­izes that kosher does not always equal eth­i­cal. Yoffie's — and the URJ's—Green Table/​Just Table ini­tia­tive requires us to bring back a sense of won­der to think­ing about how our food gets to our table. Is fac­to­ry farmed beef wor­thy of a bracha? Or is the local pas­ture raised lamb, slaugh­tered with­out a shochet, some­thing more laud­able? At least for now, my table remains rit­u­al­ly impure. Maybe it's not kosher, but I think it's still Jewish.
Editor's note: There has also been a sig­nif­i­cant response among kosher-keep­ing Jews to Postville. Check out MJL's cov­er­age of the Tav HaYosh­er cam­paign from Uri L'tzedek.
Nora Rubel is the author of the recent­ly pub­lished Doubt­ing the Devout: The Ultra-Ortho­dox in the Jew­ish Amer­i­can Imag­i­na­tion
. She will be blog­ging here all week.