​On Mon­day and Tues­day this week, Let­ty Cot­tin Pogre­bin​shared two passage​s​that did­n't make it into her just-pub­lished nov­el
Sin­gle Jew­ish Male Seek­ing Soul Mate
​.
She also explained why she chose to excise each scene — one because of a chrono­log­i­cal error that affect­ed the action,​and one involv­ing trop­i­cal fish​that ulti­mate­ly struck the author as implau­si­ble. T​oday,​she offers the third install­ment in her Jew­ish Book Coun­cil Vis­it­ing Scribe series​that pulls back the cur­tain on a writer's self-edit­ing process.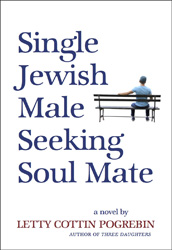 In​order to under­stand my deci­sion in con­text, you need to know that in​my new nov­el, Sin­gle Jew­ish Male Seek­ing Soul Mate, Zach Levy, an ACLU lawyer and the son of Holo­caust sur­vivors, is on a mis­sion to ful­fill his promise to his dying moth­er that he would mar­ry a Jew and raise Jew­ish chil­dren. How­ev­er things get com­pli­cat­ed when​one day, at the found­ing con­fer­ence of the Black-Jew­ish Coali­tion of New York, Zach meets and falls in love with Cleo Scott, an African-Amer­i­can talk show host. As the old say­ing goes, ​"Man plans, God laughs."
The rela­tion­ship between Zach and Cleo unspools in the fore­ground of the larg­er rela­tion­ship between the black and Jew­ish com­mu­ni­ties in New York. Ris­ing ten­sions reached a boil­ing point dur­ing the 1984 Pres­i­den­tial cam­paign after Jesse Jack­son famous­ly called the city ​"Hymi­etown," and a Jew­ish busi­ness­man retal­i­at­ed with a full-page ad in The Times that exco­ri­at­ed the black Demo­c­ra­t­ic can­di­date and insist­ed ​"a Jew would have to be crazy to vote for Jackson."
Hav­ing lived through that volatile peri­od and par­tic­i­pat­ed in two dif­fer­ent black-Jew­ish dia­logue groups (one of which met month­ly for ten years), I have strong opin­ions on the sub­ject of black-Jew­ish rela­tions, not all of which sur­faced in my final man­u­script. For instance, this passage:
Zach could well under­stand why ​"Hymi­etown" might offend Jew­ish ears; sure­ly blacks would be sim­i­lar­ly affront­ed if a white can­di­date called the city ​"Coon­town." But unlike many of his fel­low Jews, he did not believe Jackson's use of the term proved the can­di­date an irre­deemable anti-Semi­te. By the same token, unlike many black peo­ple, Zach did not think Jews were pur­pose­ly mag­ni­fy­ing the inci­dent in order to turn off lib­er­al vot­ers and bring down America's first polit­i­cal­ly viable black pres­i­den­tial hopeful.

As he wait­ed for the meet­ing of the Black-Jew­ish Coali­tion to begin, he thought about the dis­parate impact of various​stereo­types. Clear­ly, nei­ther ​"Hymie" nor ​"Coon" flat­ters the group it pur­ports to describe. But stereo­types like, ​"Jews are smart" or ​"Jew­ish men make the best hus­bands," nev­er spawned a Jew­ish protest. Nor did asser­tions such as, ​"Blacks are bet­ter ath­letes" or ​"Blacks are great dancers" upset most African-Amer­i­cans. So when peo­ple said they hate stereo­types, Zach knew that what they real­ly meant was they hate neg­a­tive stereo­types. Gen­er­al­iza­tions that cast their own group in a pos­i­tive light were per­fect­ly acceptable.

"Jews are clan­nish" could go either way. Neg­a­tive: Jews stick to their own kind and care only about them­selves. Pos­i­tive: Jews sup­port and defend each oth­er, espe­cial­ly when they're under attack.

That explained why so many Jew­ish VIPs had giv­en up a beau­ti­ful spring after­noon to come to today's meet­ing. Rather than Jackson's jibe reg­is­ter­ing sim­ply as a neg­a­tive stereo­type, it seemed to mark a pro­found and dis­turb­ing shift in the two groups' rela­tion­ship. Some Jews felt the ​"Hymi­etown" inci­dent was a mea­sure of black-Jew­ish alien­ation, a sym­bol of the irrepara­ble tear in the two groups' his­toric bonds, and a sign that the once-depend­able sol­i­dar­i­ty of the Civ­il Rights era was a thing of the past. A new poll that showed increas­ing anti-Semi­tism among younger African-Amer­i­cans, and vir­u­lent hos­til­i­ty from the black min­is­ter Louis Far­rakhan and his Nation of Islam added to many​Jews'​dis­com­fort. They felt under attack and vul­ner­a­ble; they want­ed reas­sur­ance from their African-Amer­i­can coun­ter­parts that the old alliance was intact.
Why did I jet­ti­son that pas­sage? Because it was polem­i­cal, more op-ed than​lit­er­ary prose. I also thought Zach's assump­tions about his fel­low Jews' moti­va­tions for attend­ing the meet­ing were pre­sump­tu­ous. So out it went.
Let­ty Cot­tin Pogre­bin is a found­ing edi­tor of Ms. mag­a­zine and the author of eleven books. Read more about her here. And if you're in NYC, you can meet the author and hear her speak about her book tonight, May 20th at 7 PM at Book Cul­ture, 450 Colum­bus Avenue (81−82 St) in Manhattan.
Relat­ed Content:
Co-founder of Ms. mag­a­zine, Let­ty Cot­tin Pogre­bin is a nation­al­ly acclaimed writer, activist, and pub­lic speak­er. The author of twelve books, her arti­cles and essays have appeared wide­ly. She is a co-founder of the Nation­al Women's Polit­i­cal Cau­cus and the Ms. Foun­da­tion for Women; a past pres­i­dent of the Authors Guild and the recip­i­ent of numer­ous hon­ors and awards.