Matthew Shaer is the author of Among Right­eous Men: A Tale of Vig­i­lantes and Vin­di­ca­tion in Hasidic Crown Heights
. He will be blog­ging here all week for Jew­ish Book Coun­cil and MyJew­ish­Learn­ing.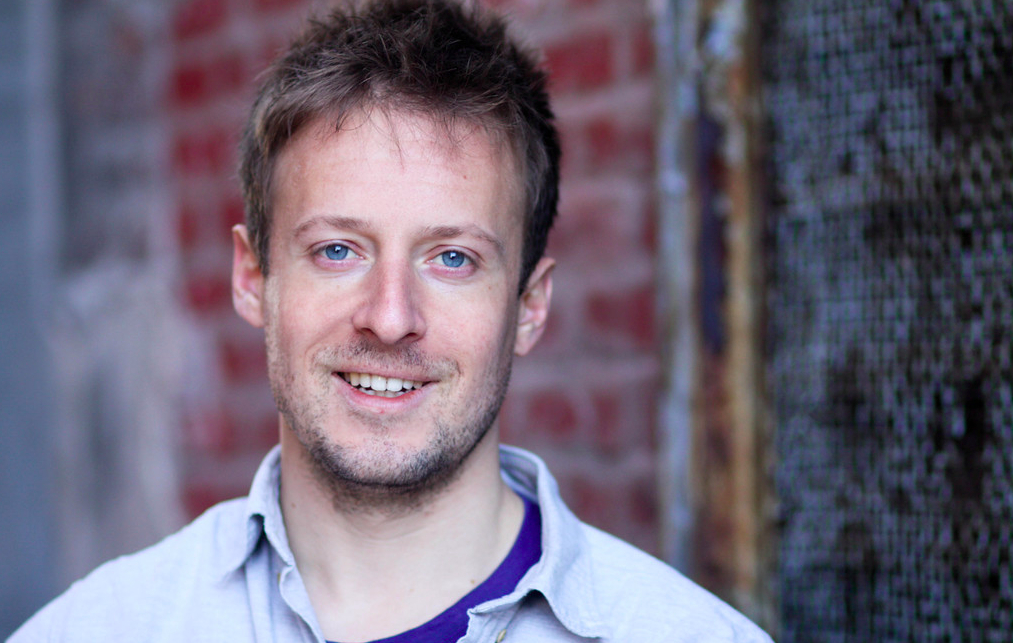 I did not set out to write a book about Jews.
In fact, I was warned repeat­ed­ly against it — by friends, acquain­tances, pub­lish­ing pro­fes­sion­als. I remem­ber an ear­ly phone call with a well-known edi­tor at a pub­lish­ing house in Man­hat­tan, who told me, in no uncer­tain terms, that ​"peo­ple don't buy Jew­ish-themed books." He must have heard me col­lect­ing my breath on the oth­er end of the line, because he quick­ly added: ​"Even Jews don't buy books about Jews. And def­i­nite­ly not books about Hasidic Jews. Sor­ry." Still, I con­sid­ered what I stum­bled across to be a good sto­ry, and I was loathe to take his advice.
In the spring of 2008, I had been dis­patched by New York mag­a­zine to the Crown Heights neigh­bor­hood of Brook­lyn, to inter­view the mem­bers of a Hasidic anti-crime patrol called the Shmi­ra ("Watch­ers," rough­ly, in Hebrew). For the most part, the Shmi­ra were con­sid­ered a rel­a­tive­ly benign com­mu­ni­ty pres­ence – – respon­si­ble for fer­ry­ing elder­ly women to the bus stop, or fix­ing flat tires, and so on – – but that spring, a cou­ple mem­bers of the group had alleged­ly set upon a black col­lege stu­dent named Andrew Charles, and beat him around the back and arms with a night stick.
Few­er locales are more sen­si­tive to the specter of racial vio­lence than Crown Heights, the site of three days of dead­ly riot­ing in 1991—local Jews con­tin­ue to call the event a ​"pogrom" — and with­in a week of the inci­dent, the neigh­bor­hoods had tak­en on the appear­ance of what the Times termed a mil­i­tary camp. Police riot vans mobile com­mand posts were sta­tioned on Kingston Avenue, the high street of the Jew­ish com­mu­ni­ty; packs of uni­formed cops worked west to east on Car­roll and Empire, flash­lights in hand. Local politi­cians, fear­ing the worst, issued pub­lic pleas for calm.
Accu­sa­tions were thrown back and forth with increas­ing alacrity. The large African-Amer­i­can and Caribbean pop­u­la­tion blamed the Shmi­ra for tar­get­ing black men. The lead­er­ship of the Chabad-Lubav­itch move­ment, mean­while, which had been head­quar­tered in Crown Heights for decades, point­ed to an uptick in vio­lent crime, and claimed that the police had abdi­cat­ed their duty. In that vac­u­um, the argu­ment went, the Shmi­ra were bound to act. In late April, I reached out to Yos­si Stern, a Lubav­itch­er Hasid, and the spokesman for the Crown Heights Shmi­ra. Stern was wary of the media atten­tion, but when I asked if I could pay him a vis­it, he agreed, and invit­ed me to his home on Union Street.
That evening, I walked from my apart­ment in Park Slope, down East­ern Park­way, and into Crown Heights. My only pre­vi­ous expe­ri­ence with the neigh­bor­hood con­sist­ed of momen­tary glimpses out of the win­dow of a cab, as I hur­tled out to the air­port, in Jamaica, Queens — I remem­bered packs of black-hat­ted men, grand old apart­ment build­ings, the sun-dap­pled and tree-lined foot­path which runs down the south­ern lip of the Park­way. What I found was some­thing very dif­fer­ent; some­thing deeply jarring.
I should say here that although I con­sid­er myself in many ways to be cul­tur­al­ly Jew­ish, I am not obser­vant nor par­tic­u­lar­ly reli­gious, and I spent much of my child­hood attend­ing Uni­tar­i­an ser­vices with my moth­er, who was born into an old Uni­tar­i­an fam­i­ly. And yet some of my ear­li­est mem­o­ries are of sit­ting on the floor of my great-grandmother's apart­ment build­ing in New­ton, and lis­ten­ing to the cir­cuitous cluck­ing of Yid­dish. My pater­nal grand­moth­er spoke Yid­dish some­times, too, usu­al­ly when she want­ed to say some­thing to my grand­fa­ther that the kids wouldn't under­stand; even now, when report­ing on Ortho­dox com­mu­ni­ties in New York, I am shocked at how much of the lan­guage I must have internalized.
I knew, vague­ly, the sto­ry of my great-grand­moth­er, Edith Rosen­thal, whose father had been mur­dered by Cos­sacks before World War I. I knew that she fled East­ern Europe with her moth­er and broth­ers, and passed through Ellis Island, before set­tling out­side of Boston, where my grand­moth­er was raised. But I had nev­er been able to visu­al­ize the world from which she had come – –a Jew­ish shtetl– – until I began the process of report­ing the New York mag­a­zine arti­cle, and then the book.
Here in the midst of bustling Brook­lyn was a small enclave – – no more than six blocks by ten – – that seemed to oper­ate by the codes and cus­toms of a bygone era. Here was a world where Yid­dish was the com­mon lan­guage, where Hebrew adorned the store­front sig­nage, where one could walk three steps from the hab­er­dash­er to the bagel mak­er and then on to the fish­mon­ger, whose wares – – wet, pink, scaly – – were dis­played on large beds of ice, behind dense­ly-fogged glass. Ini­tial­ly, I found it all to be quite thrilling, and after my inter­view with Yos­si Stern, I returned fre­quent­ly to Crown Heights, although I had no new assign­ment in the area.
I read every book on Jew­ish Brook­lyn I could get my hands on – – I start­ed with Hen­ry Goldschmidt's expert Race and Reli­gion Among the Cho­sen Peo­ples of Crown Heights, and worked out­ward from there. Lat­er, I read Mar­tin Buber, Elie Wiesel, Ger­shom Scholem. I mud­dled through long reli­gious ser­vices, star­ing at walls of com­pli­cat­ed the­o­log­i­cal text no more dis­cernible to me than kan­gi; when I grew weary, I'd peek up at the upper reach­es of the shul, where the Lubav­itch women, sep­a­rat­ed from the men by a heavy sheet of Plex­i­glas, dav­ened in a room of their own.
I have lift­ed the fol­low­ing excerpt from a jour­nal I kept dur­ing that time, when I was first begin­ning my research. I think the date was Feb­ru­ary of 2010 – – I had been invit­ed by a Lubav­itch­er rab­bi friend to attend ser­vices at his shul. At the end of ser­vices, the con­gre­gants, all young men, began to dance. I watched them for a moment, doing my best to make it clear that I did not par­tic­u­lar­ly want to join, but even­tu­al­ly, I felt a heavy hand on my shoul­der, and I was quite forcibly dragged into the midst of the melee:
Out­ward we whirled, in faster in faster cir­cles, my yarmulke at one point slip­ping off my head. It was the clos­est I have been to pure joy in Crown Heights — the clos­est I got to under­stand­ing the neigh­bor­hood. It was also the clos­est I came to under­stand­ing the faith of the Hasidim. For if I had remained out­side the cir­cle, tac­i­turn and grudg­ing, I would nev­er have allowed myself the emo­tion­al space to become involved. I would have shrugged it off. Inside the cir­cle, though, pressed elbow to elbow with these grin­ning, hap­py men, I under­stood final­ly the impor­tance of com­radery — us against the out­side world. It was a warm place to be.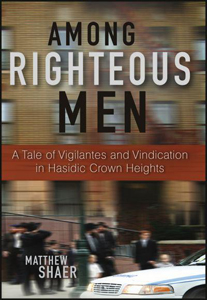 A few weeks lat­er, I walked out of a pri­vate res­i­dence and into the pur­ple twi­light, and caught a glimpse of a trio of Yeshi­va stu­dents, skip­ping down Kingston, hand-in-hand. In the win­dows of the near­by apart­ment build­ings, can­dles glowed. A line of men fil­tered through the front door of 770 East­ern Park­way, the head­quar­ters of the Lubav­itch move­ment, their heads hung, their eyes on the leather-bound books which they held out in front of them like beacons.
Not for the last time, I felt that some part of Crown Heights belonged to me. It was my his­to­ry, the his­to­ry that I shared with my grand­moth­er, and my great-grand­moth­er, and her father, who had died with­out ever set­ting foot in Amer­i­ca. Or per­haps it is more accu­rate, in the end, to say that some part of that place was me, in a pro­found way that I did not yet understand.
Matthew Shaer is the author of Among Right­eous Men. His writ­ing has appeared in Harper's, For­eign Pol­i­cy, and The Wash­ing­ton Post, among oth­er pub­li­ca­tions. He is a reg­u­lar con­trib­u­tor to New York mag­a­zine. He tweets at @MatthewShaer.
Matthew Shaer
is the author of
Among Right­eous Men
.
His writ­ing has appeared in
Harper's, For­eign Pol­i­cy,
and
The Wash­ing­ton Post, a
mong oth­er pub­li­ca­tions. He is a reg­u­lar con­trib­u­tor to
New York
mag­a­zine. He tweets at
@MatthewShaer
.