Lois Lev­een is the author of Juli­et's Nurse and The Secrets of Mary Bows­er. She will be blog­ging here all week for Jew­ish Book Coun­cil's Vis­it­ing Scribe series.
To be, or not to be, a Jew­ish author …
Okay, maybe Ham­let nev­er pon­dered that ques­tion (what would you expect from a guy who has treyf right in his name?).
But many writ­ers, and lit­er­ary crit­ics, can't help but won­der what it means to be a Jew­ish author. In ​"Fun­ny, You Don't Book Jew­ish," I explored the ques­tion by com­par­ing a nov­el by Chi­nese-Amer­i­can author Gish Jen about grow­ing up in Jew­ish sub­ur­bia with my own first nov­el, The Secrets of Mary Bows­er, which is based on the true sto­ry of an African Amer­i­can woman who becomes a Union spy dur­ing the Civ­il War by pos­ing as a slave in the Con­fed­er­ate White House. I made a nice argu­ment for the ​"Jew­ish­ness" of my book, despite its def­i­nite­ly-not-a-mem­ber-of-the-tribe protagonist.
And yet, the ques­tion of what it means to be a Jew­ish author loomed even larg­er as I wrote my sec­ond nov­el, Juli­et's Nurse, which imag­ines the four­teen years lead­ing up to the events in Romeo and Juli­et, as told by one of Shake­speare's most mem­o­rable ​"minor" char­ac­ters (the nurse actu­al­ly has the largest num­ber of lines in Shake­speare's play, after the epony­mous teens — which makes her a pret­ty major minor char­ac­ter. She's such a yen­ta I knew she deserved her own book).
So what's a nice Jew­ish writer doing re-imag­in­ing Shake­speare's best known and most beloved play?
The part of me that earned a Ph.D. in lit­er­ary stud­ies might argue that the ques­tion of iden­ti­ty is already at the heart of Romeo and Juli­et. In the most famous scene, when Juli­et won­ders, ​"where­fore art thou Romeo?" and then insists ​"a rose / By any oth­er name would smell as sweet," she's plumb­ing how much of who Romeo is depends on who his peo­ple are – in his case, the Mon­tagues, or as we might say, the whole mish­pucha. I could draw some anal­o­gy from the ques­tion of fam­i­ly iden­ti­ty to the ques­tion of Jew­ish iden­ti­ty, par­tic­u­lar­ly the dynam­ic com­bi­na­tion of cul­ture and rit­u­al that defines what it means to be a Jew in con­tem­po­rary America.
But in truth, that's not how I think I enter into Juli­et's Nurse as a Jew­ish author. I come to it by way of Passover, and the Tal­mu­dic tradition.
Why Passover? It's not like I do some Shake­speare­an seder, recit­ing the ten plagues in iambic pen­tame­ter (although maybe next year in rhyming cou­plets …). But both as an author and as a read­er, I'm drawn to first-per­son fic­tion. I like the imme­di­a­cy of imag­in­ing myself in a par­tic­u­lar time and place. A read­er asked me about this, about how I can take on a char­ac­ter so dif­fer­ent from myself and tell her sto­ry, and in try­ing to explain the process, I thought of the Hag­gadah's instruc­tion that we recount the sto­ry of Exo­dus every year as though each of us our­selves had come out from Egypt.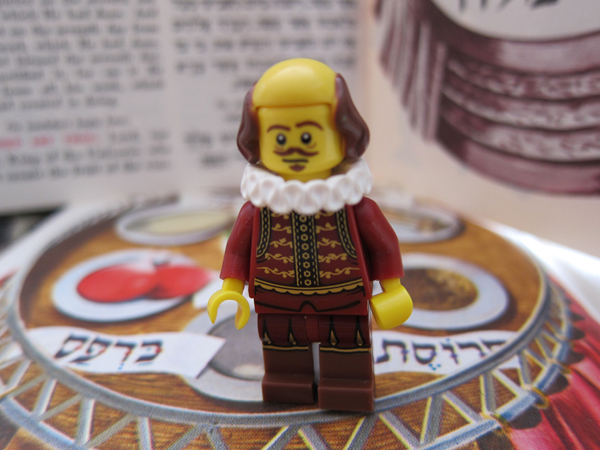 When you think about it, that's a lit­tle weird. Why cel­e­brate a hol­i­day by imag­in­ing our­selves liv­ing in a dif­fer­ent, and dif­fi­cult, his­tor­i­cal moment? I sup­pose from a rit­u­al per­spec­tive, it con­nects us with a dis­tant Jew­ish his­to­ry in a way that's meant to make it tru­ly ours.
From an author's per­spec­tive, this kind of telling-as-if-it-hap­pened-to-you is the only way to cre­ate a con­vinc­ing world for your char­ac­ter. To write Juli­et's Nurse, I had to imag­ine what it would be like to expe­ri­ence four­teenth-cen­tu­ry Ital­ian life as a woman who, well let's just say the amount she is so-not-Jew­ish might be mea­sured by her ten­den­cy to over-iden­ti­fy with the Vir­gin Mary. But for me to write in that char­ac­ter, to tell her sto­ry as if it hap­pened to me, feels total­ly Jewish.
Then there's what I'm call­ing the Tal­mu­dic tra­di­tion part of writ­ing Juli­et's Nurse, which is my Jew­ish short­hand for encoun­ter­ing a text that is at once author­i­ta­tive yet often either oblique or opaque about impor­tant ques­tions. The Bard may not be the Bible, but in read­ing and re-read­ing Romeo and Juli­et, I took the Tal­mu­dic approach to rever­ing yet ques­tion­ing the text.
My nov­el began with ques­tions I thought Romeo and Juli­et raised but did­n't answer:
In Shake­speare's play we learn that the nurse, whose name is Angel­i­ca, had her own daugh­ter, born at the same time as Juli­et, who did­n't live. What would it be like to lose your own infant and imme­di­ate­ly be giv­en anoth­er baby to nur­ture in such a phys­i­cal­ly and emo­tion­al­ly inti­mate way, yet always be a ser­vant in her household?
At one point in the play, Angel­i­ca describes Juli­et's cousin Tybalt as the best friend she ever had. But Tybalt and Angel­i­ca nev­er appear in a scene togeth­er in the play, and they are sep­a­rat­ed by huge dif­fer­ences in age, class, and gen­der. How would their friend­ship have start­ed, and what would it have been like?
Angel­i­ca serves as the go-between in Juli­et's secret romance with Romeo, even help­ing Romeo sneak into the house to con­sum­mate their illic­it mar­riage. But when she comes back onstage lat­er in the same scene, Angli­ca sud­den­ly tells Juli­et to for­get Romeo and mar­ry anoth­er suit­or instead. What hap­pens while she's off­stage? What does she learn, and why does­n't she tell it to Juliet?
And of course, the biggest ques­tion of all: Angel­i­ca comes to the house­hold as Juli­et's wet-nurse. But Juli­et is near­ly four­teen years old when the play begins, and has been weaned since she was three. Why is Angel­i­ca still hang­ing around the house?
I may not be a rab­binic schol­ar, but this process gave me the seeds from which my nov­el grew.
One of the strange things about cre­ative writ­ing is that ideas and themes and char­ac­ters and scenes emerge in your work from sources you don't con­scious­ly real­ize your draw­ing on. It's sort of mag­i­cal and sort of ter­ri­fy­ing, because you can't force it, you just need to trust that it will hap­pen. And for me, it's fas­ci­nat­ing and reas­sur­ing to real­ize that my Jew­ish­ness will always be one of those sources, regard­less of what I'm writ­ing about.
So if I were to take on the guise of Ham­let — or maybe Kasha Knish­let — to pon­der ​"To be or not to be a Jew­ish author," my answer would be, ​"yes, inevitably!"
Read more about Lois Lev­een and her work here.
Relat­ed Content: