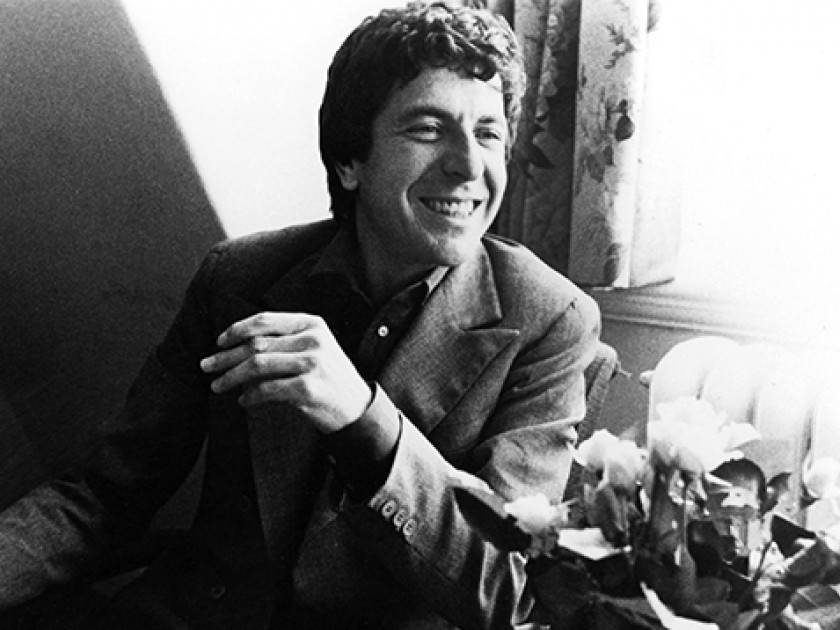 Some peo­ple find Christ in their dark­est hour. Oth­ers turn to Allah. But if you're a Jew, young, and in trou­ble, your best bet is Leonard Cohen.
I was thir­teen when I accept­ed the singer as my per­son­al sav­ior. I grew up in a beach­side sub­urb of Tel Aviv, Israel, the spoiled child of a wealthy fam­i­ly. One after­noon, I came home from school, tossed my back­pack on the floor, and raid­ed the fridge in search of lunch when some­one knocked on the door. It was the police. Three detec­tives polite­ly forced their way in and informed me that my father — the jovial bon vivant whose hob­bies includ­ed fast cars, fine hotels, and fat foods — had just been arrest­ed. He was caught red-hand­ed, the lead detec­tive told me mat­ter-of-fact­ly, and con­fessed to being the Motor­cy­cle Ban­dit, a brazen crim­i­nal who had hit up more than 20 banks in just a few months and whose antics made him a folk hero to many.
And, just like that, life as I knew it end­ed. I was no longer the child of priv­i­lege; I was now the son of the most noto­ri­ous crim­i­nal in a coun­try too small to keep secrets or award pri­va­cy. Our house filled up with vis­i­tors, and I remem­ber my moth­er com­ment­ing bit­ter­ly that it felt like a shi­va, the tra­di­tion­al Jew­ish mourn­ing rit­u­al in which friends and rel­a­tives gath­er to keep the bereaved company.
If the adults had appro­pri­ate words of con­do­lence at their dis­pos­al, the ado­les­cents, my friends, did not. Like teenaged boys every­where, they had received no train­ing in the art of empa­thy, and did not know how to con­sole one of their own in the face of such strange trau­ma. Instead of words, then, they did what teenaged boys every­where do and offered mixtapes.
Most of these were dross, catchy pop con­coc­tions that went down easy and left no last­ing impres­sion. But one stood out. It con­tained an assort­ment of songs by Leonard Cohen.
I bare­ly spoke Eng­lish then, but Cohen's words pierced right through the lan­guage bar­ri­er. They didn't ped­dle in sen­ti­ment. They weren't thick with brava­do. They spoke a dif­fi­cult but lib­er­at­ing truth. When I lis­tened to ​"The Sis­ters of Mer­cy" for the first time, for exam­ple, I shud­dered at the line about those ​"who must leave every­thing that you can­not con­trol / It begins with your fam­i­ly, but soon it comes down to your soul." It didn't feel like a song lyric; it felt like an insight plucked from some high­er realm, telling me to per­se­vere, sug­gest­ing that things were tough but not hope­less. Alone in my bed­room, after all the well-wish­ers had left, I played the tape over and over again. It was the only thing that gave me comfort.
It took me twen­ty years of grow­ing up and anoth­er four of lis­ten­ing intent­ly to Cohen's music for a book I was writ­ing about him to under­stand just what I had found so reas­sur­ing as a wound­ed youth. Oth­er artists were bet­ter at cap­tur­ing raw emo­tion, at stir­ring the blood­stream, at wash­ing you over with hap­pi­ness. But then you took off your head­phones and walked back out into the world, and the thin mist of feel­go­od soon evap­o­rat­ed. Like over-the-counter med­i­cine, music was way too weak to fight back the symp­toms of life in such an imper­fect world. To cure true afflic­tions, you need­ed some­thing stronger.
How strong? Con­sid­er the fol­low­ing lines, from Cohen's song ​"Anthem": ​"Ring the bells that still can ring / For­get your per­fect offer­ing / There's a crack in every­thing / That's how the light gets in." We've no bet­ter dis­tilled ver­sion, per­haps, of Cohen's ideas than this, and no greater proof that what the bari­toned bard is offer­ing isn't just enter­tain­ment but the­ol­o­gy. A scion of sev­er­al renowned rab­bis, he believes, like the Jew­ish sages of old, that redemp­tion is fun­ny busi­ness: the mes­si­ah, goes the old Jew­ish adage, will only come when all Jews are kind and pious, but when all Jews are pious and kind, they would no longer need the mes­si­ah. There's enor­mous wis­dom in this cos­mic joke. It tells us not to wait for some­one else to swoop in and save us. It says, sad­ly, that we've no right to expect divine grace, and that the only thing we have, the only thing we need, is our­selves: with enough hard work, and a lit­tle bit of love, we all could tran­scend even the dark­est of fates.
That's the spir­it that ani­mates Cohen's great­est songs. It's also the spir­it that saved me. After my father's arrest, reli­gious rel­a­tives sug­gest­ed I par­take in their prac­tices, but I found lit­tle inspir­ing in the cer­tain­ties of reli­gious ortho­doxy. Cohen showed me anoth­er way to wor­ship, one that under­stood that because we humans are so imper­fect, every hal­lelu­jah we mut­ter comes out bro­ken but is no less holy or joy­ous for it. It's not an easy idea to com­pre­hend. It's not imme­di­ate­ly appeal­ing like ​"all you need is love" or ​"give peace a chance." But it has made Cohen, at eighty, the clos­est thing we have to a prophet, and it had made me, at thir­teen, find the strength to car­ry on.
Liel Lei­bovitz is a senior writer for Tablet and the author of sev­er­al books, includ­ing, most recent­ly, A Bro­ken Hal­lelu­jah, a spir­i­tu­al biog­ra­phy of Leonard Cohen. He has a Ph.D. in video games from Colum­bia, a fact that makes his sev­en-year-old self very hap­py. He lives in New York with his wife and their two children.