Ear­li­er this week, Judy Batal­ion shared her expe­ri­ence of show­ing her moth­er her mem­oir about their rela­tion­ship. She is blog­ging here all week as part of the Vis­it­ing Scribe series on The ProsenPeo­ple.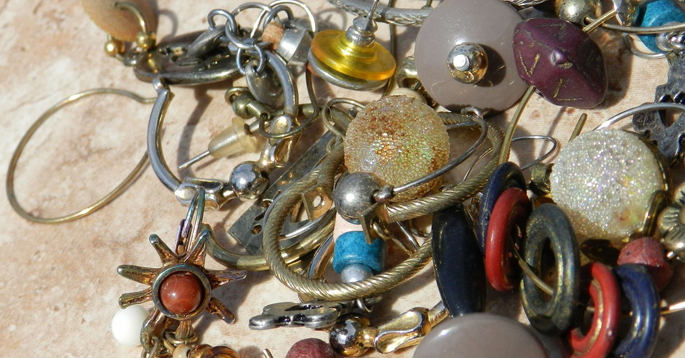 My mem­oir, a tale of sur­viv­ing the sur­vivors, cen­ters on how I endured my Mom's and Bubbie's hoard­ing. I hat­ed the embar­rass­ing piles — stash­es of dress­es pro­cured from bar­gain-base­ments, frozen bananas wait­ing for their sup­posed trans­for­ma­tion to loaf, moun­tains of hand­bags hag­gled over at bazaars across 1980s Mon­tre­al — that made me feel emo­tion­al­ly and phys­i­cal­ly blocked from my fam­i­ly. I spent my adult­hood declut­ter­ing and run­ning away. My flight, to Eng­land, to work as an art his­to­ri­an in cut-glass British muse­ums and white-walled gal­leries, was in oppo­si­tion to my fam­i­ly. But this mil­i­tant min­i­mal­ism was also, to some degree, in oppo­si­tion to my Jew­ish­ness. ​"Cura­tor" was the least Yid­dish word I knew and I want­ed in.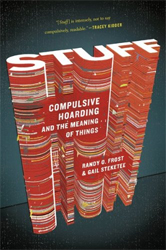 Hoard­ing is thought to affect a stag­ger­ing 3 – 4% of the Amer­i­can pop­u­la­tion. As Randy Frost and Gail Steke­tee point out in Stuff: Com­pul­sive Hoard­ing and the Mean­ing of Things, hoard­ing behav­iors are not nec­es­sar­i­ly relat­ed to a his­to­ry of war or depri­va­tion. How­ev­er, many Jews tell me they can relate to my sto­ry. ​"My great-uncle-in-law was a sur­vivor and has a house full of toma­to sauce!" or ​"Oy, my poor news­pa­per-col­lect­ing cousin…" I won­der if accu­mu­la­tion is a Jew­ish ten­den­cy, in reac­tion to the Holo­caust and in a broad­er way. We're famil­iar with stereo­types about exces­sive calo­ries, vol­ume, words, and I sense it's sim­i­lar for objects. You'd think a nation known for thou­sands of years of nomadism would have per­fect­ed the art of liv­ing light­ly, but it appears that Jews have lots of things. Nu, why?
There are prac­ti­cal rea­sons. A priest recent­ly came over for Fri­day night din­ner and con­fessed his envy. It's eas­i­er to get a younger demo­graph­ic to fol­low Jew­ish cus­tom, he explained, because most of its rit­u­als take place, not in the unpop­u­lar church, but in the home. But for those rit­u­als, I thought, you need rit­u­al items. (See: for­mal set of pareve Passover sal­ad tongs.)
There are emo­tion­al rea­sons, I guessed. Our bag­gage, when unpacked, might func­tion as an aggres­sive attempt to lay roots. When we set­tle, we do so with a vengeance. Hey, I'm plant­ed here, along with 300 kip­pahs col­lect­ed at bar mitz­vahs since the 1960s. Pos­ses­sions can form a pro­tec­tive wall. We feel cud­dled and cod­dled sur­round­ed by our things, wom­by and warm.
I had a nosh with envi­ron­men­tal psy­chol­o­gist Sal­ly Augustin who con­firmed that our belong­ings make us feel good, in dif­fer­ent ways than I pre­dict­ed. She explained that objects are impor­tant for iden­ti­ty. ​"We didn't evolve in a min­i­mal­ist box," she said. Our trin­kets remind us of what we val­ue, how we see our­selves, what image we want to project to the world, and who we want to be. On top of this, objects pro­vide social clues. We make con­ver­sa­tion around a boot col­lec­tion. We sub­con­scious­ly act more dis­tanced with peo­ple whose sur­round­ings are sparse because we are dis­tract­ed, con­fused about who they are. Could it be a vicious sub­stance cir­cle? Jews are talk­a­tive, and have tchotchkes, so they're talk­a­tive… I'd always seen a hoard as a block­ade, but now I con­sid­ered how our clut­ter might enable connection.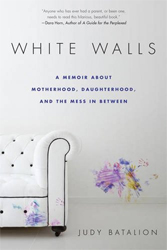 Of course, one chat wasn't enough for this Jew­ess. I called my friend and pro­fes­sion­al orga­niz­er Eliz­a­beth Sav­age who told me of a client of hers who mad­ly col­lect­ed purs­es. ​"Holo­caust roots," she said, know­ing­ly. I knew. Bub­bie had hun­dreds; the ​"pushkin" is the meta-sym­bol of safe­ty. ​"In our mobile and tran­sient cul­ture, every­thing moves so quick­ly. We cling to our things because we don't want to die!" Liz cried. Sur­vivors or not, our objects com­fort us.
Makes sense. Stuff links us to our pasts, marks our mem­o­ries, chal­lenges the inevitable demise of our biodegrad­able beings. Our stash­es can be a has­sle to store, orga­nize and use, which is per­haps a lit­tle bit like Jew­ish her­itage. It's there, it's hid­den, it's out, it's too much, but ulti­mate­ly, it feels good too.
Judy Batal­ion is the author of White Walls: A Mem­oir About Moth­er­hood, Daugh­ter­hood, and the Mess In Between.
Relat­ed Content:
Judy Batal­ion is the New York Times best­selling author of the high­ly-acclaimed The Light of Days: The Untold Sto­ry of Women Resis­tance Fight­ers in Hitler's Ghet­tos, pub­lished by William Mor­row in April 2021. The Light of Days has been pub­lished in a young read­ers' edi­tion, will be trans­lat­ed into nine­teen lan­guages, and has been optioned by Steven Spiel­berg for a major motion pic­ture for which Judy is co-writ­ing the screen­play. Judy is also the author of White Walls: A Mem­oir About Moth­er­hood, Daugh­ter­hood and the Mess in Between, optioned by Warn­er Broth­ers, and her essays have appeared in the New York Times, the Wash­ing­ton Post, the For­ward, Vogue, and many oth­er pub­li­ca­tions. Judy has a BA in the His­to­ry of Sci­ence from Har­vard, and a PhD in the His­to­ry of Art from the Cour­tauld Insti­tute, Uni­ver­si­ty of Lon­don, and has worked as a muse­um cura­tor and uni­ver­si­ty lec­tur­er. Born in Mon­tre­al, where she grew up speak­ing Eng­lish, French, Hebrew, and Yid­dish, she lives in New York with her hus­band and three children.