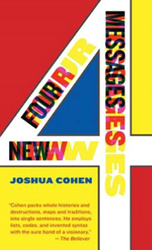 In its review of Four New Mes­sages the New York Times said of Joshua Cohen, ​"he'll make you want to be an angel investor in his stuff. What's a book but a pub­lic offer­ing? You'll want to be in on the ground floor." Jew­ish Book World​'s Bob Gold­farb asked him about his work.
Bob Gold­farb: You've been com­pared to David Fos­ter Wal­lace and Thomas Pyn­chon. Can a con­tem­po­rary writer avoid the anx­i­ety of influ­ence?
Joshua Cohen: Pyn­chon I thought a lot about in my late-ish teens; Wal­lace, though, nev­er gave me ​"the howl­ing fan­tods" — I was too young (b. 1980) to know to cheer the ​'90s revolt against lit­er­ary blank­ness and, by the time I began read­ing him, in the ear­ly oughts, I was liv­ing in Europe and more sus­cep­ti­ble to that edu­ca­tion. Wal­lace was always much too direct, too straight, for me (the con­cerns, not the style). He nev­er talked out of the side of his mouth. His irony was not mine — was too goy­ish­er, to put it blunt­ly. … No one has ever evad­ed influ­ence, or anx­i­ety — in or out of books.

BG: Is that hard­er for a writer who is also a crit­ic?
JC: Crit­i­cism just pays the bills, but fic­tion remains indebt­ed – to both fic­tion AND crit­i­cism.

BG: You some­times write in a very ver­nac­u­lar voice. How much of that is ven­tril­o­quism or social cri­tique or satire, and how much is it an exten­sion of your own per­son­al­i­ty?
JC: Why can't my own per­son­al­i­ty be one of ventriloquism/​social cri­tique? The more voic­es I write, the less I'm sure I exist at all.

BG: You also deploy an enor­mous vocab­u­lary with lots of words nev­er heard in con­ver­sa­tion. How do you pic­ture your read­ers react­ing to them?
JC: I don't con­sid­er a reader's reac­tion to any­thing — I con­sid­er my own. When I encounter an unfa­mil­iar word, I fol­low the advice of Reb Spiegel, fifth grade, Hebrew Acad­e­my of Atlantic Coun­ty: ​"Dick. Shun. Airy" (the class loved that gag, he loved that the class loved it). I might point out that dick­shu­nairies are more avail­able, and more use­ful, than they were in 1990.
Bob Gold­farb is pres­i­dent of Jew­ish Cre­ativ­i­ty International.