Last week, Deb­o­rah Lip­stadt wrote about eerie anniver­saries and Han­nah Arendt. Her posts have been appear­ing as a part of Jew­ish Book Coun­cil and MyJew­ish­Learn­ing.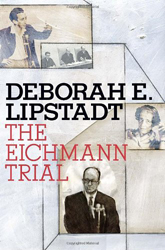 This blog entry appears dur­ing the time that we mark Yom HaShoah. It is also the time of the War­saw Ghet­to upris­ing. I am remind­ed of a small arti­cle which appeared on the front page [upper half] of the New York Times on April 22nd 1943. The arti­cle read as follows:
The secret Pol­ish radio appealed for help tonight in a broad­cast from Poland and then sud­den­ly the sta­tion went dead. The broad­cast as heard here said: The last 35,000 Jews in the War­saw ghet­to have been con­demned to exe­cu­tion. War­saw is echo­ing with mus­ketry volleys.

The peo­ple are mur­dered. Women and chil­dren defend them­selves with their naked arms.

Save us…
I am also remind­ed of some of those who buried the Oyneg Shabbes archival col­lec­tion which doc­u­ment­ed the destruc­tion. [The fol­low­ing mate­r­i­al appears in Sam Kassow's mag­is­te­r­i­al book, Who Will Write Our His­to­ry?] Israel Licht­en­stein wrote on the day he buried the archives:
I do not ask for any thanks, for any memo­r­i­al, for any praise. I only wish to be remem­bered…. I wish my wife to be remem­bered, Gele Sek­stein. She has worked dur­ing the war years with chil­dren as an edu­ca­tor and teacher, has pre­pared stage sets, cos­tumes of children's the­atre… both of us get ready to meet and receive death. I wish my lit­tle daugh­ter to be remem­bered. Mar­galit is 20 months old today. She has ful­ly mas­tered the Yid­dish lan­guage and speaks it per­fect­ly… I don't lament my own life or that of my wife. I pity only this lit­tle nice and tal­ent­ed girl. She too deserves to be remembered.
With Licht­en­stein on that day was Nahum Grzywacz who was 18 years old. When they were bury­ing the archives he heard his par­ents' build­ing was being block­ad­ed. He wrote:
I am going to run to my par­ents and if they are all right. I don't know what's going to hap­pen to me. Remem­ber my name is Nahum Grzywacz. [empha­sis in original]
Also present was David Graber who was 19. As they buried the archives Graber wrote:
What we were unable to cry and shriek out the world we buried in the ground. … We shall cer­tain­ly not live to see it, and there­fore I write my last will: May the trea­sure fall into good hands, may it last into bet­ter times, may it alarm and alert the world to what hap­pened… in the twen­ti­eth cen­tu­ry. We now died in peace. We ful­filled our mis­sion. May his­to­ry attest for us. [empha­sis added]
None of these peo­ple seem to con­tem­plate the pos­si­bil­i­ty of sur­vival. They hun­gered to be remembered.
May the his­to­ry we write, read, and remem­ber attest for them. They have attest­ed for themselves
Deb­o­rah Lipstadt's most recent book, The Eich­mann Tri­al, is now available.
Deb­o­rah E. Lip­stadt is Dorot Pro­fes­sor of Mod­ern Jew­ish His­to­ry and Holo­caust Stud­ies at Emory Uni­ver­si­ty. Her books include The Eich­mann Tri­al, His­to­ry on Tri­al: My Day in Court with David Irv­ing (a Nation­al Jew­ish Book Award-win­ner), Deny­ing the Holo­caust: The Grow­ing Assault on Truth and Mem­o­ry, and Beyond Belief: The Amer­i­can Press and the Com­ing of the Holo­caust, 1933 – 1945. She lives in Atlanta.